7 French Bulldog Rescues in Maryland [Updated for 2023]
Alex Vicente • Updated on August 2, 2023
If you're looking to find a French Bulldog Rescue in Maryland you're in the right place.
Before you check the French Bulldog rescue centers below, please make sure you're aware of how big a responsibility is to foster or adopt French Bulldogs.
Frenchies have been increasing in popularity over the past few years and according to the American Kennel Club (AKC) they are ranked as the #2 breed in America (1). For this reason, the umber of abandoned puppies and adult french bulldogs has also increased. Rescues and shelters are always looking for loving families to adopt frenchies.
You need to know they may have pre-existing medical conditions and may need to be followed by a vet periodically.
You should also be aware that animal cruelty is a punishable crime.
The rescue centers below are presented in no particular order.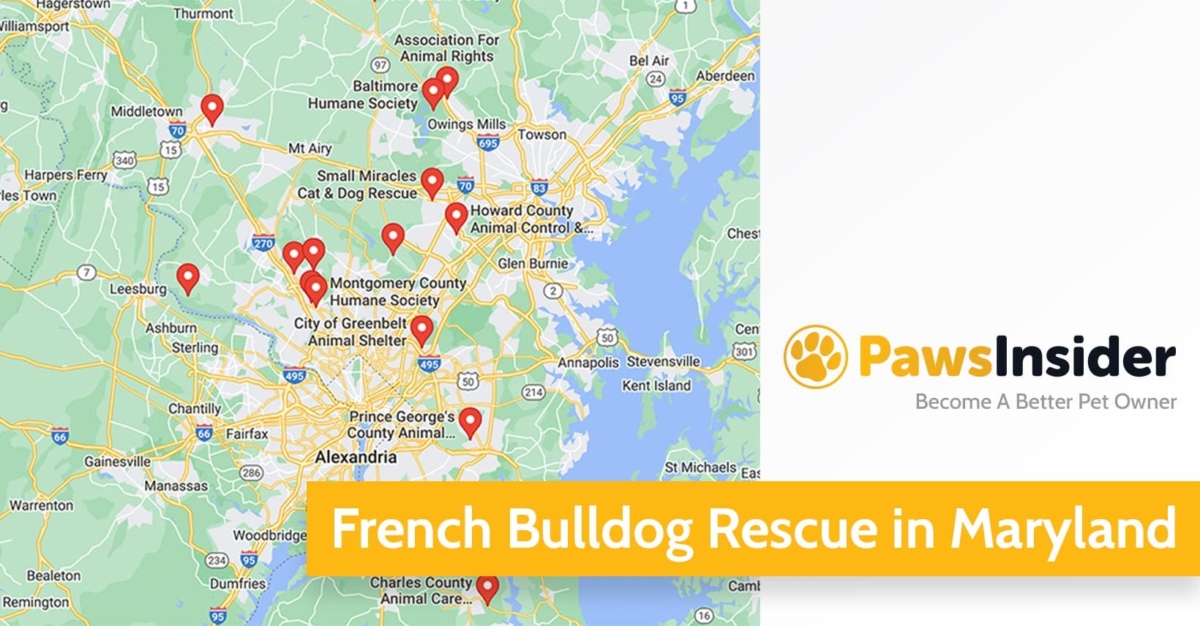 Table of Contents
French Bulldog Rescue Network (Nationwide)
The French Bulldog Rescue Network (FBRN) works to rescue, rehab, and rehome French Bulldogs that are in need from breeding facilities, import brokers, shelters, private rescue organizations, owners, or good samaritans.
FBRN is made up entirely of volunteers who care for and foster these dogs while also imparting knowledge and instruction to foster families or new owners.
Their mission is to find healthy, love-needing French Bulldogs their forever homes.
Rescue and Adoption Details
Bullies 2 the Rescue (Nationwide)
Bullies 2 the Rescue (B2R) is a non-profit based in North Carolina with satellite offices in South Carolina and Alabama, while also serving Virginia and Maryland.
They are always in need of volunteers, contributions, supplies, and assistance.
B2R relies entirely on donations to care for and treat the rescued bulldogs.
At any given time, they have roughly 50+ English or French bulldogs in foster care, and they supply the fosters with food, treats, supplements, medical care, training, and harnesses and leashes.
Rescue and Adoption Details
Address: 323 Unionville Indian Trail Rd suite b, Indian Trail, NC 28079, United States
Phones:
Emails:
Website: www.bullies2therescue.com
Events: See upcoming events here
Forms:
Last Chance Animal Rescue (Waldorf, MD)
Last Chance Animal Rescue (LCAR) is a 501(c)(3) non-profit organization based in Washington, D.C., Maryland, and Virginia.
They admit cats and dogs from over 50 high-kill shelters across 12 states and provide emergency aid for pets.
LCAR collaborates with over 30 PetSmart and Petco locations in the region to enable full-service in-store cat adoptions.
They rescue and rehome 10,000 pets each year and have offered loving homes for almost 100,000 cats and dogs since 1999.
Rescue and Adoption Details
HART for Animals (Accident, MD)
HART was formed in response to the overwhelming amount of homeless animals coming to the county shelter, which outnumbered the facility's capacity and funds.
As a result, the vast majority of the 1,000 abandoned animals are killed each year.
HART's mission is to prevent healthy animals from being euthanized by transferring them to larger rescue groups in more populous regions, where they have a higher chance of being adopted.
HART's objective is to rescue and transport animals, provide accessible spay/neuter procedures, establish and operate a humane animal hospital, and shelter and adopt homeless animals in Western Maryland and nearby areas.
Rescue and Adoption Details
Partnership for Animal Welfare (Greenbelt, MD)
The Partnership for Animal Welfare (PAW) is a non-profit volunteer organization dedicated to the rescue and adoption of homeless domestic animals, mostly dogs and cats, and the placement of these animals in loving and secure homes.
PAW works to educate the community about good pet care and ethical treatment.
Every year, they train over 160 new volunteers and place an average of 150 cats and dogs.
Every weekend, adoption events are hosted in suburban Maryland to allow prospective owners to meet the animals and volunteers.
Rescue and Adoption Details
Mail Address: P.O. Box 1074, Greenbelt, MD 20768, United States
Phone: 301 572 4729
Email:
Website: paw-rescue.org
Events: See upcoming events here
Forms:
Donate: Donations here
Canine Humane Network (Highland, MD)
Canine Humane Network (CHN), founded in 2016, is a non-profit dog rescue, shelter, adoption, and training organization in Highland, Howard County, Maryland.
This organization is mostly run by volunteers, including a large number of generous volunteer foster families.
CHN's mission is to save the lives of homeless dogs by providing a safe refuge, compassionate treatment, and adoption programs for rescued dogs.
It also strives to create a humane environment for animals and people by offering outstanding tools and training, such as humane education and therapy dog programs.
Rescue and Adoption Details
Address: 13454 Clarksville Pike, Highland, MD 20777, United States
Phone: 888 436 2236
Email:
Website: caninehumane.org
Events: See upcoming events here
Forms:
Donate: Donations here
Senior Dog Sanctuary (Severn, MD)
Senior Dog Sanctuary (SDS) provides a safe haven for senior dogs that are unable to care for themselves, have been abandoned or abused, or are facing euthanasia.
SDS is situated on three peaceful acres in the center of Anne Arundel County, Maryland.
The cozy, sun-drenched areas are ideal for dogs to unwind and relax.
Dogs that want to be more active can go for a walk on their nature trail, race around the agility course, or join a person on an off-site adventure.
Dogs with day-to-day medical requirements are cared for in an on-site medical suite by highly trained staff or visiting vets.
Rescue and Adoption Details