7 French Bulldog Rescues in Florida: List Updated for 2023
Alex Vicente • Updated on August 1, 2023
If you're looking to find a French Bulldog Rescue in Florida you're in the right place.
Before you check the rescue centers below, please make sure you're aware of how big a responsibility is to foster or adopt a dog, particularly French Bulldogs.
You need to know they may have pre-existing medical conditions and may need to be followed by a vet periodically.
You should also be aware that animal cruelty is a punishable crime.
If you plan to rescue a french bulldog, you should also know about the best harnesses for french bulldogs.
The rescue centers below are presented in no particular order.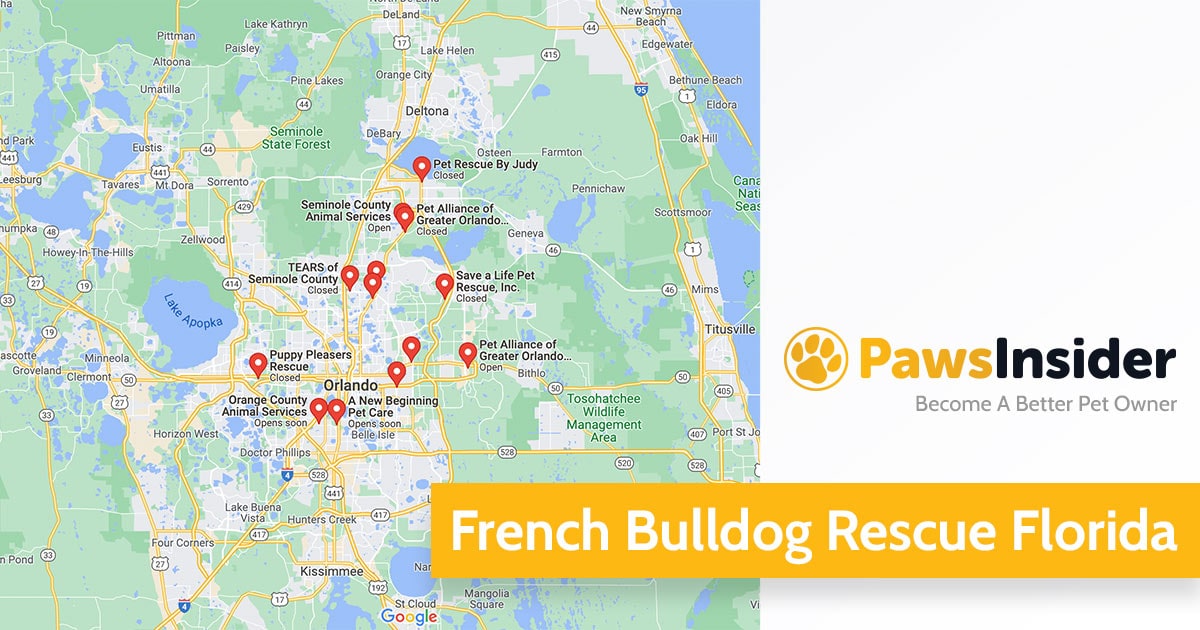 Table of Contents
VIP Rescue of Central Florida (Maitland, FL)
VIP Rescue of Central Florida is a non-profit organization committed to small breed dog rescue, rehabilitation, and placement.
They also aim to educate Central Floridians about the homeless and pet overpopulation issues, as well as to compassionately treat all animals.
VIP RCF lovingly treats every creature in their care and is dedicated to assisting in the abolition of pet overpopulation in Central Florida.
They also ensure that all eligible supporters and volunteers who support their mission, vision, and core values are treated with respect and appreciation.
Rescue and Adoption Details
Happy Trails Animal Rescue (Orlando, FL)
Happy Trails Animal Rescue is a non-profit animal rescue organization that serves the counties of Orange, Osceola, and Seminole in Florida.
In addition to their rescue operations, they have established a first-of-its-kind resource center for the community's pet owners.
This center offers free and low-cost dog training, free grooming, a pet food bank, veterinary aid, free educational seminars, a service dog program, and much more.
HTAR objective is to create a safer, more educated, and pet-friendly community in Central Florida for pet owners and animals.
Rescue and Adoption Details
Doglando Foundation (Orlando, FL)
The Doglando Foundation is a non-profit organization that envisions a world in which the dog-human interaction is perceived differently.
They have created programs that give a safe, caring, and enriching environment that promotes coexistence and companionship.
This foundation has created a unique program Puppy B.R.E.A.T.H. to rescue pregnant dogs and unwanted puppies in order to enrich their lives by encouraging them to develop, socialize, explore, and thrive.
Unlike other rescues, they keep mom and puppies together for up to 17 weeks, allowing for greater bonding time and a natural manner for them to learn from each other.
Rescue and Adoption Details
A New Beginning Pet Care (Orlando, FL)
A New Beginning Pet Rescue is a non-profit animal rescue in Orlando, Florida.
They rescue dogs, cats, and, on occasion, birds and other small animals.
This organization's mission statement is "to work with the public and professional animal shelter systems to improve their ability to find forever homes" through a variety of means, including adoption incentive programs funded by donations made online or onsite when purchasing goods such as toys and leashes, among other things.
ANBPC, formed in July 2001, is now celebrating 20 years and over 13,000 homeless pets placed in new forever homes.
Rescue and Adoption Details
Address: Orlando, FL 32839, United States
Phone: 407 251 5458
Email:
Social Media: Facebook
Events: See upcoming events here
Second Chance Animal Rescue and Sanctuary (Orlando, FL)
Second Chance Animal Rescue and Sanctuary recognizes that they cannot save all of the animals in need, but they take pride in knowing that they have saved some and will continue to save as many as they can.
They started saving animals over ten years ago, with their first rescue, Chance, an American bulldog who was an older puppy at the time and inspired the name of the rescue. They now have several rescues of their own and continue to respond to requests for animals in need.
SCAR is a collective project, and they couldn't do what they do without the support of fosters and volunteers.
Rescue and Adoption Details
Creegan Canine Rescue (West Orlando, FL)
Creegan Canine Rescue is a non-profit organization dedicated to rescuing and rehabilitating homeless dogs as well as educating the general public about the problems of stray animals in Central Florida.
They work tirelessly to rescue as many dog lives as they possibly can.
Keep in mind that CCR, like the majority of local rescues, is run and operated from the homes of the foster families. Volunteers meet with prospective adopters one-on-one by appointment only.
Having said that, they do not have a physical building where you may visit the dogs.
Rescue and Adoption Details
Puppy Pleasers Rescue (Gotha, FL)
Puppy Pleasers Rescue is a non-profit private rescue dedicated to finding loving homes for puppies that have been abandoned or are unable to be cared for.
They take in and find homes for puppies (and small dogs, although occasionally they do take in larger breeds).
This will aid in the development of the animals while they are still young and developing.
PPR also works and contributes by assisting with sickness and overpopulation prevention, and by promoting animal spaying and neutering.
All the rescued dogs go to their new homes under a fair and simple contract to protect the future of these wonderful pets.
Rescue and Adoption Details