French Bulldog Rescues in Phoenix, AZ (Updated for 2023)
Alex Vicente • Updated on August 10, 2023
If you're looking to find a French Bulldog Rescue in Phoenix you're in the right place.
Before you check the rescue centers below, please make sure you're aware of how big a responsibility is to foster or adopt a dog, particularly French Bulldogs.
You need to know they may have pre-existing medical conditions and may need to be followed by a vet periodically.
You should also be aware that animal cruelty is a punishable crime.
If you plan to rescue a french bulldog, you should also know about the best harnesses for french bulldogs.
The rescue centers below are presented in no particular order.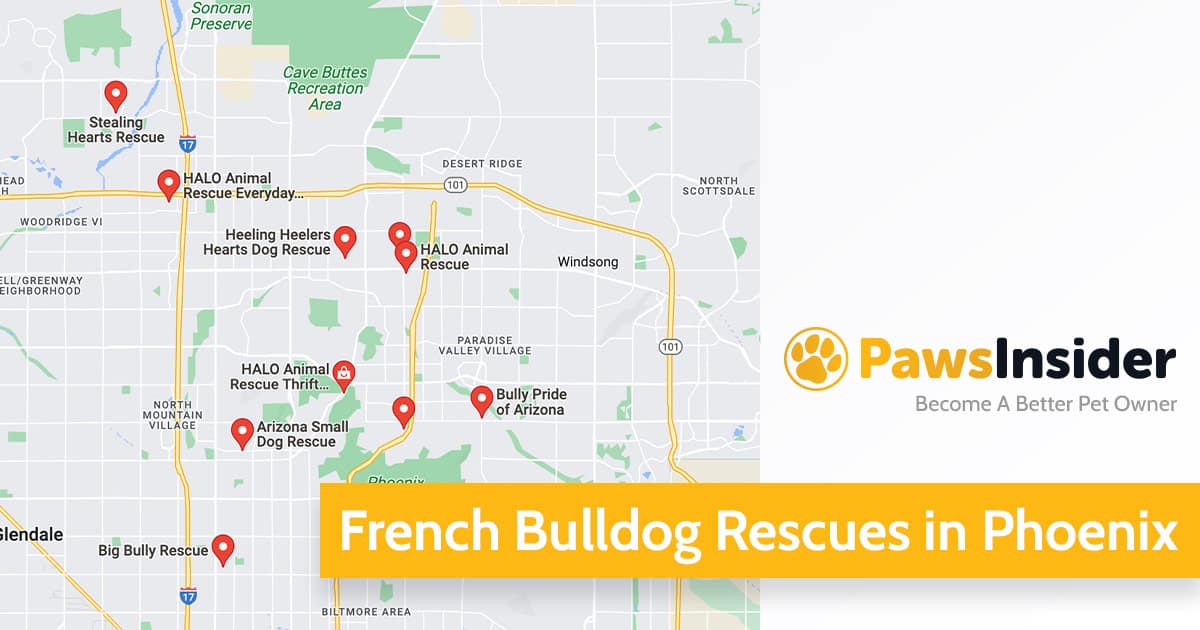 Table of Contents
Stealing Hearts Rescue (Phoenix, AZ)
Stealing Hearts Rescue was created with the aim of improving the lives of large breed shelter dogs.
The purpose of this organization is to save the lives of many bigger breed dogs that are frequently overlooked and offer them the chance to become loved and cherished pets.
Stealing Hearts promotes the adoption of dogs who would otherwise be put to sleep by other shelters due to illness, pregnancy, or nursing mothers, or breeds of dogs that are frequently disregarded by others.
They are committed to educating the public about these amazing creatures, and not only do they save dogs' lives, but the owners' new information is also shared, allowing them to reach many more people.
Their motto is "By saving one, we save many."
Rescue and Adoption Details
Address: FACILITY LOCATION – THE PIT STOP

2211 W Shangri La Rd, Phoenix, AZ 85029, United States

Mail Address: NOT OPEN TO THE PUBLIC! PLEASE ARRANGE A TIME TO MEET ONE OF THEIR DOGS WITH TONI (Email Address below)!

2211 W Shangri La Rd, Phoenix, AZ 85029, United States

Phone: 602 686 4158
Emails:
Website: www.stealingheartsrescue.com
Form:

Adoption Application here
Arizona Small Dog Rescue (Phoenix, AZ)
Founded in 2004, Arizona Small Dog Rescue is a 501(c)3 nonprofit dog rescue organization based in Phoenix that was founded in 2004.
This no-kill shelter admits small dogs and puppies of all breeds from overcrowded shelters or owner surrenders, provides veterinary care, and, where possible, finds them new homes.
Arizona Small Dog Rescue has been named one Top-Rate Nonprofit by Great NonProfits for its work to save small dogs, namely french bulldogs.
The team also hosts adoption events on weekends at Petco and Petsmart, where they showcase their french bulldogs available for adoption.
Rescue and Adoption Details
HALO Animal Rescue (Phoenix, AZ)
HALO Animal Rescue, located in beautiful Phoenix, Arizona, provides a safety net for thousands of homeless dogs and cats each year.
HAR is a no-kill institution, which means they never euthanize an animal due to a lack of space, but it also means that the number of animals they can accept at any given time is limited.
These animals are lovingly cared for as they are prepared for adoption and then adopted into loving homes.
Rescue and Adoption Details
Big Bully Rescue (Phoenix, AZ)
Big Bully Rescue is a small non-profit organization based in Phoenix, Arizona, committed to rescuing and re-homing bully and Molosser powerful breed dogs and assisting them in finding their way home.
BBR seeks to assist bully breeds gain a positive image through education, despite the negative perception that the general public has of them as a result of misinformation and media sensationalism.
They promote spay/neuter and responsible ownership, as well as the prevention of backyard breeding, dog fighting, and brutal treatment of these magnificent dogs.
Rescue and Adoption Details
Address: 6141 N 17th Dr, Phoenix, AZ 85015, United States
Phones:
Email:
Home Fur Good (Phoenix, AZ)
Home Fur Good was officially created as a 501(c)3 non-profit in September 2009 with the goal of reducing euthanasia of adoptable animals in Maricopa County.
Home Fur Good's staff and volunteers work hard to provide its animals with a clean and pleasant place to sleep, sufficient food to eat, expert medical care, adequate daily exercise, and an abundance of love and affection.
Everyone works hard to locate each cat and dog a 'fur'ever home that best fulfills the needs of both the animal and the potential adopter.
Rescue and Adoption Details
Animals Benefit Club of Az (Phoenix, AZ)
Animals Benefit Club is a private no-kill animal rescue and sanctuary that specializes in situations of extreme abandonment, neglect, and abuse.
Many of the animals in their care were turned down by other clinics for treatment and rehabilitation and arrived very ill or damaged.
ABC also rescues dogs and cats from Phoenix's streets, significantly lowering the amount of homeless animals and their suffering.
Because these animals are usually never altered, they will continue to reproduce, resulting in countless more malnourished, homeless dogs and cats.
Donations and grants provide all of their funding.
Every dollar donated is used exclusively for animal care and support, and their administrative team is entirely comprised of volunteers.
Rescue and Adoption Details
Address: 3111 St John Rd, Phoenix, AZ 85032, United States
Email:
Website: animalsbenefitclub.com
Events: See upcoming events here
Forms:
Heidi's Village (Phoenix, AZ)
Heidi's Village seeks to create a community in which animals are treated with dignity, respect, and care.
They envision a world in which all cats and dogs have forever homes that are healthy, safe, and secure.
HV uses an innovative sheltering model that brings together the animal welfare community and all necessary services under one roof.
They collaborate with existing animal welfare organizations, the majority of which are foster-based, to expand and supplement their activities in order to save more pets.
Rescue and Adoption Details