French Bulldog Rescues in Kansas City (Updated for 2023)

French Bulldog Rescues in Kansas City (Updated for 2023)
Alex Vicente • Updated on February 27, 2023
If you're looking to find a French Bulldog Rescue in Kansas City you're in the right place.
Before you check the rescue centers below, please make sure you're aware of how big a responsibility is to foster or adopt a dog, particularly French Bulldogs.
You need to know they may have pre-existing medical conditions and may need to be followed by a vet periodically.
You should also be aware that animal cruelty is a punishable crime.
If you plan to rescue a french bulldog, you should also know about the best harnesses for french bulldogs.
The rescue centers below are presented in no particular order.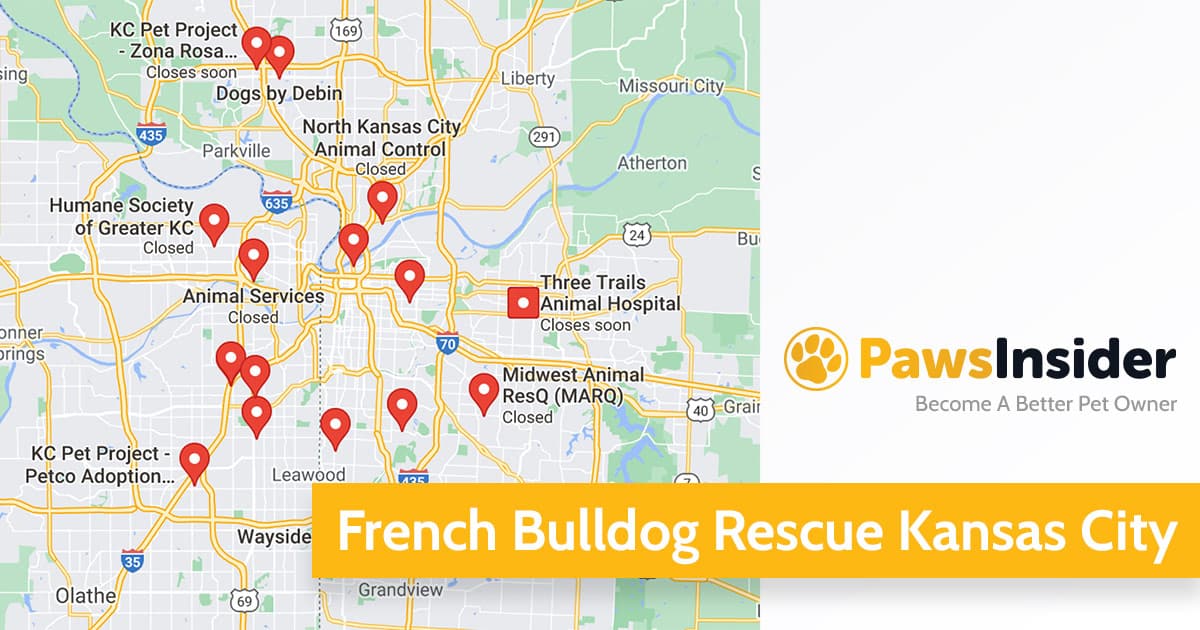 Table of Contents
Wayside Waifs (Kansas City, MO)
Wayside Waifs is dedicated to placing all adoptable dogs in loving homes.
This organization is Kansas City's largest no-kill pet adoption center, placing approximately 5,400 animals each year.
WW does not euthanize adoptable animals, and animals in their care do not have time limits.
Only animals with serious medical problems or those who constitute a threat are humanely terminated.
They are proud to be a part of the no-kill community in Kansas City.
Rescue and Adoption Details
Address: 3901 Martha Truman Rd, Kansas City, MO 64137, United States
Phone: 816 761 8151
Email:
Website: waysidewaifs.org
Events: See upcoming events here
Forms:
KC Pet Project at KCCAC (Kansas City, MO)
The KC Pet Project is a 501(c)(3) non-profit charitable organization that runs the KC Campus for Animal Care, Kansas City, Missouri's Animal Shelter.
They care for over 10,000 animals each year and now have 14 facilities in Missouri and Kansas where pets can be adopted.
This group also focuses on innovative programs to assist people in keeping their pets, such as Lost and Found services, their Keep 'Em Together, KC program, and pet safety measures such as microchipping pet identification, and more.
Through our Animal Services Division, KC Pet Project also handles all animal control operations in Kansas City, MO.
Rescue and Adoption Details
Dogs by Debin (Kansas City, MO)
Dogs by Debin is based in Kansas City, Missouri, and fosters and cares for 30-40 dogs at any given time.
This organization has an equal balance of dogs in need of medical treatment, behavioral rehabilitation, and many canines who are simply looking for a new home right now.
All of their dogs are spayed/neutered, vaccinated, microchipped, and heartworm tested before leaving their care (if positive, we treat them).
The DBD was created in response to a gap in the sheltering system.
They allow the dogs to be dogs again by providing behavioral training, land to run on, foster homes, and necessary vet care.
Rescue and Adoption Details
Midwest Animal ResQ (Raytown, MO)
Midwest Animal ResQ (MARQ) was founded in 2009 as a small foster-based rescue group focused on saving dogs from inhumane conditions at local large-scale breeding facilities.
With the help of dedicated supporters and volunteers, MARQ has grown into a multifaceted group in a short period of time.
While they are still very passionate about retired breeding dogs, their reach has expanded to include the animals in the wider Kansas City area.
Rescue and Adoption Details
Friends of Parkville Animal Shelter (Parkville, MO)
Friends of Parkville Animal, founded in 1999 by a group of concerned citizens, is a 501(c)(3) non-profit organization whose primary mission is to humanely house, care for, provide medical treatment for, and find permanent homes for abandoned and stray dogs and cats from the surrounding counties that have come into their care.
FOPAS's work is almost entirely carried out by committed volunteers and is funded by donations and fund-raising events.
Rescue and Adoption Details
Second Chance Pet Adoptions (Smithville, MO)
Second Chance Pet Adoptions is a non-profit, no-kill adoption organization based in the Greater Kansas City Area.
They are committed to finding loving, responsible, and safe homes for homeless animals and displaced dogs and cats.
Second Chance participates in Petsmart adoption events (2650 NE Vivion Rd KCMO).
Between events, the animals are housed in foster homes run by volunteers who socialize and care for them.
Rescue and Adoption Details
Humane Society of Greater KC (Kansas City, KS)
The Humane Society of Greater Kansas City is celebrating almost 100 years of dedicated service to the Greater Kansas City area's lost, abandoned, and mistreated pets.
They became the first no-kill shelter in the Kansas City area in 1994, taking in many sick or injured dogs in need of medical care.
HSGKC's mission is to save and improve the lives of dogs and cats in this community by providing preventative veterinarian care, spay/neuter treatments, education, and adoptions.
Rescue and Adoption Details
Address: 5445 Parallel Pkwy, Kansas City, KS 66104, United States
Phone: 913 596 1000
Email:
Website: hsgkc.org
Events: See upcoming events here
Forms: