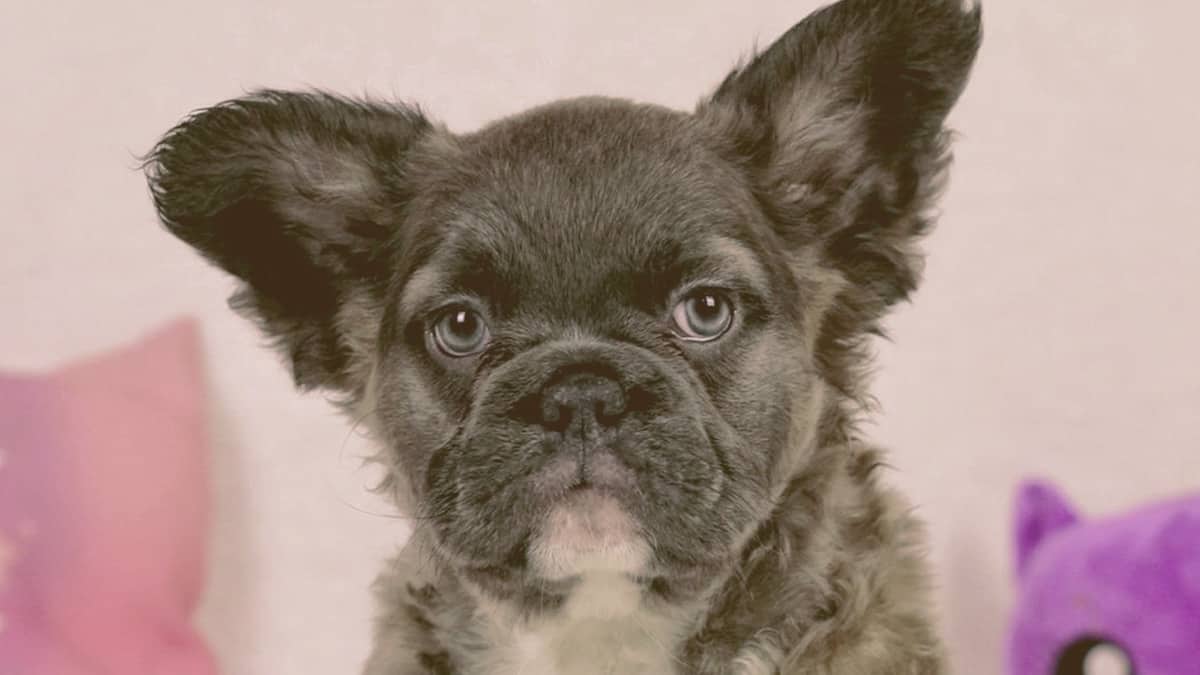 Fluffy Frenchie: What It Is + (Cutest) Breed Information
Alex Vicente • Updated on August 1, 2023
This review contains affiliate links. Read more here.
Not a substitute for professional veterinary help.
French Bulldogs, which are also known as Frenchies, are toy dogs that typically have short hair.
That's often a dominant feature in this breed, so it's quite common.
However, these dogs are famous for their rare looks.
Every now and then a Frenchie puppy is born with a particular color like blue or lilac, and naturally, they're extremely popular.
Additionally, a Frenchie puppy could actually have a long fluffy coat.
If you were wondering what is a fluffy Frenchie?
Read on, and we'll tell you all about it!
Table of Contents
So What Exactly Is a Fluffy Frenchie?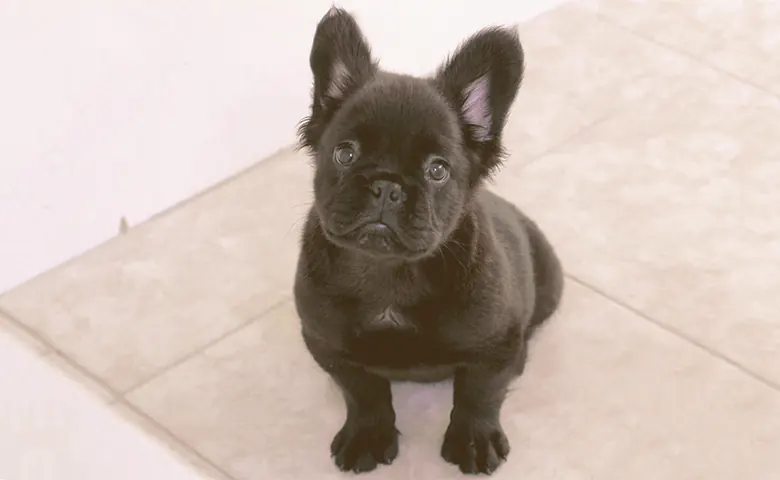 French Bulldogs first appeared in England around the 18th century.
They were all the rage in the drawing rooms of well-to-do households.
The adorable dogs soon found their way to France, where they gained huge popularity and crossbred a little with various other species.
This explains the wide range of features that Frenchies could have.
Over time, only dogs with a specific standard appearance were considered French Bulldogs.
This includes bat ears, a short muscular stature, colors ranging from tan to cream, and short hair.
French Bulldogs with exotic rare colors or a fluffy coat appeared every now and then, and people couldn't get enough of them!
Eventually, there was a high demand for rare Frenchies, and their prices spiked.
Breeders were quite excited too and made a business from producing such varieties.
These specially bred dogs had some health issues though.
And that's why the American Kennel Club AKC decided to ban them from dog shows.
Are Fluffy Frenchies Purebreds?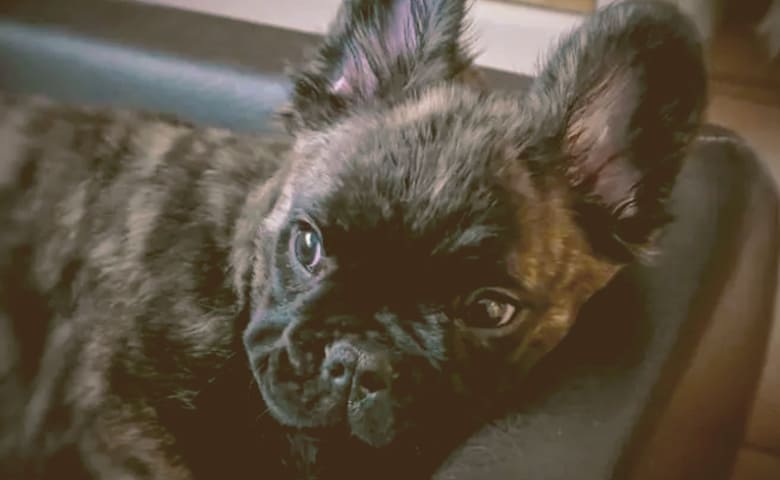 Many people think that Fluffy Frenchies are crossbreeds, considering their aberrant long hair, which is so unlike the trim coat of most French Bulldogs.
This is a misconception though, and Fluffy Frenchies often come with certified pedigrees.
The ancestry of this breed goes back hundreds of years. This aberrant long hair gene was acquired more than 200 years ago in the 1800s.
At the time, Frenchies were left to their own devices and they mated with different other dog breeds, some of which had long hair.
Nowadays, it's easy to get a genetic ancestry report for any dog. Most often, trustworthy breeders keep the bloodline of their Frenchies intact.
These dogs are thus purebred, despite that exotic fluffy look!
What Two Dogs Make a Fluffy Frenchie?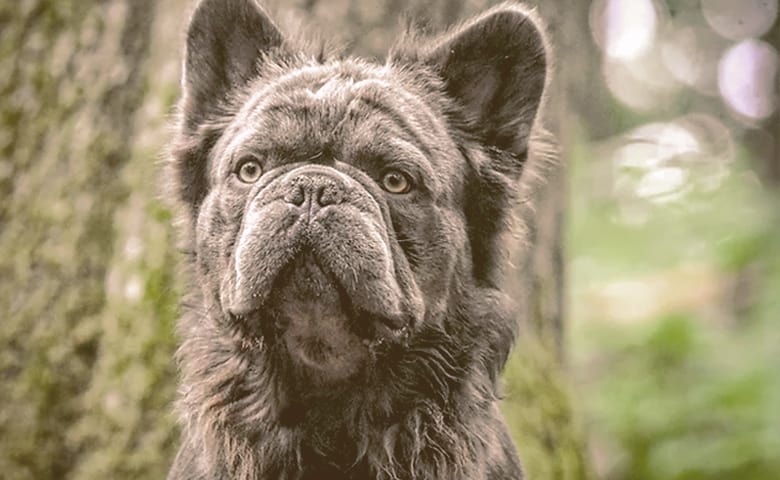 The fluffy Frenchie gets its long hair from a recessive gene, which is the Fibroblast growth factor 5.
Breeders often refer to it as the Long Hair (LH) gene, so we'll go with that.
Being a recessive gene means that it has a low probability of appearing in a litter.
To make a fluffy Frenchie, both parent dogs should carry the LH gene.
If they have a double dominant short hair gene (SH), it would be impossible for them to produce fluffy long-haired pups.
The best chance for getting a whole litter of fluffy Frenchies is by mating two parents with visibly long coats.
These have a double recessive LH gene pool, so they'll get a 100% fluffy litter.
The second best choice is when one of the parents is a carrier of the LH gene (LH/SH), while the other is a double recessive (SH/SH).
The probabilities decreases significantly when both parents are visibly short-haired, and both are only carriers of the long-haired gene.
An (LH/SH) matched with another (LH/SH) has a 25% chance of producing fluffy Frenchies.
Back in the day, this process involved plenty of guesswork.
This is not the case now, as the genotype and phenotype of any dog can be analyzed accurately with a DNA lab test.
How to Care for a Fluffly Frenchie?
Fluffy Frenchies are easygoing sweet dogs with a sunny disposition.
They do, however, require some extra care besides the routine feeding, grooming, and medical care that most dogs require.
Here are some points that are a tad unusual, but it's important to keep your dog in good shape.
Most Frenchies are prone to becoming obese, as they rarely say no to any food that comes their way. So it's best to ration their meals and make sure their bowl is empty at all other times.
French Bulldogs don't have the best respiratory organs. Thus, they shouldn't be in situations where there's too much pressure on their lungs. For example, they would suffer seriously in an airplane.
The Frenchie's limbs are rather short and stumpy. So swimming can be a real challenge for these dogs. It's best to keep them on the shore, or in very shallow water.
French bulldogs are quite awkward when it comes to courtship. Their bodies aren't too flexible or lanky to allow for easy intercourse. Thus, these biological needs are often fulfilled artificially.
Reproduction is another area where a Frenchie's body isn't too helpful. Their narrow pelvis makes natural birth almost impossible, so it's recommended to perform C-section on a carrying dog.
Post-natal care is also quite essential. Regular visits to the vet for at least 4 weeks are necessary to make sure that no complications happen.
Consistent monitoring of the puppies is just as essential. French Bulldogs have a high propensity to a number of health issues. Early detection can help a lot in treatment.
Taking care of Frenchie might seem like a lot of work, but these loving companions more than make up for it.
They're among the best breeds that one can have as a furry friend.
Conclusion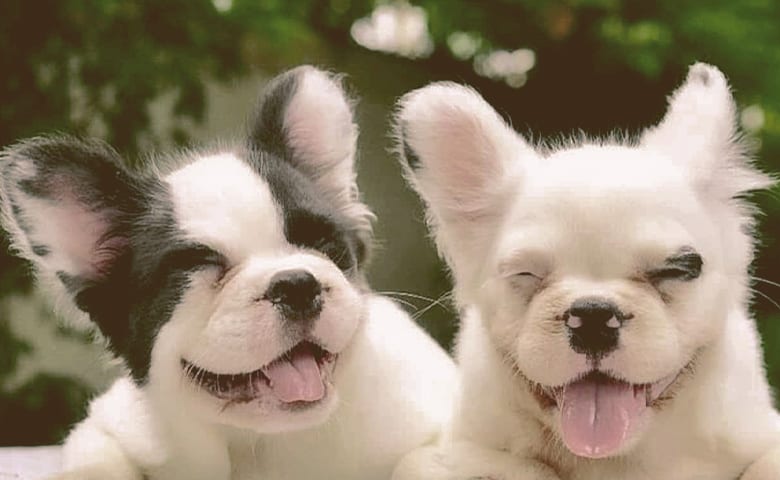 Having a bulldog face and stature in a mini toy dog size is absolutely charming!
Frenchies are sweet, loving, and easy-going dogs.
At the same time, their bulldog ingredient makes them protective and watchful over their friends.
Fluffy Frenchies add a cute ruffled mane to the mix, which makes them absolutely irresistible!
Their bat-ears, flat snouts, pug-tails, and short legs are characteristic of their breed, but they still stand out as unique and special.
These rare French Bulldogs might be susceptible to a number of health problems and require extra care.
Nevertheless, their human friends cherish having them around and find lots of happiness in their companionship.