7 French Bulldog Rescues in Michigan [Updated for 2023]
Alex Vicente • Updated on August 2, 2023
If you're looking to find a French Bulldog Rescue in Michigan you're in the right place.
Before you check the French Bulldog rescue centers below, please make sure you're aware of how big a responsibility is to foster or adopt French Bulldogs.
Frenchies have been increasing in popularity over the past few years and according to the American Kennel Club (AKC) they are ranked as the #2 breed in America (1). For this reason, the umber of abandoned puppies and adult french bulldogs has also increased. Rescues and shelters are always looking for loving families to adopt frenchies.
You need to know they may have pre-existing medical conditions and may need to be followed by a vet periodically.
You should also be aware that animal cruelty is a punishable crime.
The rescue centers below are presented in no particular order.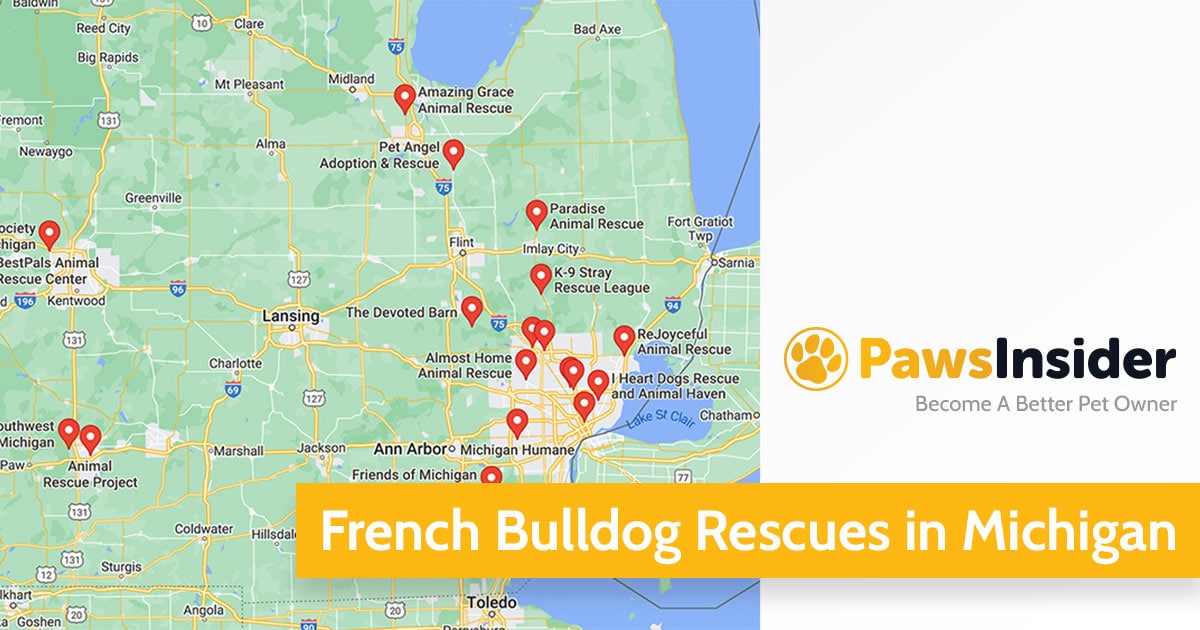 Table of Contents
Detroit Bulldog Rescue (St. Clair Shores, MI)
Detroit Bulldog Rescue (DBR) IS A 501(c3) non-profit organization that serves the whole state of Michigan, with volunteers from around the state. It has been in operation since 1993 and has rescued, rehabilitated, and re-homed hundreds of bulldogs.
DBR promotes bulldog love and seeks to educate people about the significance of breeding for health – imagine how much misery would be avoided if the breed could be free of the various illnesses that plague bulldogs.
They welcome you to learn more about their organization and to contact them whether you intend to surrender, foster, adopt, or donate.
Rescue and Adoption Details
French Bulldog Rescue Network (Nationwide)
The French Bulldog Rescue Network (FBRN) works to rescue, rehab, and rehome French Bulldogs that are in need from breeding facilities, import brokers, shelters, private rescue organizations, owners, or good samaritans.
FBRN is made up entirely of volunteers who care for and foster these dogs while also imparting knowledge and instruction to foster families or new owners.
Their mission is to find healthy, love-needing French Bulldogs their forever homes.
Rescue and Adoption Details
Michele's Rescue (Grand Rapids, MI)
Michele's Rescue, a 501(c3) non-profit animal sanctuary started in 1997 in Grand Rapids, Michigan helps animals in need.
This no-kill organization rescues and rehomes animals from all around the country.
Most of the animals this group takes are scheduled for "put-downs," so they rely on rescues like theirs to help them find loving homes.
All of these dogs have been vaccinated, microchipped, flea and parasite treated, heartworm tested, and, most importantly, spayed or neutered.
The only thing these adorable dogs lack is a family.
Rescue and Adoption Details
Michigan Animal Rescue League (Pontiac, MI)
The Michigan Animal Rescue League (MARL) has been serving the community since 1953 and is one of the longest-established animal shelters in southeast Michigan.
Their purpose is to provide dogs and cats with the best possible quality of life via rescue, medical treatment, socialization, and behavioral assistance, short- and long-term sanctuary, adoption, and community education and outreach.
At MARL, they believe that the quality of "the wait" for a permanent home can make or break an animal's future.
They do not simply offer food and shelter and call it a day.
Their animals receive exercise, snuggling time, and, most importantly, quality time with humans who adore them.
Rescue and Adoption Details
Humane Society Of West Michigan (Grand Rapids, MI)
The Humane Society of West Michigan (HSWM) has a long history of advocating humane treatment and ethical animal care in West Michigan.
The Humane Society of Kent County was founded in 1883 by a group of residents concerned about mistreated, neglected, and abandoned animals.
Currently, HSWM supports the humane treatment and responsible care of animals in West Michigan via education, example, placement, and protection.
Their goal is to establish a more compassionate community where all animals receive the care they deserve by providing humane and responsible care for all animals and facilitating placement in appropriate homes.
Rescue and Adoption Details
Address: 3077 Wilson Dr. NW, Grand Rapids, MI 49534, United States
Phone: 616 453 8900
Email:
Website: www.hswestmi.org
Events: See upcoming events here
Forms:
Donate: Donations here
StreetHearts Animal Rescue (Burton, MI)
StreetHearts Animal Rescue (SAR)was formed in 2014 by a veteran military police officer who began undertaking rescues on his own time in Flint, Michigan.
He noticed many animals in need, but not enough people stepping forward to help, so he decided to fill the void himself.
The rescue increased over time, and his determination motivated others to follow.
SAR is currently a 501(c)(3) organization with a community of fosters, volunteers, transporters, and patrons.
They work hard to save and assist animals that have been abandoned, neglected, abused, or injured.
We specialize in street ministry, medical assistance, rescue placement, fostering, and finding permanent homes.
Rescue and Adoption Details
Delta Animal Shelter (Escanaba, MI)
Delta Animal Shelter (DAS) is an independent, non-profit 501(c)3 organization committed to the direct care of Delta County's animals. The County Sheriff's Department managed this shelter until budget shortages caused its permanent shutdown in August 2011.
To avoid a permanent closure, the Delta Area Animal Society, a group of animal enthusiasts, took over operations.
DAS is an open-admissions shelter that accepts all animals.
They shelter and care for any animal in need.
Their staff and volunteers provide loving care to each animal as they wait to be reunited with their families or find a new permanent home.
Rescue and Adoption Details