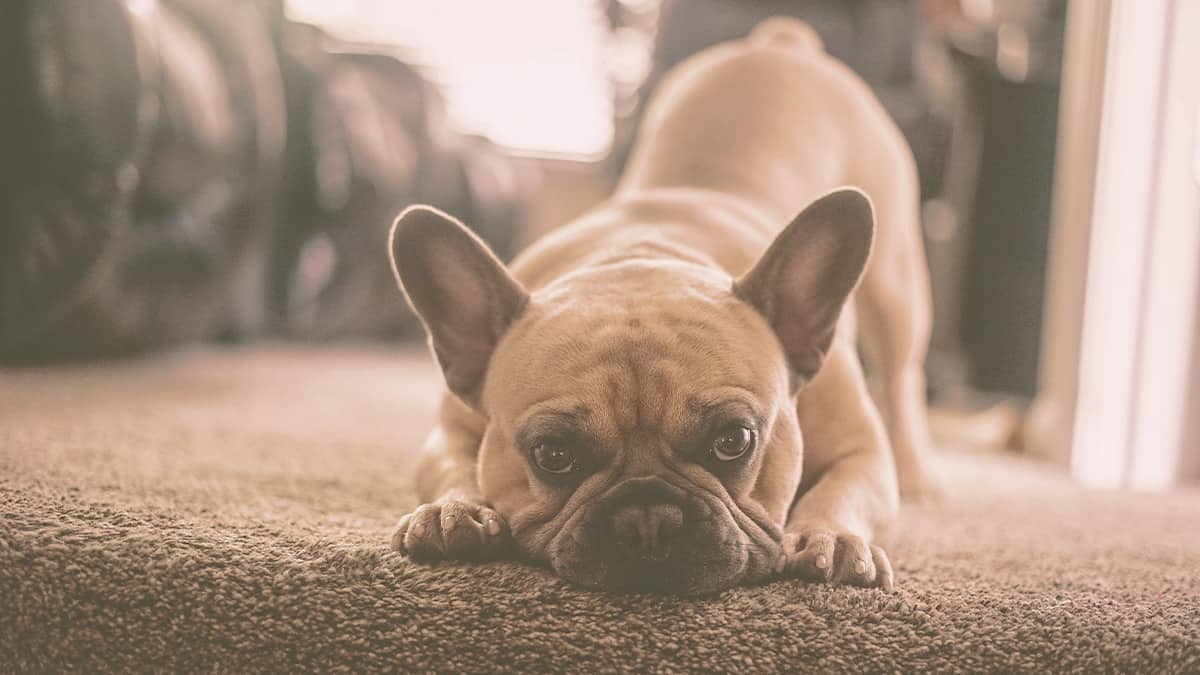 What Color French Bulldog Sheds the Least + Shedding Guide
Alex Vicente • Updated on August 1, 2023
This review contains affiliate links. Read more here.
Not a substitute for professional veterinary help.
One of the many issues you need to put up with when owning a dog is how often it sheds its coat.
It can become a hassle to clean up after them and brush off their little dog hairs.
Luckily, though, some dog breeds shed less than others and only a rare few don't shed their fur at all.
French bulldogs, for example, are among the minority that doesn't leave hair everywhere it goes.
In this article, we pose and answer the question, what color French bulldog sheds the least?
We also go through why these dogs shed in the first place and what you can do to prevent it. Let's dive right in.
Table of Contents
What Color French Bulldog Sheds the Least?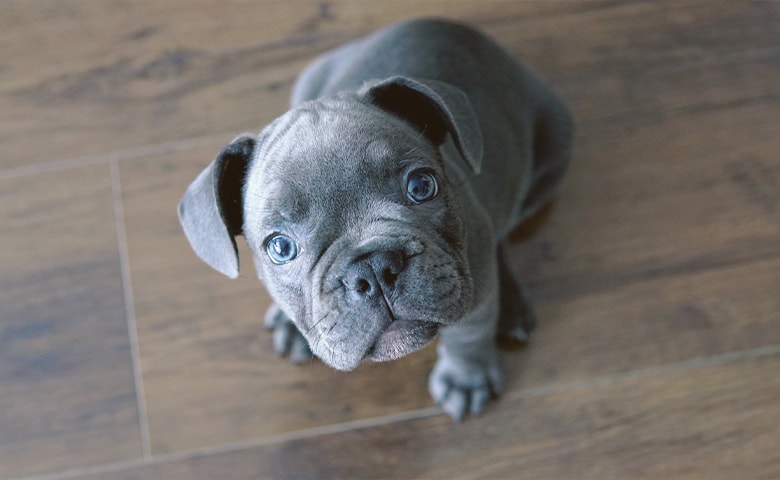 Keeping in mind that all dogs shed, what makes a French bulldog any less difficult?
Well, for starters, the size of a Frenchie is smaller than most, which means they're not covered with as much dog hair as others.
Additionally, their coats are thinner and finer than most dogs too.
Not only that, but French bulldogs are a hypoallergenic breed, so it's in their nature not to shed much.
All things considered, though, there are around a dozen types of French bulldogs—all of which come in different kinds of colorful furs.
But which of these Frenchies sheds the least hair?
The answer will be the adorable blue French bulldog.
Besides the general facts mentioned above, this Frenchie breed is naturally born with even less hair than average.
As a result, when the time comes for a blue Frenchie to shed its undercoat, there won't be as big a mess.
Blue Frenchies may shed the least, but dark-colored and black French bulldogs also shed less fur than the other colors.
We don't know why, but perhaps it's because their coats are silkier and smoother.
That said, French bulldogs that shed more hair than is average for their kind, are the ones with light-colored furs.
Cream, fawn, and white Frenchies leave behind a significant amount of hair each time they change their undercoats.
Do All French Bulldogs Shed?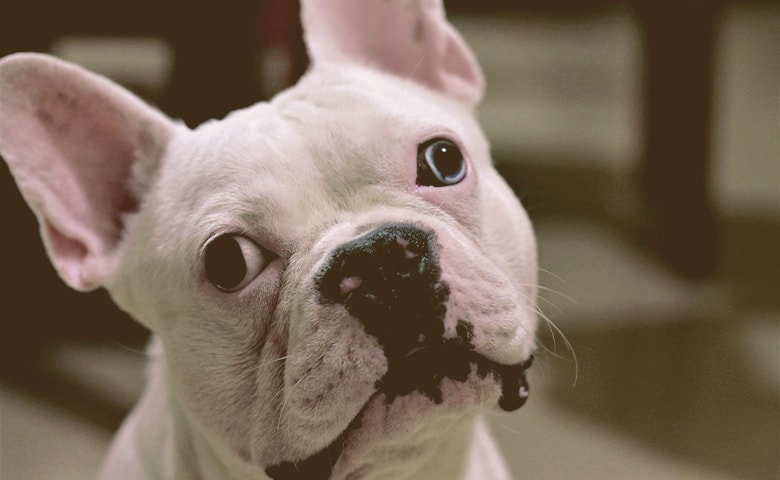 It's in every dog's nature to shed. It's how they get rid of old and damaged skin.
This step is an important part of their overall grooming as it helps the dog maintain healthy and shiny fur.
Compared to other dog breeds, Frenchies don't shed that often.
They're hypoallergenic dogs, meaning they don't have shedding coats and don't have any dander.
Despite that fact, a French bulldog still goes through two necessary shedding cycles a year.
Your puppy needs to change its coat once during the summer to grow fur that's thinner than before.
This way it can avoid overheating issues. Your Frenchie will shed its undercoat one more time in the winter and grow out a thicker coat to keep it warm.
Regardless, through those two periods of time, you'll find that your Frenchie will shed a fair amount of fur.
They won't cause a big mess because French bulldogs have small bodies and their hair is short.
Not just that, but a French bulldog only has one layer of fur which is its undercoat.
Most of the other dogs, however, have two layers: an undercoat and a topcoat, which means twice the shedding with double the hairy mess.
Why Do French Bulldogs Shed?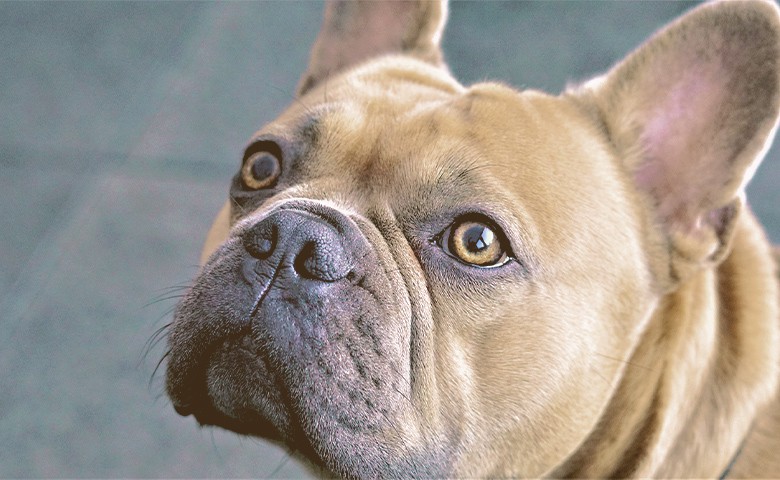 Keeping in mind that shedding is a natural part of a French bulldog's grooming habits, there are other factors that play a role in how much fur a Frenchie will leave behind.
For instance, young Frenchie puppies change their coats more often than adult ones.
What happens is, as these young pups grow, they go through a strong shedding phase.
This period typically starts when they're four months old and lasts around two months.
During this time, the young French bulldog is getting rid of its puppy undercoat and gradually replacing it with its adult one.
That new fur will be finer and softer than before.
A Frenchie's diet is another factor that'll affect how much hair they shed during their cycles.
With a balanced diet, your dog will shed the normal, healthy amount since their hair follicles are strong.
On the other hand, not feeding your puppy enough minerals and vitamins will weaken their ability to quickly change their undercoat when needed.
It may also cause excessive shedding.
So, make sure that your Frenchie is getting enough omega-3 in its diet as this fatty acid helps promote stronger fur.
Additionally, remember to keep your bulldog hydrated since dry skin also causes hair loss.
How to Control Your French Bulldog's Shedding?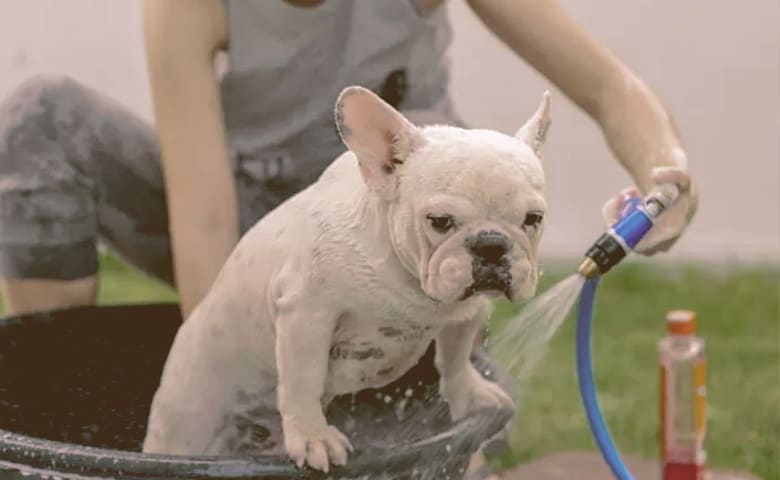 Even though a French bulldog is of a low-shedding breed, it doesn't mean that it's convenient to clean their hair up.
That's why it's best to learn how to control the amount of fur your French bulldog is going to shed.
The tricks behind doing so are quite simple and don't require much effort on your behalf.
For starters, give your puppy frequent baths to remove dead hair regularly.
Make sure to use soap and shampoo with a hydrating formula to keep their skin healthy.
You can also get your Frenchie used to comb sessions.
Using a fine brush on its coat will get rid of loose hairs and dead skin.
This will distribute its fur's natural oils too.
When to Be Concerned
Excessive shedding in French bulldogs is a sign of concern.
It's usually a symptom of an underlying medical condition that needs to be addressed immediately.
Typically, excessive shedding is accompanied by irritable skin, bald spots, and coarse fur.
If you notice any of these signs, check with a vet as soon as possible.
Wrapping Up
Our main focus was to answer the question, what color French bulldog sheds the least?
The conclusion was that blue-coated Frenchies leave behind the least amount of hair during both their shedding cycles.
Generally speaking, though, French bulldogs shed significantly less than most dogs.
This breed only needs to change its fur twice a year, meaning they're not going to pose a constant problem for you.
Plus, there are ways to control the amount of hair that'll come out each time too.
Either way, keeping a Frenchie happy and maintaining their coats is pretty low-maintenance!