7 French Bulldog Rescues in Pennsylvania [Updated for 2023]
Alex Vicente • Updated on August 10, 2023
If you're looking to find a French Bulldog Rescue in Pennsylvania you're in the right place.
Frenchies have been increasing in popularity over the past few years and according to the American Kennel Club (AKC) they are ranked as the #2 breed in America (1). For this reason, the umber of abandoned puppies and adult french bulldogs has also increased. Rescues and shelters are always looking for loving families to adopt frenchies.
Before you check the French Bulldog rescue centers below, please make sure you're aware of how big a responsibility is to foster or adopt French Bulldogs.
You need to know they may have pre-existing medical conditions and may need to be followed by a vet periodically.
You should also be aware that animal cruelty is a punishable crime.
If you plan to rescue a french bulldog, you should also know about the best harnesses for french bulldogs.
The rescue centers below are presented in no particular order.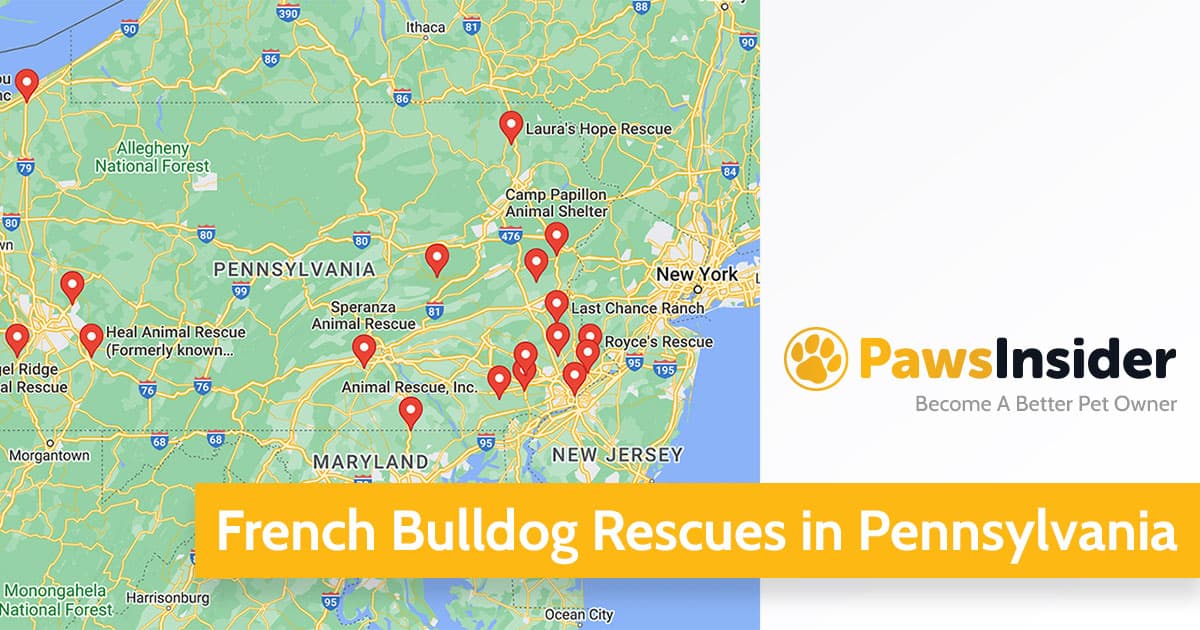 Table of Contents
Partnership for Animal Welfare (Nationwide)
The Partnership for Animal Welfare (PAW) is a non-profit volunteer organization dedicated to the rescue and adoption of homeless domestic animals, mostly dogs and cats, and the placement of these animals in loving and secure homes.
PAW works to educate the community about good pet care and ethical treatment.
Every year, they train over 160 new volunteers and place an average of 150 cats and dogs.
Every weekend, adoption events are hosted in suburban Maryland to allow prospective owners to meet the animals and volunteers.
Rescue and Adoption Details
Mail Address: P.O. Box 1074, Greenbelt, MD 20768, United States
Phone: 301 572 4729
Email:
Website: paw-rescue.org
Events: See upcoming events here
Forms:
Donate: Donations here
French Bulldog Village Rescue (Conshohocken, PA)
The French Bulldog Village (FBVR) is a rescue group formed by volunteers from all across the country whose aim is to rescue, rehabilitate, and rehome French Bulldogs and French Bulldog mixes.
FBVR seeks to raise awareness and understanding about the proper purchase and ownership of the French Bulldog breed as part of its purpose.
It is also a resource for other rescue organizations and private rescuers attempting to save French Bulldogs.
Rescue and Adoption Details
Pibbles Paws Safe Haven (Northampton, PA)
Pibbles Paws Safe Haven is located in Northampton County, in the northeastern part of the state.
Since all dogs are kept in a foster network, you must contact Pibbles Paws to find out where your specific puppy lives.
If you're not sure if you're ready to make a long-term commitment to your Frenchie, you can foster with PAWS.
Whatever path you choose, you'll have to apply and go through an interview process, as well as a vet check, so contact your veterinarian if you have one.
Rescue and Adoption Details
Address: 3381 Pheasant Drive, Northampton, PA, United States
Phone: 610 440 0531
Email:
Events: See upcoming events here
Forms:
HART for Animals (Nationwide)
HART was formed in response to the overwhelming amount of homeless animals coming to the county shelter, which outnumbered the facility's capacity and funds. As a result, the vast majority of the 1,000 abandoned animals are killed each year.
HART's mission is to prevent healthy animals from being euthanized by transferring them to larger rescue groups in more populous regions, where they have a higher chance of being adopted.
HART's objective is to rescue and transport animals, provide accessible spay/neuter procedures, establish and operate a humane animal hospital, and shelter and adopt homeless animals in Western Maryland and nearby areas.
Rescue and Adoption Details
Muddy Paws Rescue
Muddy Paws Rescue (MPR) was founded to support a growing community of dog-loving humans committed to stopping excessive companion dog euthanasia.
MPR provides educational materials, techniques, and direction to help all dogs and their owners have better lives.
They regard every encounter as a chance to provide advice, gather and generate instructional resources on dog behavior and appropriate pet management, and augment the individualized help they offer to the community.
Rescue and Adoption Details
Animal Advocates (Pittsburgh, PA)
Animal Advocates (AA) is a non-profit, all-volunteer animal welfare organization based in Pittsburgh that specializes in the rescue, care, and placement of companion animals.
Animal Advocates has been serving the Pittsburgh area since 1984, following a no-kill policy and engaging in community-based advocacy on behalf of animals.
AA's mission is to offer high-quality care for rescued cats and dogs until they are placed in forever homes.
All adoptable animals are cared for in loving volunteer foster homes, with the exception of a small number of cats fostered at their headquarters.
Rescue and Adoption Details
White Oak Animal Safe Haven (White Oak, PA)
White Oak Animal Safe Haven (WOASH) is a non-profit, no-kill animal shelter dedicated to finding loving, forever homes for pets from all sorts of backgrounds.
With the help of volunteers, donors, and sponsors, WOASH has been able to offer homeless animals a second chance by not only finding homes for over 13,000 pets since 2003, but also providing nurturing, medical care, training, grooming, and other services that have prepared them for life with their new families.
Rescue and Adoption Details