German Shepherd Rescue Columbus Ohio
Alex Vicente • Updated on August 1, 2023
If you're looking to find a German Shepherd Rescue in Columbus Ohio you're in the right place.
Before you check the rescue centers below, please make sure you're aware of how big a responsibility is to foster or adopt a dog, particularly German Shepherds.
You need to know they may have pre-existing medical conditions and may need to be followed by a vet periodically.
You should also be aware that animal cruelty is a punishable crime.
If you plan to rescue a german shepherd, you should also know about the best harnesses for german shepherds, as well as the best bed for german shepherds.
The rescue centers below are presented in no particular order.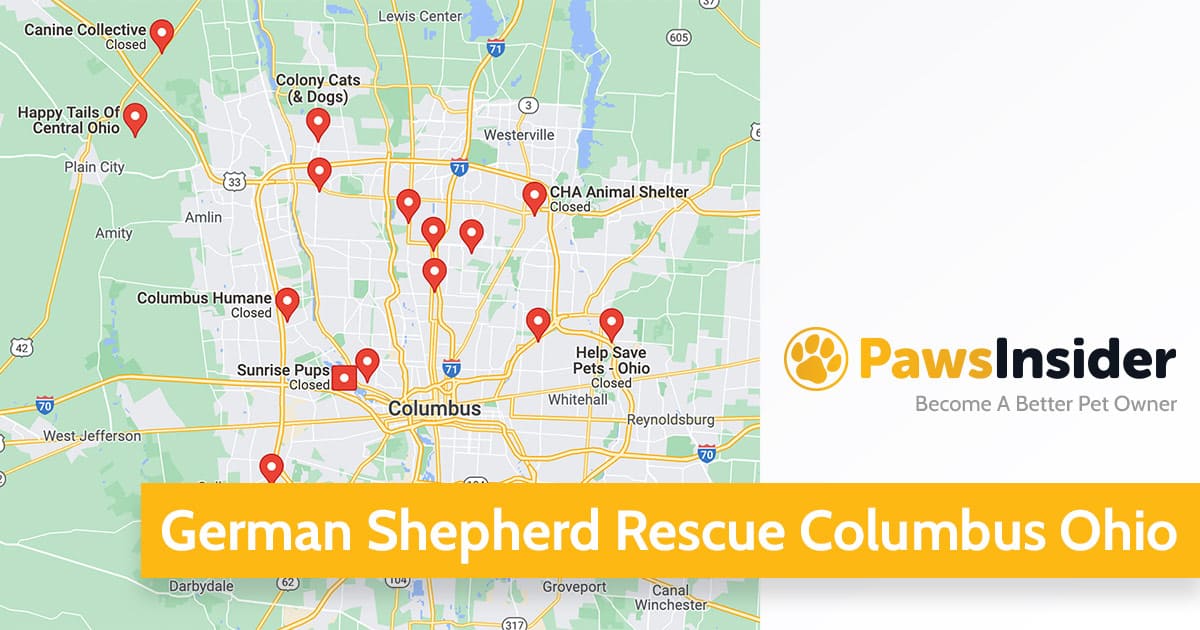 Table of Contents
CHA Animal Shelter (Columbus, OH)
Since 1975, CHA Animal Shelter has been a 501(c)(3) non-profit animal shelter in northeast Columbus, Ohio.
CHA is entirely supported by adoption fees, public donations, and our own fundraising efforts.
The purpose of CHAAS is to help the people and animals of Central Ohio by providing secure, temporary housing and care for abandoned or otherwise homeless cats and dogs, as well as to reduce pet overpopulation through spay/neuter, education, and community outreach.
Rescue and Adoption Details
Pets Without Parents (Columbus, OH)
Pets Without Parents, founded in June 2001, is a non-profit, no-kill, all-breed dog and cat shelter.
Their mission is to find loving, permanent homes for every pet who enters their shelter.
PWP aspires to create a community that fosters and respects companion animals and to see that every pet is loved one day.
This organization serves as a pet adoption shelter, carefully placing pets into forever homes, in order to foster such a community.
Furthermore, they do everything possible to limit pet overpopulation.
Before each pet is adopted, he or she is spayed or neutered.
Rescue and Adoption Details
Columbus Dog Connection (Columbus, OH)
Columbus Dog Connection, founded in 1998, is a 501c3 limited admission dog and cat rescue organization.
They are a group of dog lovers who rescue all breeds of dogs and cats.
CDC promotes all rescues and shelters in Ohio and will work tirelessly to save every adoptable dog until dogs and cats are no longer euthanized due to a lack of space.
They also provide a high-quality mobile spay/neuter service in locations with a high animal population but a scarcity of spay/neuter resources.
On the first Saturday of each month, they offer a low cost vaccine clinic.
Rescue and Adoption Details
Gigi's (Canal Winchester, OH)
Gigi's is a 501(c)(3) charity organization that was created in 2018 with the purpose of improving the lives of shelter dogs.
Gigi's combines the knowledge of national experts in dog sheltering and adoption to create a collaborative resource network, which includes our 15,000-square-foot dog campus in Central Ohio, with the goal of assisting all adoptable shelter dogs in the United States find a happy home.
Gigi's collaborates with existing shelters and adoption organizations to promote the health and well-being of shelter dogs while also increasing network efficiencies.
Rescue and Adoption Details
Address: 6175 Wright Rd, Canal Winchester, OH 43110, United States
Mail Address: 2700 E. Dublin-Granville Rd., Suite 300, Columbus, OH 43231, United States
Emails:
Website: gigis.org
Events: See upcoming events here
Form:
Donate: Donations here
Help Save Pets – Ohio (Gahanna, OH)
Help Save Pets – Ohio rescues dogs and cats from pounds and shelters in mostly rural regions.
Many government-funded pounds and shelters, particularly those in rural areas, have an abundance of homeless animals but limited cage capacity to accommodate them.
These shelters have a low demand for pets and a high kill rate.
HSPO rescues pups and kittens that most rescues will not, as well as dogs and cats with treatable medical issues.
They also take pregnant and nursing mothers with their babies and place them in foster homes where they can raise their children in a safe environment.
Rescue and Adoption Details
Speak for the Unspoken (Grove City, OH)
SPEAK! for the Unspoken is a 501(c)(3) certified pet rescue in the Columbus, Ohio area.
They are a completely foster-based organization dedicated to special needs animal rescue and education.
SFTU focuses its rescue efforts on special needs dogs and cats, namely double merle canines born with eyesight and/or hearing deficiencies as a result of bad breeding techniques.
They believe that special needs dogs can live happy and healthy lives, and they will continue to find these exceptional canines the homes they need until reckless breeding ends.
Rescue and Adoption Details
Charlie's Wish Animal Rescue (Westerville, OH)
Charlie's Wish Animal Rescue is a non-profit organization with 501(c)3 status based in Columbus, Ohio.
They are a foster-based rescue, which means that all dogs live with their fosters and that they do not have a shelter or office hours.
CWAR is focused on having the maximum good impact.
They take actions that have a long-term effect by using community-driven models.
They don't take in many dogs, but they make sure that each one is well-cared for and placed in a loving home.
Rescue and Adoption Details