Golden Retriever Rescues in WI (List Updated for 2023)
Alex Vicente • Updated on August 1, 2023
If you're looking to find a Golden Retriever Rescue in Wisconsin you're in the right place.
Before you check the rescue centers below, please make sure you're aware of how big a responsibility is to foster or adopt a dog, particularly Golden Retrievers.
You need to know they may have pre-existing medical conditions and may need to be followed by a vet periodically.
You should also be aware that animal cruelty is a punishable crime.
The rescue centers below are presented in no particular order.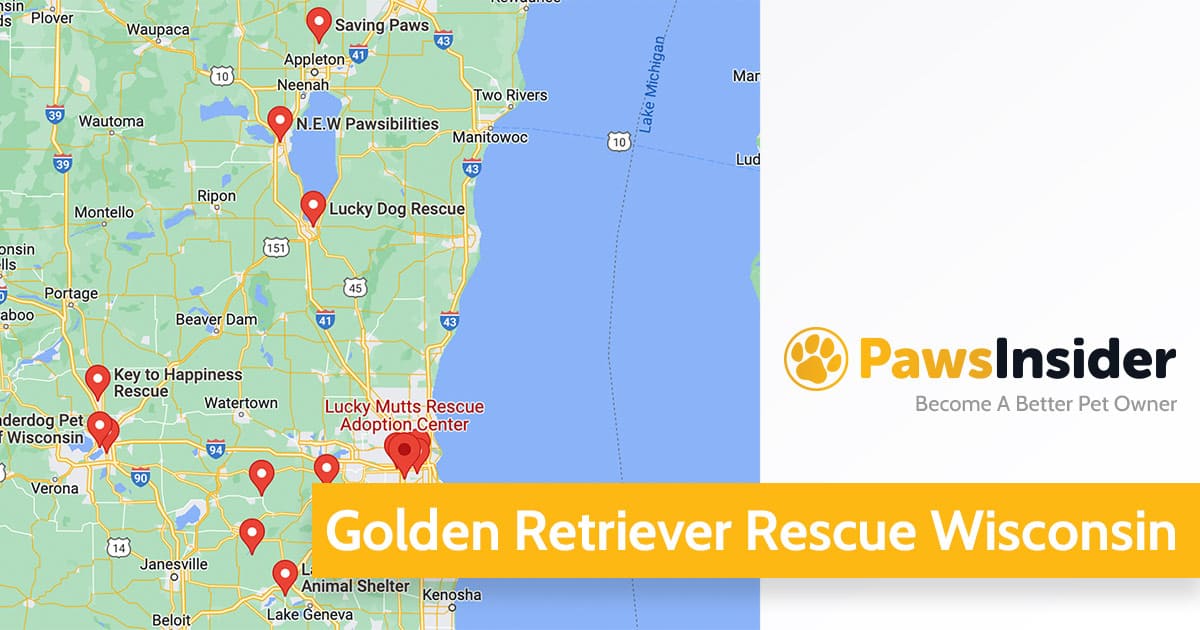 Table of Contents
Golden Retriever Rescue Of Wisconsin (Hubertus, WI)
The Golden Retriever Rescue of Wisconsin (GRRoW) was founded in 2000 and is the state's oldest all-volunteer, non-profit single-breed rescue organization.
GRRoW has placed nearly 3,000 Goldens in homes to date, and as of 2021, GRRoW will cover all of Wisconsin and the Upper Peninsula of Michigan.
Thanks to their work with RAGOM, a golden retriever rescue organization where the founder of GRRoW began her adventure as a rescuer, they have been able to coordinate many worldwide rescue initiatives with China and other nations in need of golden retriever rescue support.
Rescue and Adoption Details
Mail Address: PO Box 384, Hubertus, WI 53033, United States
Phone: 888 655 4753
Email:
Website: grrow.org
Events: See upcoming events here
Forms:
Donate: Donations here
Wisconsin Adopt a Golden Retriever (Brookfield, WI)
Wisconsin Adopt a Golden Retriever (WAAGR) is a volunteer-run Golden Retriever rescue organization that serves Wisconsin and parts of Illinois.
The organization was founded in September 2004 and was granted 501(c)(3) status in February 2005.
In May of 2005, they rescued their first dog.
WAAGR's purpose is to give displaced Golden Retrievers and Golden Retriever mixes new beginnings.
They have no paid staff and rely on the generosity of individuals who want to assist and offer a safe and happy existence for Golden Retrievers who have lost their homes for any reason.
Their volunteers/members do all possible to help these gentle and loving creatures find the perfect home.
Rescue and Adoption Details
Address: 12605 W North Ave #285, Brookfield, WI 53005, United States
Phone: 414 517 7725
Email:
Website: www.waagr.org
Events: See upcoming events here
Forms:
Donate: Donations here
Badger State Golden Retrievers (Ringle, WI)
The Badger State Golden Retriever Rescue (BSGR) is recognized throughout Wisconsin for its dedication to rescuing Golden Retrievers.
Their mission is to locate goldens and bring them into their facilities where they may be socialized, medically treated, cared for, fed, and more.
They commit to helping as many goldens as possible and finding them suitable homes.
The BSGRT team devotes their time to providing for the goldens in their care while also attempting to rescue as many stray and abandoned goldens as feasible.
They are well known in the area for frequently having adoptable goldens, allowing customers to find a dog every time they visit.
Rescue and Adoption Details
Address: 231867 Eau Claire River Rd, Ringle, WI 54471, United States
Phone: 715 573 4231
Social Media: Facebook
Fetch Wisconsin Rescue (Verona, WI)
Fetch Wisconsin Rescue is a 501(c)(3) non-profit that has rescued over 3,500 dogs since April 2013.
This group is dedicated to rescuing and rehabilitating unwanted, abandoned, and mistreated dogs located in Midwest shelters, as well as pets, surrendered by local owners who are unable to care for them.
They spend time getting to know each dog in order to select the best match for their future home.
Fetch works hard to help their dogs become confident, balanced canines, as well as to enable their volunteers to become strong, assertive pack leaders.
From home visits to web design, our volunteers bring their abilities, knowledge, and passion to Fetch.
Rescue and Adoption Details
Mail Address: PO Box 930572, Verona, WI 53593, United States
Phone: 608 561 3827
Email:
Website: www.fetchwi.org
Events: See upcoming events here
Forms:
Donate: Donations here
Underdog Pet Rescue of Wisconsin (Madison, WI)
Underdog Pet Rescue is an all-breed companion animal rescue based out of Dane County, Wisconsin.
This center was founded by Underdog in 2012 by Lauren Brinkman, after volunteering for roughly ten years with different humane organizations throughout Wisconsin.
Lauren's strong love for animals inspired her to establish a rescue and vet clinic that supports the most vulnerable animals while also offering a quality experience for their adopters, volunteers, and clients.
Under Lauren's guidance, Underdog has evolved to save thousands of lives by providing support before, during, and after adoptions in our 150+ foster homes.
Rescue and Adoption Details
JR'S Pups N Stuff (West Allis, WI)
JR's Pups-N-Stuff Inc. was founded with a single objective in mind: to help animals in life-threatening situations.
That ideal is what pushed them to where they are now.
They've had a number of happy endings and will continue to give good homes to future rescued canines.
They do not discriminate against or rescue animals based solely on their breed or age.
JRPNS saves animals who are on the verge of being euthanized for a variety of reasons, including space constraints or health difficulties.
Rescue and Adoption Details
Woof Gang Rescue (Racine, WI)
Woof Gang Rescue, Inc. is a non-profit, no-kill dog rescue organization that serves not just Wisconsin and Illinois, but also Arkansas, Missouri, and Ohio.
They are committed to rescuing dogs that have become homeless for a variety of reasons, with a particular focus on dogs in shelters who are at high risk of euthanasia due to pet overpopulation and owner surrenders, as well as those who are at risk of abuse or neglect.
WGR also finds it very rewarding to give breeder dogs a second chance by matching them with a lifelong loving family.
These dogs were surrendered for a variety of reasons, including medical difficulties, completed breeding, or simply dogs that did not sell.
Rescue and Adoption Details