7 French Bulldog Rescues in Massachusetts: Updated for 2023
Alex Vicente • Updated on August 10, 2023
If you're looking to find a French Bulldog Rescue in Massachusetts you're in the right place.
Frenchies have been increasing in popularity over the past few years and according to the American Kennel Club (AKC) they are ranked as the #2 breed in America (1). For this reason, the umber of abandoned puppies and adult french bulldogs has also increased. Rescues and shelters are always looking for loving families to adopt frenchies.
Before you check the French Bulldog rescue centers below, please make sure you're aware of how big a responsibility is to foster or adopt French Bulldogs.
You need to know they may have pre-existing medical conditions and may need to be followed by a vet periodically.
You should also be aware that animal cruelty is a punishable crime.
If you plan to rescue a french bulldog, you should also know about the best harnesses for french bulldogs.
The rescue centers below are presented in no particular order.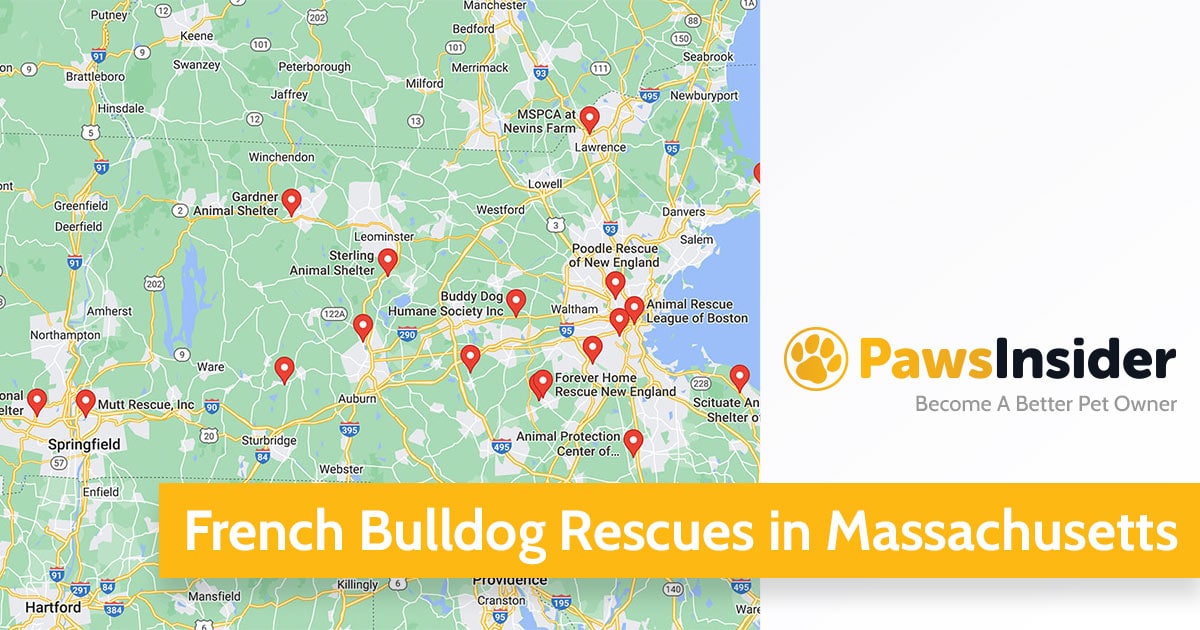 Table of Contents
Forever Home Rescue New England (Medfield, MA)
Forever Home Rescue New England (FHRNE) is a non-profit organization dedicated to saving and placing as many dogs as possible from bad situations.
They are an all-breed rescue, and their dogs range in age from 12 weeks to very large dogs of all sizes.
FHRNE follows all the rules of the state of Massachusetts in doing transports and adoptions.
Rescue and Adoption Details
Great Dog Rescue NE
Great Dog Rescue New England (GDRNE) is a 501(c)(3) non-profit, all-breed rescue organization based in Massachusetts.
This organization is made up of volunteers from all over New England who love dogs and want to help those who find themselves homeless through no fault of their own.
GDRNET does their best to assess their dogs' temperament and suitability for living with other dogs, cats, and children.
The dogs are vaccinated and spayed/neutered. They are then placed in loving foster homes until they are paired up with their forever family.
Rescue and Adoption Details
Lighthouse Animal Shelter (New Bedford, MA)
Lighthouse Animal Shelter (LAS) is a 501(c)(3) all-volunteer organization with decades of combined experience in animal welfare and rescue.
They rescue dogs from high-admission shelters in southern states with high euthanasia rates.
LAS focuses its efforts on assisting homeless animals, with an emphasis on adult and senior animals.
Lighthouse also helps the local community reduce pet overpopulation by promoting responsible pet ownership, including spaying/neutering advocacy.
Rescue and Adoption Details
Animal Rescue League of Boston (Boston, MA)
The Animal Rescue League of Boston (ARL) is a non-profit organization that provides veterinary care, adoption services, and field assistance for animals.
They also take part in special police investigations to fight cruelty towards any type of animal as well as strengthen the laws around them.
ARL has been saving animals for over 120 years.
They are often the first to respond, with 1,000 dedicated volunteers and 100 staff members lending unwavering support to local animal families in need.
Rescue and Adoption Details
Worcester Animal Rescue League (Worcester, MA)
Worcester Animal Rescue League provides compassionate care for every animal that comes through their doors, giving them shelter and resources.
They have a low intake policy so they can take all the animals in when there's enough space available in the facilities, – with 96 dog kennels and 41 cat kennels.
The dedicated team of individuals that make up this organization are a vital part of its success. WARL´s staff, volunteers, and board members work tirelessly for the animals every day.
Rescue and Adoption Details
Scituate Animal Shelter of Massachusetts (Scituate, MA)
The Scituate Animal Shelter (SAS) is a non-profit that operates in the town of Scituate, Massachusetts, and has been helping local pets and their owners since 1992.
Each year, this organization finds homes for an average 500+ animals while also matching countless lost pets with loving families.
Helping animals also means helping the people who care for them.
SAS's most recent programs include a 24-hour free pet food pantry for any animal owner facing financial hardship as a result of the pandemic, as well as ongoing low-cost neuters and veterinary care available throughout the community.
Rescue and Adoption Details
MSPCA Animal Care and Adoption Center (Jamaica Plain, MA)
The MSPCA Animal Care and Adoption Center is one of the oldest and most well respected animal shelters in America.
It was founded in 1868 by George T. Angell and has been an independent non-profit organization ever since.
MSPCA has worked to relieve suffering, prevent cruelty, and promote a just and compassionate society.
This group is constantly reevaluating its goals in order to meet society's most pressing needs.
Rescue and Adoption Details
Address: 350 S Huntington Ave, Jamaica Plain, MA 02130, United States
Phone: 617 522 5055
Emails:
Website: www.mspca.org
Events: See upcoming events here
Forms:
Donate: Donations here