9 Boston Terrier Rescues in Texas: List UPDATED for 2023

9 Boston Terrier Rescues in Texas: List UPDATED for 2023
Alex Vicente • Updated on February 14, 2023
If you're looking to find a Boston Terrier Rescues in Texas you're in the right place.
Before you check the rescue centers below, please make sure you're aware of how big a responsibility is to foster or adopt a dog, especially Boston Terriers.
You need to know they may have pre-existing medical conditions and may need to be followed by a vet periodically.
You should also be aware that animal cruelty is a punishable crime.
The rescue centers below are presented in no particular order.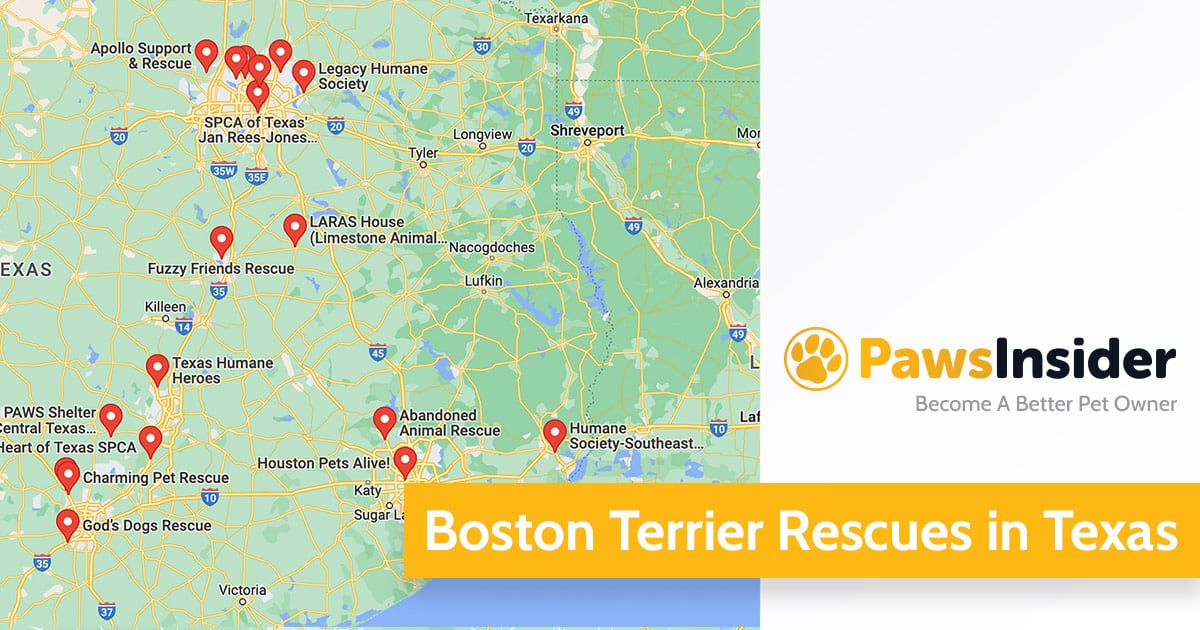 Other resources that you may be interested in:
Table of Contents
American Boston Terrier Rescue (Little Elm, TX)
The American Boston Terrier Rescue is a non-profit organization run entirely by volunteers committed to the health and well-being of all senior and special needs boston terriers.
Their primary mission is to rescue and rehabilitate homeless boston terriers, and their ultimate goal is to provide these dogs with the opportunity to live the life they deserve.
All adoption applicants are rigorously screened through their online adoption application, which includes vet and personal reference checks, personal interviews, and a house visit.
Before any adoption, all dogs are spayed/neutered (if medically suitable) and heartworm negative.
Rescue and Adoption Details
Boston Terrier Rescue of Greater Houston (Spring, TX)
The Boston Terrier Rescue of Greater Houston (BTRGH) is a non-profit 501(c)(3) organization dedicated to the rescue, rehabilitation, and permanent rehoming of abandoned, neglected, mistreated, and surrendered Boston terriers.
This organization is made up of volunteers who give their time and abilities to the mission of saving Boston terriers from Texas, Louisiana, and occasionally Mississippi.
The goal of BTRGH is to decrease the number of homeless, neglected, and abused animals by placing them in responsible, loving, permanent homes.
Rescue and Adoption Details
Boston Terrier Rescue of North Texas (Plano, TX)
The Boston Terrier Rescue of North Texas (BTRNT) was founded in the late 1980s when it became clear that there was a need to assist Bostons in need.
Today, the rescue is committed to educating the general public about making wise decisions when choosing a breed and, secondly, the best boston for their situation.
Since its inception, almost 1,000 Boston terriers have been successfully adopted into loving families.
BTRNT assists dogs with major medical issues because they believe that every dog should have the opportunity to live a happy, healthy life.
However, their veterinary costs frequently surpass the amount of the adoption fee, so they must rely on dog lovers and supporters for financial assistance.
Rescue and Adoption Details
Rescued Pets Movement (Houston, TX)
Rescued Pets Movement Inc. is a non-profit group that gives thousands of homeless dogs and cats a second chance by rehabilitating and transporting them to permanent homes in areas across the United States and Canada.
Every year, thousands of adoptable animals are euthanized in the Greater Houston area because of pet overpopulation.
After many years of working with various rescue groups, the founders of RPM decided that the best strategy to save these dogs and cats is to form strong partnerships with respectable rescue groups both locally and in parts of the United States and Canada where there is a high demand for adoptable pets.
Rescue and Adoption Details
Address: The Jack C. Alexander Building, 2317 w. 34th St., Houston, TX 77018, United States
Email:
Website: www.rescuedpetsmovement.org
Events: See upcoming events here
Forms:
Special Pals (Houston, TX)
Special Pals is a non-profit animal welfare organization that was created in 1979 and is Houston metro area's oldest continually operating "no-kill" animal shelter.
In collaboration with local rescue organizations, their objective is to save as many animal lives as possible in the area.
SP also encourages the community to endorse animal health and safety, with the hope and belief that Houston may become the Gold Standard for animal welfare.
Rescue and Adoption Details
Address: 3830 Greenhouse Rd, Houston, TX 77084, United States
Phone: 281 579 7387
Email:
Website: specialpals.org
Events: See upcoming events here
Forms:
Donate: Donations here
Houston Pets Alive! (Houston, TX)
Houston Pets Alive is a non-profit organization founded by Andrea Birkelbach, in 2014.
This group is constituted by animal-loving volunteers and personnel who work diligently to rescue every life in danger.
Houston Pets Live! is not a conventional rescue, operating as a safety net for municipal shelters, rescuing animals with no other options.
Every day HPL receives a list of animals in danger of euthanasia and strives to save as many as they can as long as they have sufficient foster caregivers.
HPL recognizes that saving lives is a collective process, and they are determined to save the lives of those that others won't.
Rescue and Adoption Details
Address: 2800 Antoine Drive, Suite 2854, Houston, TX 77092, United States
Emails:
Website: www.houstonpetsalive.org
Events: See upcoming events here
Forms:
Citizens For Animal Protection (Houston, TX)
Citizens for Animal Protection is a non-profit organization, founded in 1972, that shelters, rescues, and places unwanted animals for adoption with loving families.
It was started in 1972. CAP This group promotes animal life respect and compassion, as well as humane education to eliminate animal abuse.
This group speaks for those who are unable to speak for themselves, through a wide range of programs and vital services.
Citizens for Animal Protection believes that providing for pets in need through sheltering, adoption, education, and spay/neuter is one of the most rewarding things you can do in life.
Rescue and Adoption Details
Address: 17555 Katy Fwy, Houston, TX 77094, United States
Emails:
Website: www.cap4pets.org
Forms:
Friends For Life (Houston, TX)
Friends for Life, a Houston-based organization works to help the animals in need in the community.
After much effort, the charity was able to relocate into their very own facility in the Heights, in 2012.
They carefully planned the shelter with the animal's comfort in mind.
The abundant natural light and clean lines make this a welcoming environment for adopters and volunteers.
FFL recognizes that the potential to save animals is directly proportional to the number of available foster homes.
They will continue to work to provide the animals with a forever home as well as everything else they may require.
Rescue and Adoption Details
God's Dogs Rescue (Von Ormy, TX)
God's Dogs Rescue (GDR) is a 501(c)(3) non-profit rescue organization based in Von Ormy, Texas.
They have 5 enclosed acres for the dogs to run and play in, as well as extensive rehabilitation and exercise facilities.
Because they have horses and cats as pets, their rescue dogs are socialized with other animals and people who come and go in a healthy country atmosphere.
Appointments are required to view the rescued dogs.
GDR makes every effort to accept a dog if he or she does not fit in with your family, but with so many animals searching for homes, they may be too full.
If they cannot take the dog back, they will always make every effort to locate another appropriate home for any of the rescues.
Rescue and Adoption Details
Address: Von Ormy, TX 78073,, United States
Email:
Website: godsdogsrescue.org
Events: See upcoming events here
Forms:
Donate: Donations here