German Shepherd Rescue Pittsburgh
Alex Vicente • Updated on August 1, 2023
If you're looking to find a German Shepherd Rescue Pittsburgh you're in the right place.
Before you check the rescue centers below, please make sure you're aware of how big a responsibility is to foster or adopt a dog, particularly German Shepherds.
You need to know they may have pre-existing medical conditions and may need to be followed by a vet periodically.
You should also be aware that animal cruelty is a punishable crime.
If you plan to rescue a german shepherd, you should also know about the best harnesses for german shepherds, as well as the best bed for german shepherds.
The rescue centers below are presented in no particular order.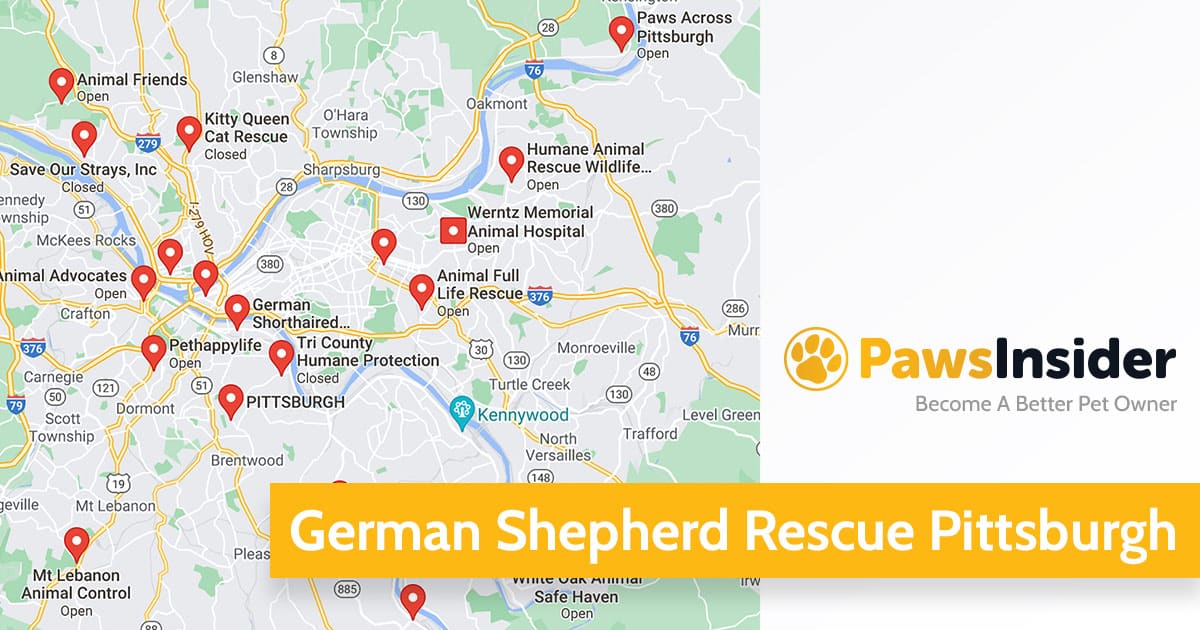 Table of Contents
Animal Advocates (Pittsburgh, PA)
Animal Advocates is a non-profit, all-volunteer animal welfare organization based in Pittsburgh that specializes in the rescue, care, and placement of companion animals.
Animal Advocates has been serving the Pittsburgh area since 1984, following a no-kill policy and engaging in community-based advocacy on behalf of animals.
AA's mission is to offer high-quality care for rescued cats and dogs until they are placed in forever homes.
All adoptable animals are cared for in loving volunteer foster homes, with the exception of a small number of cats fostered at their headquarters.
Rescue and Adoption Details
Animal Friends (Pittsburgh, PA)
The mission of Animal Friends is to build a humane and caring future for all animal friends.
AR rescues, rehabilitates, and rehomes animals in need, promotes healthy pets through education, advocacy, and low-cost services, and inspires a society that values and nurtures the animal-human bond.
Rescue and Adoption Details
Paws Across Pittsburgh (Springdale, PA)
Paws Across Pittsburgh is a 501(c)(3) non-profit animal rescue based in the Pittsburgh area.
This organization is entirely operated by volunteers, with the goal of providing vet care, socializing skills, and nutritional requirements while living in a loving foster home.
All animals who enter the rescue will receive proper veterinary care, spay/neuter, vaccinations, and preventative treatments.
PAP passionately believes in force-free training methods for its animals, and its objective is to ensure that every one of its animals has a loving, forever home.
Rescue and Adoption Details
Humane Animal Rescue of Pittsburgh (Pittsburgh, PA)
Humane Animal Rescue of Pittsburgh (HARP) is a major non-profit organization in Pennsylvania dedicated to the welfare of animals, pet owners, and the community.
It has an open-door policy that ensures that no animal is ever refused shelter
HARP is a trusted and caring resource that helps more than 25,000 animals each year through our adoption programs, veterinary medical centers, care for injured or orphaned native Pennsylvania wildlife, pet food distribution, and community engagement activities through their two domestic animal shelters and fully licensed Wildlife Rehabilitation Center.
Rescue and Adoption Details
Animal Full Life Rescue (Pittsburgh, PA)
Animal Full Life Rescue was founded in January 1994. Wilkinsburg and Pittsburgh's East End had undergone major community changes in the years leading up to its inception.
As a result, many animals were abandoned and forced to fend for themselves. AFLR's mission is to rescue, rehabilitate, and place as many as possible in homes.
Those who are unable to be placed will remain with us and live a full, happy, and safe life free of the risks of living on the street. ​
AFLR is a no-kill, cage-free shelter located in three former homes.
Many of their animals are unadoptable and will spend the rest of their lives at the shelter, much like an animal rest or retirement home.
Rescue and Adoption Details
White Oak Animal Safe Haven (White Oak, PA)
copy
Rescue and Adoption Details
Who Rescued Who Humane Society (Clairton, PA)
Who Rescued Who Humane Society's mission is to prevent animal cruelty, assist in the enforcement of animal laws, find suitable homes for homeless animals, and offer humane care and treatment for animals.
At WRWHS, you will find many cats, dogs, and even rabbits in need of a home.
Rescue and Adoption Details