Golden Retriever Rescue Atlanta (List Updated for 2023)

Golden Retriever Rescue Atlanta (List Updated for 2023)
Alex Vicente • Updated on February 23, 2023
If you're looking to find a Golden Retriever Rescue in Atlanta you're in the right place.
Before you check the rescue centers below, please make sure you're aware of how big a responsibility is to foster or adopt a dog, particularly Golden Retrievers.
You need to know they may have pre-existing medical conditions and may need to be followed by a vet periodically.
You should also be aware that animal cruelty is a punishable crime.
The rescue centers below are presented in no particular order.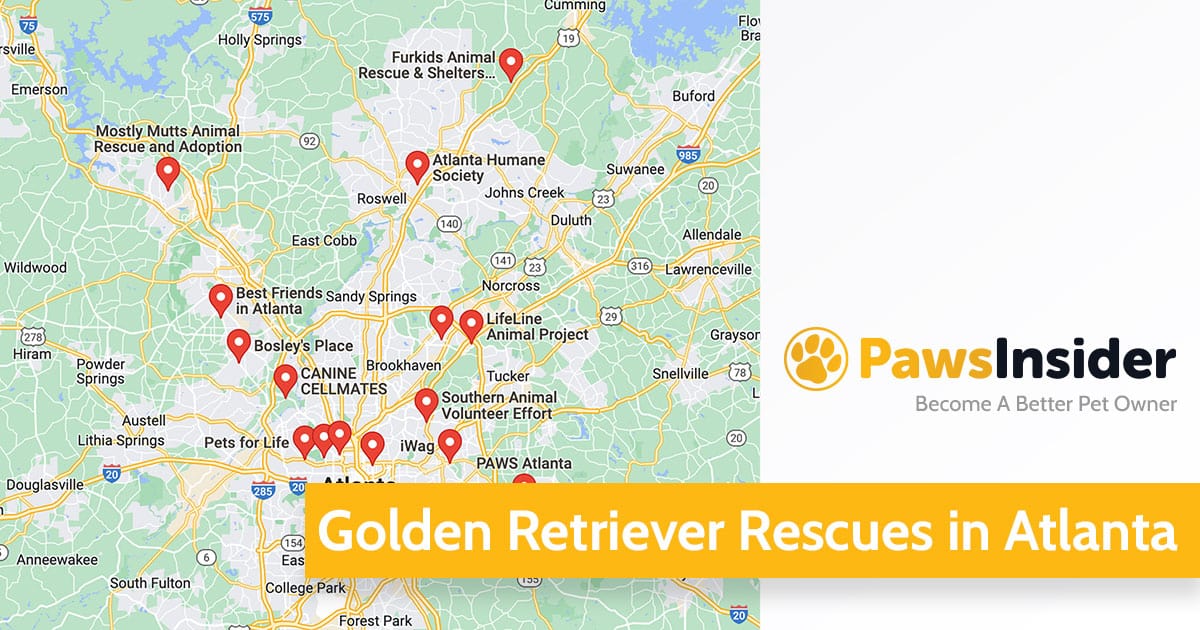 Table of Contents
Golden Retriever Rescue of Atlanta (Atlanta, GA)
Golden Retriever Rescue of Atlanta (GRRA) is an all-volunteer organization committed to finding new forever homes for Golden and Labrador Retrievers.
GRRA was founded in 1991 and is registered with the State of Georgia as an animal shelter and rescue group, as well as licensed by the State Agriculture Department.
The GRRA Rescue team collaborates with Georgia animal control groups to save Golden Retrievers from shelters.
They also take Golden Retrievers from owners and breeders who can no longer provide for or care for the dogs.
Their foster team is a network of volunteers that offer the shelter, care, training, and love these dogs require in order for them to be adopted.
GRRA also ensures that each dog receives the essential medical care before adoption.
Rescue and Adoption Details
Mail Address: P.O. Box 420501 Atlanta, GA 30342, United States
Email:
Website: grra.com
Events: See upcoming events here
Forms:
Donate: Donations here
Adopt a Golden Atlanta (Atlanta, GA)
Adopt a Golden Atlanta (AGA) is a volunteer, non-profit organization focused on finding warm, caring forever homes for Golden Retrievers (both purebred and high golden mixes) to prevent them from becoming strays or leading to shelter overcrowding.
Regardless of medical needs or age, Golden Retrievers will receive a thorough examination, spay/neutering services, veterinary care, behavioral training if necessary, and safe transit into a permanent loving home.
Whenever a non-golden is best friends with a golden who is surrendered to them, the non-golden will not be left behind and will be put alongside the golden to live together in their new home.
Rescue and Adoption Details
Address: PO Box 420256, Atlanta, GA 30342-9998, United States
Email:
Website: adoptagoldenatlanta.com
Events: See upcoming events here
Forms:
Donate: Donations here
Atlanta Lab Rescue (Atlanta, GA)
Since people who are interested in Golden Retrievers may also be interested in labradors, Atlanta Lab Rescue is a great place to look for a dog.
This is a non-profit (501-c3) organization run entirely by volunteers with years of rescue experience.
Their purpose is to rescue Labrador Retrievers and large-breed mixes from overcrowded shelters and abusive conditions and place them in safe, loving homes.
Each Atlanta Lab Rescue dog has a complete examination by our doctors, including a comprehensive blood profile, is up to date on all immunizations, spayed or neutered, and microchipped before being adopted.
Prior to adoption, any health conditions that necessitate additional treatment, such as heartworms or surgery, are handled.
Each adoption at ALR includes free access to our Atlanta Lab Rescue trainer; they think that a healthy, well-trained dog is the key to successful integration.
Rescue and Adoption Details
Mail Address: P.O. Box 250206, Atlanta, GA 30325, United States
Email:
Website: www.atlantalabrescue.com
Events: See upcoming events here
Forms:

Adoption Application here
LifeLine Animal Project (Atlanta, GA)
LifeLine Animal Project, based in Atlanta, is a 501(c)(3) charity organization dedicated to preventing the euthanasia of healthy and treatable animals in shelters.
They are Georgia's largest animal welfare organization.
LifeLine manages the Fulton and DeKalb County animal shelters, as well as providing Fulton County with enforcement services.
LLAP investigates the underlying causes of animal homelessness and collaborates with the community to provide accessible pet care.
Their mission is to keep people and animals together. Visit a LifeLine shelter today if you want to add a cat or dog to your family.
LifeLine also offers top-notch veterinary treatment at reasonable prices, ranging from spay and neuter services to basic wellness care.
Rescue and Adoption Details
Address: 3180 Presidential Dr, Atlanta, GA 30340, United States
Emails:
Website: lifelineanimal.org
Events: See upcoming events here
Forms:
Canine Cellmattes (Atlanta, GA)
Canine CellMates places shelter dogs with inmate handlers at the Fulton County Jail, where they receive the love and obedience training they require to heal from abuse and neglect.
Canine CellMates began on June 3, 2013, at Atlanta, Georgia's Fulton County Jail.
CCM collaborates with the Fulton County Sheriff's Department and the Fulton County Jail to develop a program that is as concerned with rehabilitation and recidivism as it is with preserving shelter canines.
The ultimate goal is for each dog to graduate and find a loving and forever home, and for men who have grown and been supported while in the program to go on to live productive lives after incarceration.
Rescue and Adoption Details
Rescue Me Ga (Atlanta, GA)
Rescue Me Georgia is an all-volunteer 501(c)(3) nonprofit rescue group certified in the state of Georgia founded in 2008 by two women who shared a common goal: to aid the forgotten dogs of Jasper County who had no voice up to that point.
Shelia and Marybeth joined forces together and decided to focus their efforts on a small, rural animal control in Jasper County (about 90 miles southeast of Atlanta).
Although the majority of their foster homes are in Atlanta, they still do their best to save dogs from Jasper County as well as other animal control in the Atlanta area.
In the past 12 years, RMG has grown and saved the lives of more than 5,000 animals.
As a foster-based rescue – they do not have a facility – but they do have an amazing foster team who give their hearts and homes to the ones they save!
Rescue and Adoption Details