German Shepherd Rescue Cincinnati
Alex Vicente • Updated on August 1, 2023
If you're looking to find a German Shepherd Rescue Cincinnati you're in the right place.
Before you check the rescue centers below, please make sure you're aware of how big a responsibility is to foster or adopt a dog, particularly German Shepherds.
You need to know they may have pre-existing medical conditions and may need to be followed by a vet periodically.
You should also be aware that animal cruelty is a punishable crime.
If you plan to rescue a german shepherd, you should also know about the best harnesses for german shepherds, as well as the best bed for german shepherds.
The rescue centers below are presented in no particular order.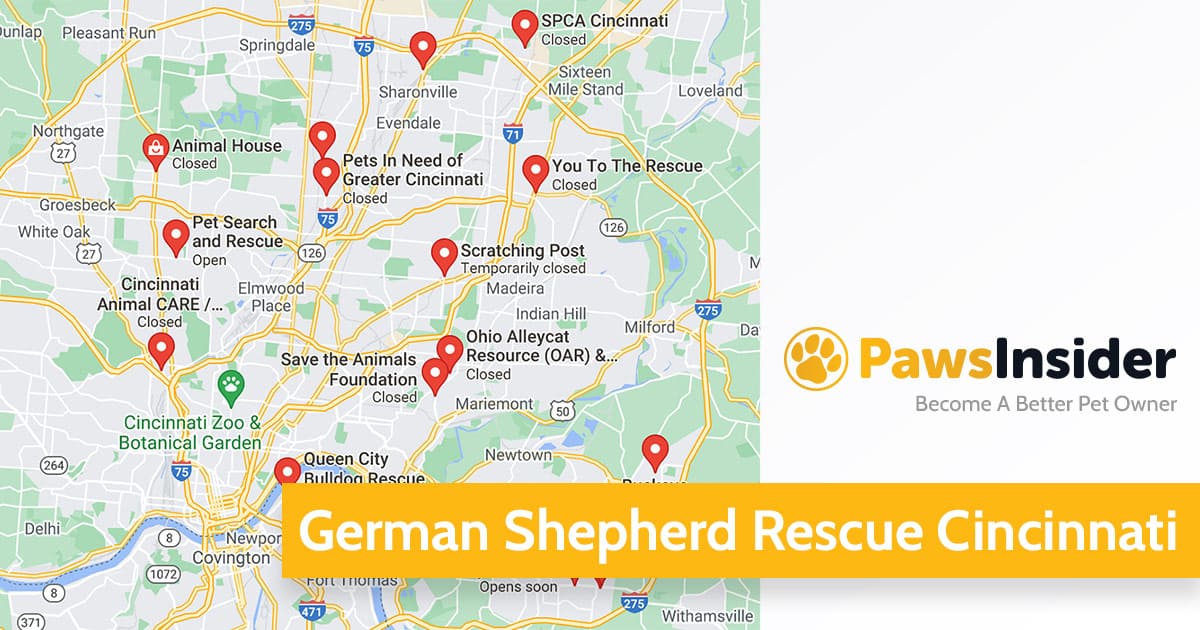 Table of Contents
Save the Animals Foundation (Cincinnati, OH)
Save the Animals Foundation is entirely supported by donations and is run exclusively by volunteers.
Their no-kill shelter is currently home to over 300 dogs and cats, many of them have been abused, abandoned, or literally tossed away.
Teams of volunteers work with the animals two shifts a day, 365 days a year, to provide them with a safe and caring environment until they can be placed in permanent, loving homes.
Thousands of lucky animals have been matched with equally lucky families over the years.
Rescue and Adoption Details
Address: 4011 Red Bank Rd, Cincinnati, OH 45227, United States
Phone: 513 561 7823
Emails:
Website: www.staf.org
Events: See upcoming events here
Form:

Adoption Application here
SPCA Cincinnati (Cincinnati, OH)
The SPCA Cincinnati has a long history of service to the Greater Cincinnati community, having been founded in 1873.
It was the first organization of its sort in Ohio when it was created as the Ohio Humane Society.
The name was changed to The Hamilton County Society for the Prevention of Cruelty to Animals in 1907, and it is now known as the SPCA Cincinnati.
SPCAC is a shelter that accepts open admissions for Hamilton County residents only.
They also use controlled intake. Breed clubs, rescues, and other organizations are welcome to join as placement partners to help find homes for some of the more difficult-to-place animals.
Rescue and Adoption Details
Sweet Dream House Rescue (Cincinnati, OH)
Sweet Dream House Rescue is an all-volunteer, 501(c)(3) non-profit dedicated to rescuing dogs and cats of all breeds from high-kill shelters.
Their primary goal is to save the lives of those who are unlikely to be rescued without their assistance.
They focus on transient animals who have been missed by adopters and other organizations, becoming the 'last choice' rescue for those animals.
SDHR offers all necessary medical care and age-appropriate vaccines to all of their rescued dogs and cats before they are adopted; they are also spayed/neutered and microchipped.
For pets that are ready for adoption, the organization uses a network of foster homes.
Rescue and Adoption Details
Address: 657 N Wayne Ave, Cincinnati, OH 45215, United States
Email:
Website: dreamhouserescue.org
Events: See upcoming events here
Forms:
Heartt Animal Refuge (Cincinnati, OH)
HEARTT Animal Shelter is a no-kill animal refuge and adoption center run entirely by volunteers.
They rescue abandoned and abused cats and dogs and give them a home as well as good medical treatment until they are adopted.
They are also strong supporters of spay/neuter.
HAR was established in 2007 and is both a state non-profit and a federal 501(c)(3) tax-exempt organization.
Their purpose is clear: to provide a safe, nurturing environment for cats and dogs until they are adopted by permanent and loving forever families.
Rescue and Adoption Details
Peppermint Pig Animal Rescue (Cincinnati, OH)
Peppermint Pig Thrift & Gift, founded in 2006, exists entirely to support Peppermint Pig Animal Rescue, a 100% non-profit 501(c)(3), completely volunteer-operated, no-kill animal rescue.
The proceeds from the volunteer-operated thrift store go entirely to the rescue and care of animals in need in their areas.
Their thrift store exists to help bridge the gap between their low adoption fees and the cost of vetting and caring for the animals they rescue.
Rescue and Adoption Details
Louie's Legacy Animal Rescue (Cincinnati, OH)
Louie's Legacy Animal Rescue is one of the nation's largest foster-based animal rescue groups, with major operations in both Ohio and New York City, serving a wide portion of the Midwest and Northeast.
They work with volunteers, fosters, animal welfare partners, and shelters as a professional 501(c)(3) rescue organization to rescue animals in need and place them in temporary foster care.
LLAR prioritizes the quality of care for all of its animals, including medical and behavioral support.
They also recognize and honor the contributions of the hundreds of amazing people and organizations who support Louie's Legacy in their lifesaving work.
Rescue and Adoption Details