German Shepherd Rescues in New Hampshire
Alex Vicente • Updated on August 1, 2023
If you're looking to find a German Shepherd Rescue in New Hampshire you're in the right place.
Before you check the rescue centers below, please make sure you're aware of how big a responsibility is to foster or adopt a dog, particularly German Shepherds.
You need to know they may have pre-existing medical conditions and may need to be followed by a vet periodically.
You should also be aware that animal cruelty is a punishable crime.
If you plan to rescue a german shepherd, you should also know about the best harnesses for german shepherds, as well as the best bed for german shepherds.
The rescue centers below are presented in no particular order.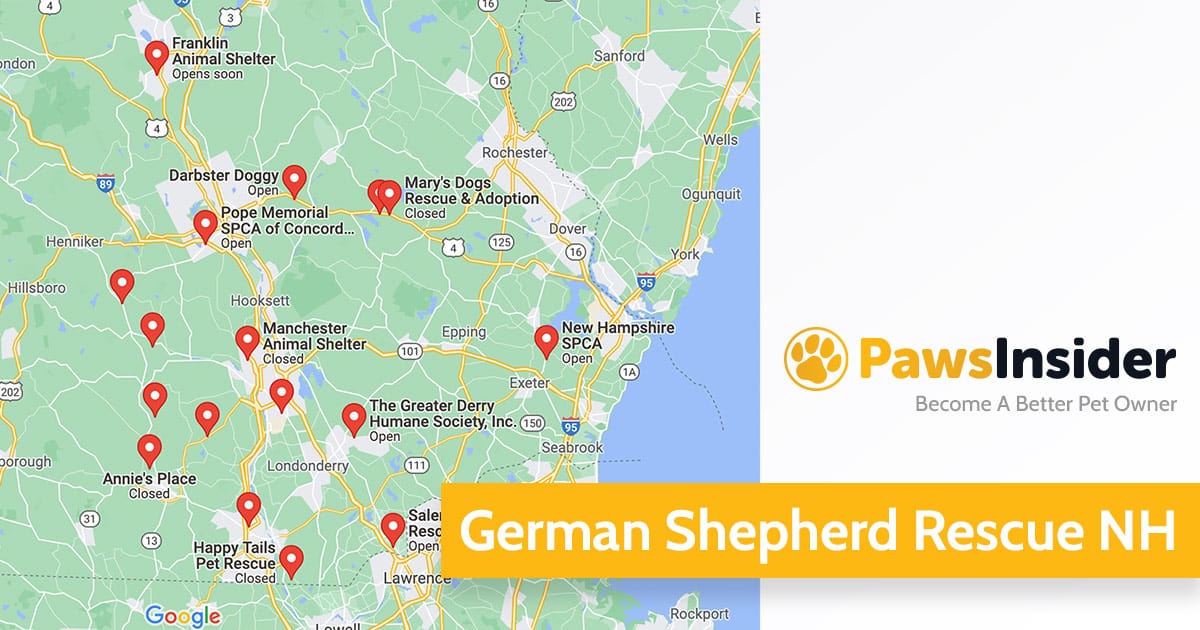 Table of Contents
Mary's Dogs Rescue & Adoption (Northwood, NH)
Mary's Dogs, founded in 2011 by Mary and John Doane and then transformed into a non-profit organization in 2016, saves and rehomes roughly 600 dogs per year from southern kill shelters and rehomes dogs in New England.
MD cultivates a network of volunteers, foster and forever pet parents, and serves as a resource to Southern New Hampshire communities and pet owners by providing education and information on responsible pet ownership, such as the importance of spay/neuter, positive behavior training, and good nutrition.
Rescue and Adoption Details
Address: 984 1st New Hampshire Turnpike, Northwood, NH 03261, United States
Phone: 603 608 3374
Emails:
Website: www.marysdogs.org
Events: See upcoming events here
Forms:
Pet Tails Rescue (Northwood, NH)
Maureen Cahill founded Pet Tails Rescue in March 2012. The Rescue is entirely run and maintained by a group of passionate volunteers who are committed to rescuing and placing homeless dogs and cats.
Their quarantine, training, and adoption center is located on Route 4 in Northwood, NH.
PTR is a 501(c)(3) non-profit corporation in New Hampshire, registered with the NH Charitable Trust, and a certified Rescue/Shelter with the NH Department of Agriculture.
Since their debut in March 2012, they have rescued and rehomed approximately 4,000 animals from high kill shelters that would not have had the opportunity for a good life owing to extreme overcrowding in southern shelters.
Rescue and Adoption Details
Manchester Animal Shelter (Manchester, NH)
Friends of the Manchester Animal Shelter was founded in 1996 as a non-profit organization.
In Manchester, the shelter takes in homeless, abused, and abandoned animals.
Every animal that comes through our doors receives shelter, medical care, and spay/neuter.
The shelter, which has been in existence for almost two decades, has helped in providing care and finding loving homes for over 25,000 animals.
FMAS believes that all animals are worthy of life, respect, and care.
Through spay/neuter programs and services focusing on education, medical treatment, fostering, and adoption, they hope to achieve zero population growth.
Rescue and Adoption Details
Animal Rescue League of NH (Bedford, NH)
The Animal Rescue League of New Hampshire, founded in 1902, is a 501(c)3 nonprofit organization that annually helps over 2,200 cats, dogs, and small animals.
The ARLNH is more than just a shelter; it also employs one of the state's only three shelter-based Animal Cruelty Investigators.
This rescue provides community outreach initiatives such as a Pet Food Pantry and Low-Cost Spay/Neuter Clinics to help people who love their pets but are now struggling to care for them.
Rescue and Adoption Details
Salem Animal Rescue League (Salem, NH)
The Salem Animal Rescue League (SARL) was founded in 1992 with the objective of rescuing 50 stray and unwanted animals in the Salem, New Hampshire area.
The organization saved 157 animals that year, demonstrating the need for an alternative to typical municipal animal management.
SARL's history is one of community interaction with police, local government, and residents.
The Salem Animal Rescue League now saves and adopts almost 800 dogs and cats per year.
We are a no-kill animal sanctuary; we never euthanize due to space or time constraints.
Rescue and Adoption Details
Hearts and Tails Animal Alliance (Weare, NH)
Hearts and Tails Animal Alliance, Inc is a 501(c)(3) non-profit organization established in New Hampshire.
Their story is similar to so many others…
They're a group of animal enthusiasts and long-term volunteers who met a black dog while on vacation in Puerto Rico, whose state was so bleak that they felt compelled to take action.
They've put in countless hours to understand the challenges as well as the hurdles, and they've formed relationships with incredible people that share their values.
HTA's goal is to find creative, innovative solutions to the problems that stray animals encounter all around the world.
And they need your help to achieve that.
Rescue and Adoption Details
Address: 35 Daniels Rd, Weare, NH 03281, United States
Mail Address: P.O. Box 593, Goffstown, NH 03045, United States
Phone: 740 237 7325
Email:
Website: www.heartsandtails.org
Events: See upcoming events here
Forms:
We Are Animal Guardians (Weare, NH)
W.A.G., founded in 1996, is an all-volunteer animal rescue and adoption group situated in Weare, New Hampshire.
This organization is dedicated to providing humane treatment and refuge for abandoned, abused, and unwanted animals, as well as finding them suitable new homes and raising public awareness about pet ownership responsibilities.
WAG does not have a physical location or compensated staff.
Their animals are being cared for in approved foster homes until a suitable adoptive home can be found.
They use a thorough application and interview procedure to ensure the best possible match between the animal and an adoptive home.
Rescue and Adoption Details
Address: 15 Flanders Memorial Rd, Weare, NH 03281, United States
Mail Address: P.O. Box 3054, Peterborough, NH 03458-3054, United States
Phone: 603 529 5443
Email:
Website: www.wearewag.org
Social Media: Facebook
Events: See upcoming events here
Forms: