7 French Bulldog Rescues in New York [Updated for 2023]
Alex Vicente • Updated on August 2, 2023
If you're looking to find a French Bulldog Rescue in New York you're in the right place.
Before you check the French Bulldog rescue centers below, please make sure you're aware of how big a responsibility is to foster or adopt French Bulldogs.
Frenchies have been increasing in popularity over the past few years and according to the American Kennel Club (AKC) they are ranked as the #2 breed in America (1). For this reason, the umber of abandoned puppies and adult french bulldogs has also increased. Rescues and shelters are always looking for loving families to adopt frenchies.
You need to know they may have pre-existing medical conditions and may need to be followed by a vet periodically.
You should also be aware that animal cruelty is a punishable crime.
The rescue centers below are presented in no particular order.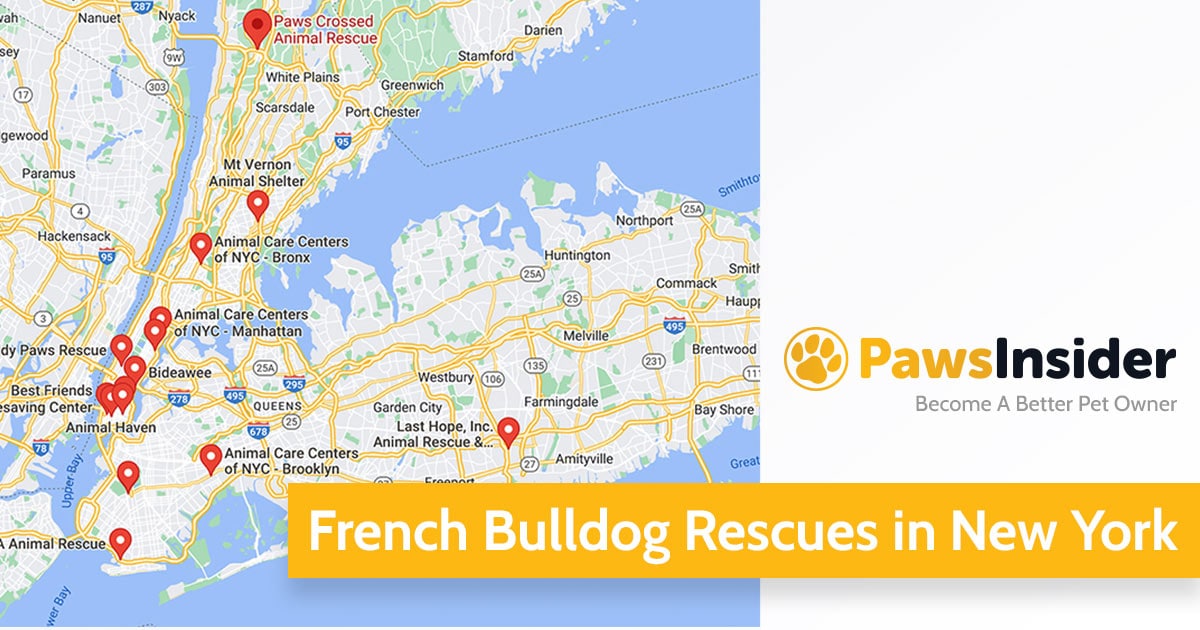 Table of Contents
French Bulldog Rescue Network (Glen Allen, VA)
The French Bulldog Rescue Network (FBRN) works to rescue, rehab, and rehome French Bulldogs that are in need from breeding facilities, import brokers, shelters, private rescue organizations, owners, or good samaritans.
FBRN is made up entirely of volunteers who care for and foster these dogs while also imparting knowledge and instruction to foster families or new owners.
Their mission is to find healthy, love-needing French Bulldogs their forever homes.
Rescue and Adoption Details
Long Island Bulldog Rescue (Stony Brook, NY)
Long Island Bulldog Rescue strives to provide education, prevention, and adoption services to assure that all bulldogs live long, healthy lives in caring, safe, suitable homes where they enjoy the lifelong care they deserve.
They make a promise to each bulldog and adopter that if an adoption fails, the dog will be returned to the shelter.
LIBR also provides breed-specific education to prevent the terrible consequences of irresponsible breeding, selling, and buying of puppies and dogs.
This vicious cycle often leads to bulldog neglect, abandonment, abuse, and death.
Rescue and Adoption Details
Buffalo Pug & Small Breed Rescue (Buffalo, NY)
Buffalo Pug & Small Breed Rescue is a non-profit organization entirely run and sponsored by volunteers.
In order to cover vet fees and other expenses, the organization asks for an adoption fee/donation for all pets adopted through the program.
This fee ranges according to the age, breed, and overall health of the dog being adopted.
Each of the adoption applications is carefully reviewed to see if there is currently a dog in foster care who matches the applicant.
If they find a match, you will be contacted by phone or email by one of the volunteers.
Be patient if you do not hear from BPSBR for a period of time, they do not forget about any of the candidates.
Rescue and Adoption Details
Animal Service League (Rochester, NY)
Animal Service League (ASL), was started in 1953 by a woman with a vision and a desire to aid homeless animals in the neighborhood. ASL was incorporated under New York State legislation in 1957.
Today, the organization seeks to maintain this original vision and goal, as well as to carry on the work of the founder.
ASL also focuses on educating and promoting proper domestic animal care and welfare.
Encourage domestic animal spaying/neutering at the earliest appropriate age as a technique of lowering their number.
Provide counseling assistance to guardians who are struggling to care for their current pets.
Rescue and Adoption Details
ROC The Dogs Rescue (Rochester, NY)
ROC The Dogs Rescue is a non-profit, all-volunteer dog rescue group that only services Rochester, New York.
The organization is committed and passionate about saving pets in the community for a variety of reasons.
They rescue dogs from local shelters, pets surrendered by their owners due to tough circumstances, stray dogs, and dogs in danger of abuse or neglect.
Animals in the care of ROC are spayed or neutered, receive all necessary veterinary care and treatment, and are placed in nurturing foster homes while they await permanent placement.
They assist dogs in need regardless of age, breed, or convenience of placement.
Rescue and Adoption Details
NYC Second Chance Rescue (Whitestone, NY)
NYC Second Chance Rescue (SCR) practices ethical and creative methods to minimize animal overcrowding in shelters, rescue and rehabilitate critically wounded and neglected animals, and link the community to resources that allow animals to stay in their homes.
SCR's goal is to contribute to the construction of a world in which animals are valued, respected, and not subjected to pain and distress.
Through education, community engagement, and compassionate treatment, they try to reduce euthanasia rates and sustain an overworked shelter system.
Rescue and Adoption Details
Mail Address: PO Box 570701, Whitestone, NY 11357, United States
Emails:
Website: nycsecondchancerescue.org
Events: See upcoming events here
Forms:
Donate: Donations here
Paws Crossed Animal Rescue (Elmsford, NY)
Paws Crossed (PC) is a private nonprofit that receives all of its funding from contributions, grants, and fundraising activities.
They are committed to being a real no-kill rescue, which means that they will only euthanize in cases of terminal disease or permanent suffering.
PC is dedicated to saving as many lives as they can while also providing the healthiest environment possible for the dogs in their care.
Paws Crossed believes that the best way to achieve their objective is through rescue, rehabilitation, rehoming, advocacy, cooperation, and education.
Rescue and Adoption Details