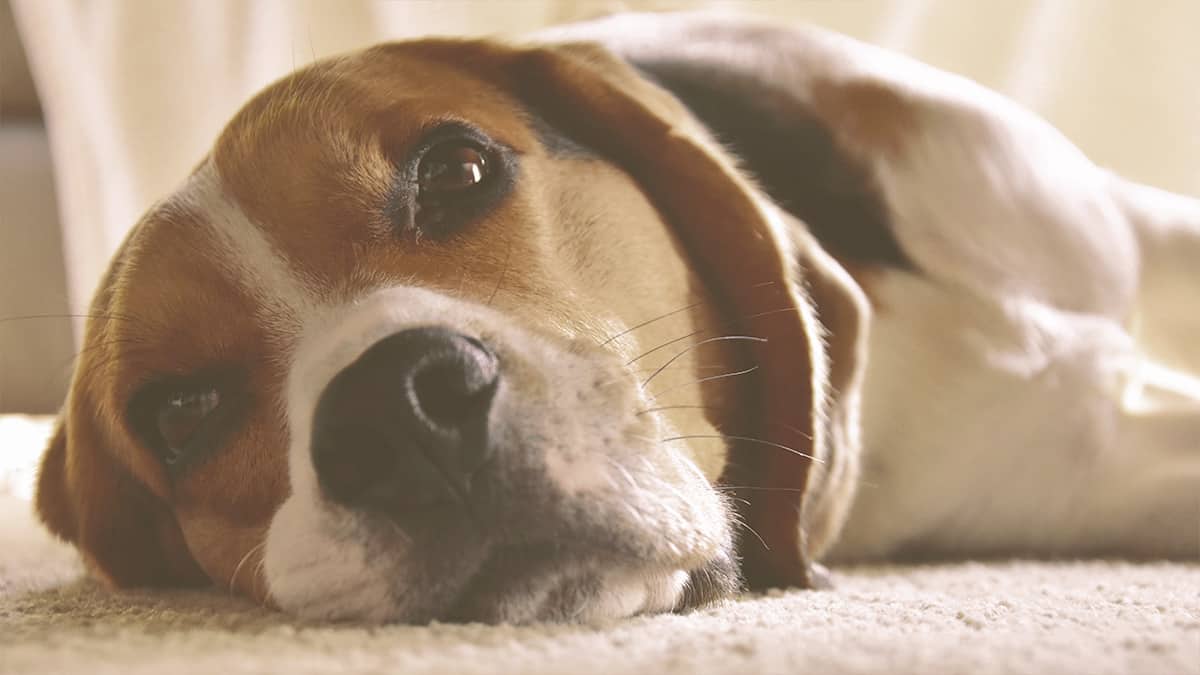 Dog Anxiety: How to Help Your Dog Work Through Worries
Alex Vicente • Updated on August 24, 2023
This review contains affiliate links. Read more here.
Not a substitute for professional veterinary help.
Dogs can have worries and fears just like people can, and there are several ways they might display their anxiety.
While some dog anxiety symptoms are mild, like panting or licking, others can be more extreme, causing dogs to become aggressive or extremely fearful.
Understanding the possible reasons for your dog's anxiety can help you work on a plan to reduce or prevent his worries and become more at ease with his surroundings.
Table of Contents
What Causes Anxiety in Dogs?
Dog anxiety can take many forms because it can stem from various experiences, changes, and fears. There are several triggers for dog anxiety, with the most common including: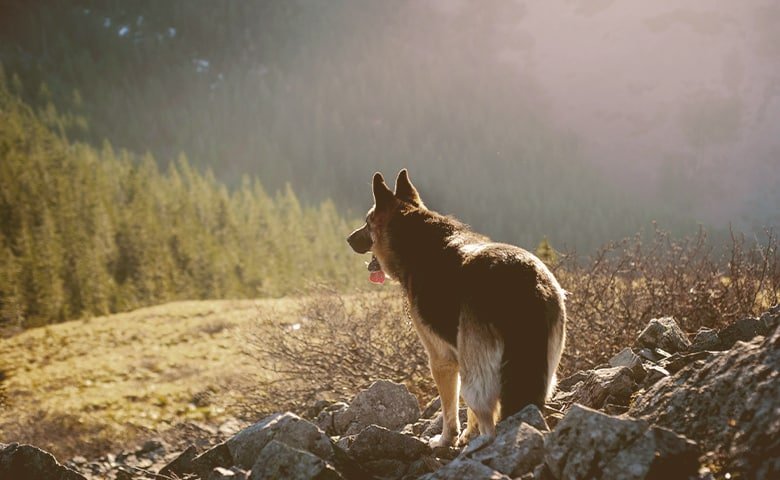 Separation from Loved Ones
Separation anxiety can affect any dog breed, age, or personality. When separation anxiety hits, your dog may become destructive as soon as you step outside the home, chewing on furniture or running around haphazardly. When you return, he's calm, cool, and collected.
Dogs can experience what young children might experience when their loved ones leave. They become nervous, not knowing where you've gone or when you'll return. They might even feel like you're never coming back, which can lead to the most severe cases of separation anxiety that could result in self-injury.
Separation anxiety can begin in puppyhood or arise seemingly out of the blue. A change in ownership, a move to a new home, or a change in your work schedule are all potential triggers in a dog who may not have had the problem before. A dog can also develop separation anxiety if he has an underlying medical issue, like those that cause incontinence.
Other resources that you may be interested in:
Environmental Changes
Dogs can also react to specific environmental changes in anxious ways. One of the more common changes is a move to a new home. But even a smaller change – like moving your dog's bed to a new room – can provoke anxiety. Most dogs prefer to have routines that they can count on, so switching his routine in even the slightest way can cause anxiety.
Your dog might start showing anxiety symptoms if any of the following environmental changes occur:
A new dog moves into the neighborhood
Construction begins in the neighborhood
Your dog's walking schedule changes due to a change in your work schedule
Someone moves into or out of the home
A new baby arrives
A child in the family begins going to school during the day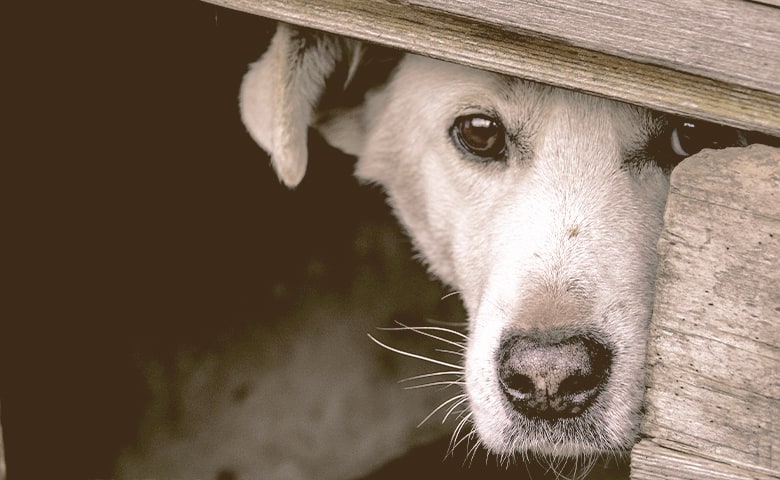 Fears
You might notice that your dog has fears of certain noises, like the TV or thunderstorms, or movements, like a child running around the home, that other dogs don't. Although you might think it's strange for your dog to be so fearful, it's quite common for dogs to develop fears and phobias.
Sometimes, these fears can stem from past experiences. If your dog was almost hit by a car, for example, it's not surprising that he'd become extremely fearful of even the sound of a car running. While some fears cause mild anxiety in dogs, others can become inhibiting for your dog's everyday life.
Common fears in dogs include:
Fireworks, thunderstorms, and other loud banging or popping noises
Strangers
Other dogs
Obstacles (moving over, around, or through other objects, like stairs)
Vacuums or lawnmowers
Children
Cars and car rides
Past Treatment or Experiences
If your dog is the victim of a traumatic experience or previous negative treatment by owners – like abuse or neglect – his anxiety could stem from his past. It's especially common for shelter dogs to experience distress after being thrust into new territory away from the owners they were used to.
When you rescue a dog, it's important to ask the shelter for any information they know about the dog's past, like whether it was abused, neglected, or involved in a traumatic situation. Knowing this information can help you and the veterinarian decide on the best path for raising and taking care of your dog in a way that meets his needs and reduces anxiety.
Illness, Injury, or Aging
Aging can also provoke anxiety in dogs. Aging can be a scary process for dogs as they begin to have limited mobility or eyesight, and it could be enough to trigger anxiety in a dog that didn't exhibit it previously. An injury or illness can cause stress, too, or make it more severe in dogs who already have anxiety symptoms.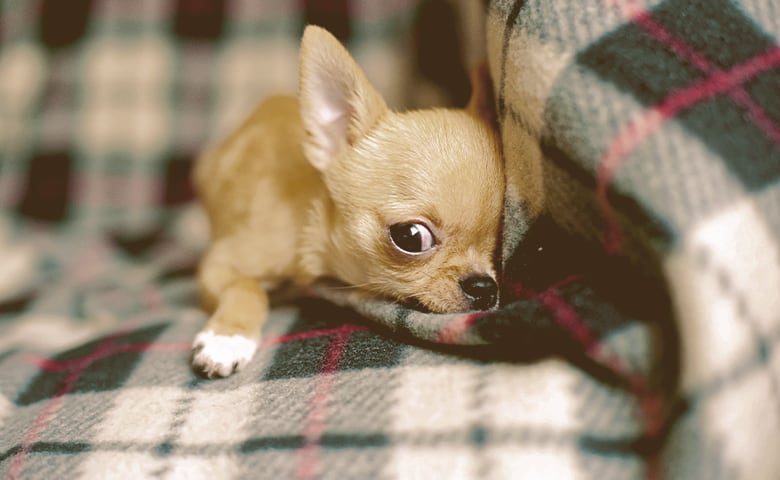 Breed and Personality
Your dog's breed or personality may also be more prone to anxiety than others. Some dogs are simply born with a more anxious nature that's notable even as puppies and can be more challenging to break from anxiety symptoms than those with underlying causes.
Some breeds are known for being more anxious in general, too. These breeds include the Shorthair Pointer, Bichon Frise, Shih-Tzu, Border Collie, and a range of toy breeds and mixed breeds.
Signs of Anxiety in Dogs
Anxiety can appear differently in every dog, but several symptoms are tell-tale signs of distress. More than one symptom usually occur together. Most symptoms fall within one of the following categories: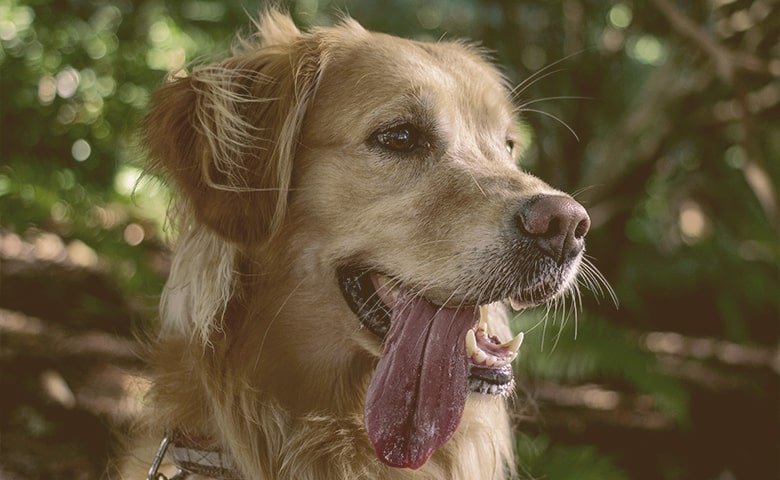 Physical Symptoms
Your dog may start to act or look differently if he feels anxious. Drooling and panting are typical anxiety symptoms that often coincide with other behaviors, like pacing back and forth or running around through the house.
You also might notice that your dog looks sad, depressed, or anxious. A slumped body, slow gait, or a lurched back can indicate that your dog is feeling stressed. He also might not get a good night's sleep or his usual daytime naps in during the day, leaving him looking tired or restless.
Destructive Behaviors
It's common for dogs with anxiety to exhibit destructive behaviors. In the case of separation anxiety, your dog may only be destructive when you leave home. You might return to find that your dog chewed up his favorite toy or blanket, scratched or chewed on the furniture, or knocked over end tables, lamps, or plants.
Dogs that still experience anxiety when you're home for other reasons might display destructive behaviors through chewing or sucking on toys, blankets, or carpets. Dogs with anxious feelings tend to use this behavior as a soothing mechanism.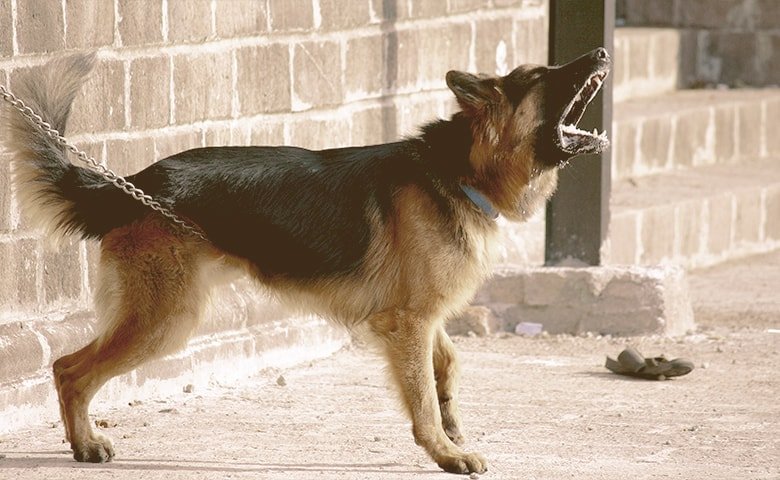 Aggressive Behaviors
Aggression is an anxiety behavior that can quickly spiral out of control and affect a dog's family in negative ways. Dogs with anxiety can become aggressive to other dogs, strangers, or their own family members when they can't control their strong emotions.
Anxious dogs may become instantly aggressive when facing a fear head-on, such as encountering another dog at the park or on a walk. Those with severe anxiety can attack with little to no warning, creating a dangerous situation when there are other dogs or children in the home.
Repetitive Behaviors
Repetitive behaviors in dogs with anxiety include excessive paw or body licking, licking another person, pet, or object, pacing or running around a room, barking, yawning, flipping their tail, scratching, or shaking. Your dog might also frequently try to run away when being walked or escape out the front door when you open it.
Many repetitive behaviors can also occur with an underlying behavioral or medical issue. Therefore, it's essential to talk to your veterinarian who can help you determine whether these behaviors might stem from anxiety or a different problem.
How to Help a Dog Cope with Anxiety
Once you've identified the possible trigger or triggers for your dog's anxiety, it can be easier to figure out a plan of action. Fortunately, there are several ways you can help your dog work through his anxiety and manage his symptoms.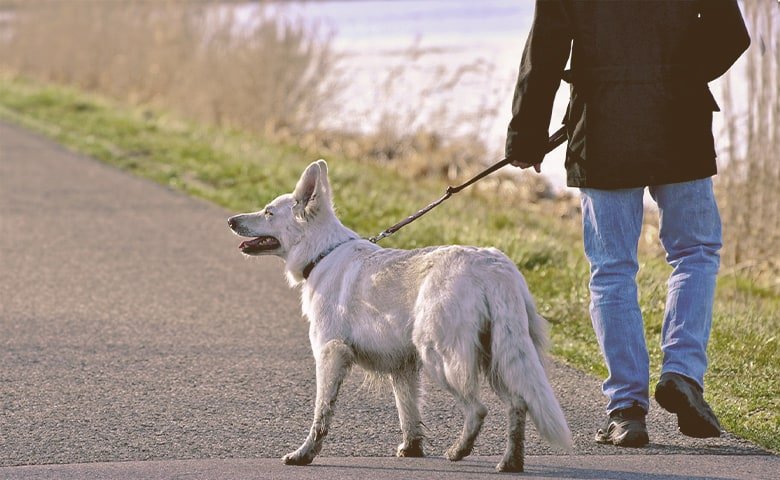 Reevaluate Your Dog's Routine
Many dogs thrive on structure and routine. The schedule you set for your dog can change over time, though, especially from puppyhood to adulthood and from adulthood to seniorhood. If you notice your dog's anxiety symptoms getting more frequent or worse, it might be time to reevaluate his routine.
For example, your dog might need an extra walk or two during the day to burn off nervous energy and feel less anxious. Or, perhaps stopping his trips to the dog park for a little while can relieve his anxiety until he has more training sessions under his belt.
Be sure to maintain any activity that seems like it gives your dog a sense of relief, like some outdoor play and bonding time after you come home from work.
Give Your Dog Plenty of Exercise
All dogs – even those without a lot of energy to burn – need exercise. How much exercise your pooch needs can vary depending on his energy level, breed, and health, but a good walk or two can be just the medicine an anxious dog needs to feel secure and calm.
It's necessary to talk to your veterinarian about proper exercise for your dog. You'll get tips on how much exercise he might need each day to stay happy and healthy. You might need to add a couple of extra daily walks if your dog still seems anxious after getting the recommended amount of exercise.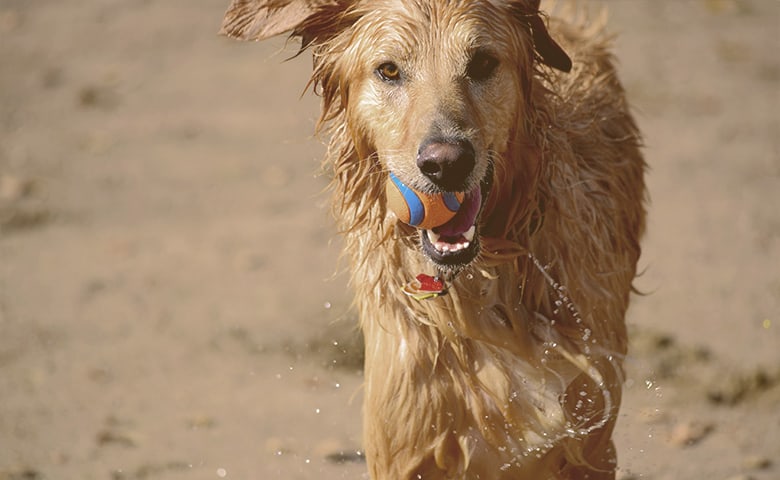 Try Desensitization or Counter-Conditioning
Desensitization and counter-conditioning are two expert-recommended strategies to curbing anxious behavior.
With desensitization, you'll gradually expose your dog to small amounts of the trigger or triggers of his anxiety. If he's nervous around other dogs, you might take him near a dog park and have him watch the other dogs play several times a week. The goal is to help him adapt to his fear in a positive way.
Counter-conditioning is often the next step in the process in which you teach your dog to have a different reaction to a trigger. For instance, instead of barking at the other dogs, you might train him to sit and look at you when other dogs are near.
Make Leaving and Arriving Simple and Calm
Sometimes, when we leave or return to the home, our actions can inadvertently signal to a dog that he should get excitable. Giving your dog lots of pets and snuggles before you leave or when you return could spark his anxiety over you leaving and overexcitement upon your return.
Instead, you can give your dog his command to get in bed. Once he goes, give him a treat and a pet as a reward, but leave without a fuss. When you return, wait a few moments before giving your dog attention. Eventually, he could see you leaving and returning as a more casual situation.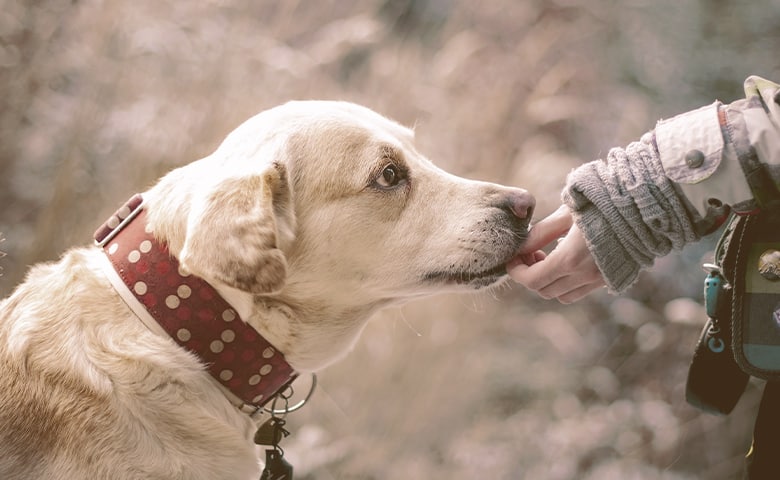 Try Natural Remedies
Some dog owners try natural remedies that seem to help their furry pals adjust to fears and anxiety-producing triggers, such as:
Supplements
Natural dog supplements may contain ingredients like lavender or chamomile that have calming effects on the nervous system and body. They look and taste just like treats. You can use them to reduce the severity of anxiety symptoms and behavioral problems, especially in a situation like separation anxiety.
Pheromone Products
Many dog products on the market target anxiety with their inclusion of pheromones, a type of hormone that gets released by the body that causes a natural feel-good reaction. You can find pheromone-infused products in various forms, like collars, toys, and scent diffusers, and are typically designed to target mild anxiety symptoms.
Massages
Dog massage can be an excellent way to bond with your dog and help him feel secure. You can give your dog a relaxing massage before an event that might be stressful for him, like you leaving the house. Or, try it during an anxiety-producing situation, like a stranger visiting the home.
Exercise
As mentioned above, exercise can help your dog release nervous energy, leading to a calmer state throughout the day. If regular walks aren't doing the trick, you can try adding new exercised to a routine.
For example, letting your dog swim in the pool or a lake can be a fun way to get him some extra activity for the day. Or, take him outside for a game of fetch with a ball or frisbee.
Music
Music has the power to make people feel more relaxed and happy, so it's not surprising that it could have the same effect on your dog. If your dog gets nervous with loud noises or when you leave the house, you might try playing some music in the same room to act as white noise.
One study found that reggae and soft rock are two genres that seem to relax dogs the most.
Weighted Anxiety Vest
A weighted anxiety vest or wrap gently compresses your dog around the chest and back area, which can have a calming effect on his nerves. They are particularly helpful for dogs who are afraid of car rides and thunderstorms or other loud noises, but they likely won't curb aggression and other severe behavioral problems.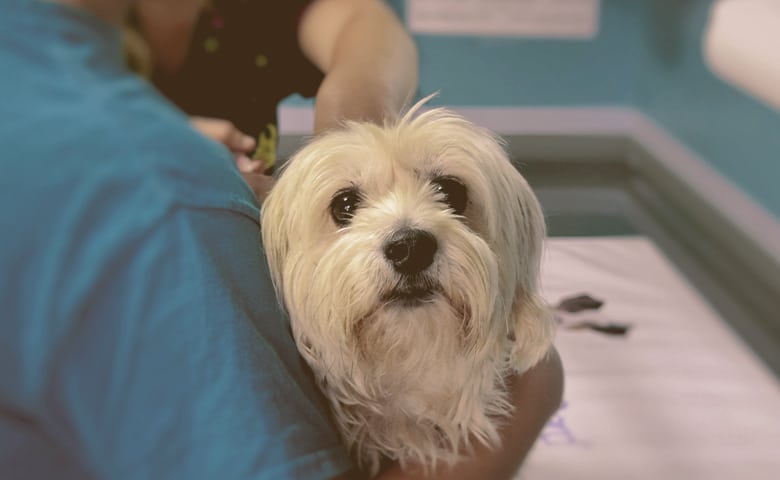 Talk to the Vet
When other methods of curbing your dog's anxiety don't work, it might be time to sit down with your veterinarian to discuss your concerns. Your vet can work with your dog's history, breed, personality, and other medical problems to determine the cause and how to handle it.
The vet may recommend giving your dog supplements that contain L-Theanine or S-Adenosylmethionine. These common ingredients for supplements may reduce anxiety symptoms in dogs. They work by increasing feel-good hormones that tell the brain to remain calm, which could lead to an overall, more relaxed state for your pup in nervewracking situations.
Dog training might also be a recommendation for dogs with severe behavioral problems from anxiety.
Is Canine Panic Disorder the Same as Dog Anxiety?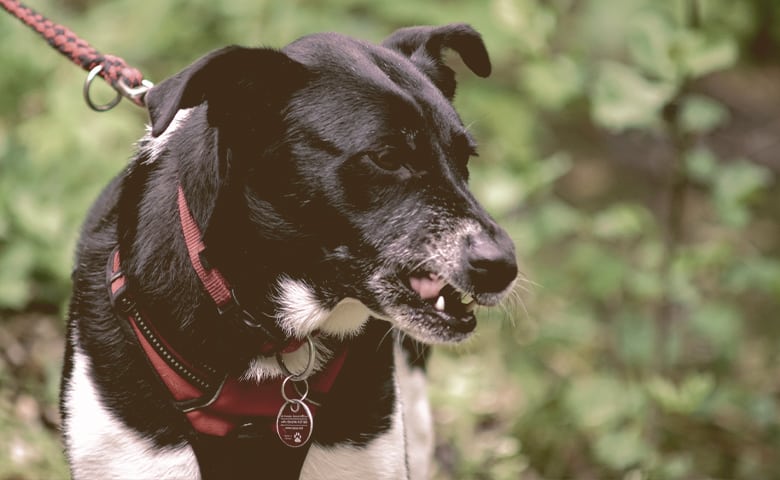 Canine panic disorder is a disorder that a veterinarian would diagnose based on the anxiety symptoms your dog experiences and their severity. Not all dog anxiety leads to a diagnosis of canine panic disorder. Often, it's severe symptoms that cause extreme behavior issues and disruptions to the daily life of a dog that leads to a diagnosis.
Symptoms of canine panic disorder are similar to regular anxiety symptoms, although they're often on a much more extreme level. A dog with canine panic disorder might chew or lick himself until he bleeds or forms wounds, bark or yelp incessantly when faced with his fear, or attack anyone in his path when experiencing an episode of panic.
It can be incredibly challenging to train a dog with canine panic disorder. You'll likely need the help of your veterinarian and a dog trainer with experience working with animals with panic disorders.
Still, your dog can manage canine panic disorder with your patience and guidance. The key is to be consistent in your training and calming in your nature when working with your pup.
Anxiety In Dogs Can Be Fixed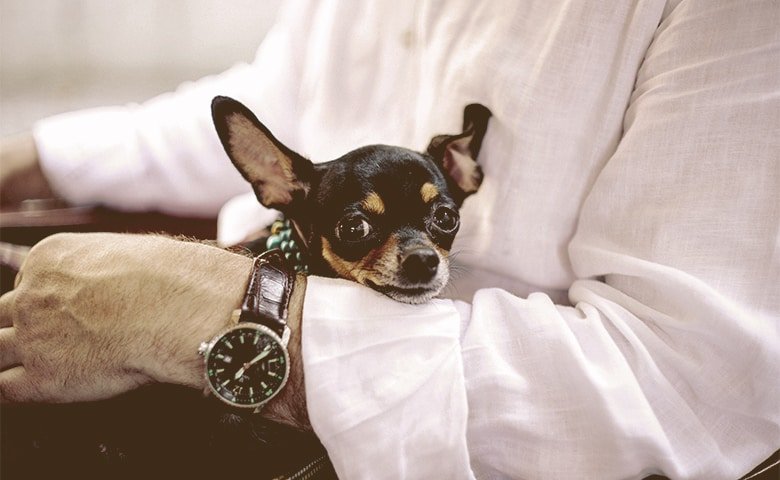 Dog anxiety can present several challenges to both a dog who experiences it and his owner. Anxiety comes coupled with varying degrees of symptoms and behavioral problems that can affect everyday life with your pooch.
Fortunately, dog anxiety is also manageable through consistent training, patience, and calming strategies that work for your dog. Have a chat with your veterinarian to discuss your concerns and get recommendations for calming your furry friend through whatever fears he faces.