Best German Shepherd Puppy Food? Top 4 Picks for 2023
Not a substitute for professional veterinary help.
German Shepherds are among the smartest dog breeds.
They're also energetic, curious, watchful, and occasionally playful.
These wonderful dogs are quite protective of their human friends and eternally loyal to them.
A GSD puppy becomes a handful a few weeks after birth.
Meeting its growth, developmental, and energy needs requires proper nutrition.
Additionally, this dog breed is susceptible to several health issues, like joint dislocation, vision impairment, and some digestive problems.
Thus, you should always choose what goes into your puppy's diet carefully.
To make things easier, we put together a list of the best German Shepherd puppy food.
Also, we added a full section on how to choose the right brand for your pet.
The Top 4 German Shepherd Puppy Foods Reviewed
Every brand on this list is rich in nutrients and would supply your German Shepherd puppy with the essentials.
However, we're aware that dogs have individual needs.
That's why we made sure to cover all the possible variations in puppy foods.
OUR PICK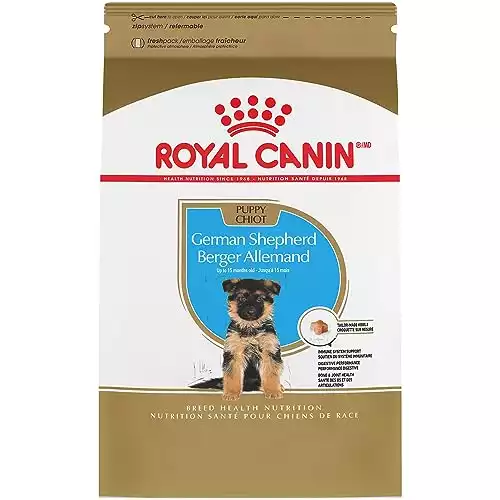 This puppy food was formulated specifically for young German Shepherd dogs.
It has all the ingredients that help little dogs to grow and develop.
Even the kibble is designed to fit the puppies' muzzle shape and their teeth size.
Royal Canin for GSD puppies is made from chicken by-product meals.
This makes it a rich source of natural protein that makes up almost 30% of the ingredients.
In addition to that, it contains a large number of minerals, vitamins, and fiber.
It's also fortified with omega-3, vitamin E, and various other antioxidants that help in boosting the dog's immune system.
It's also great for its neural development, vision, skin, and its coat.
This GSD puppy food is the most expensive on the list, but it's also the one that checks all the boxes when it comes to prime quality dog food.
Your puppy can feed on it from 2-15 months of age.
After that, you can shift to an adult dog formula.
RUNNER-UP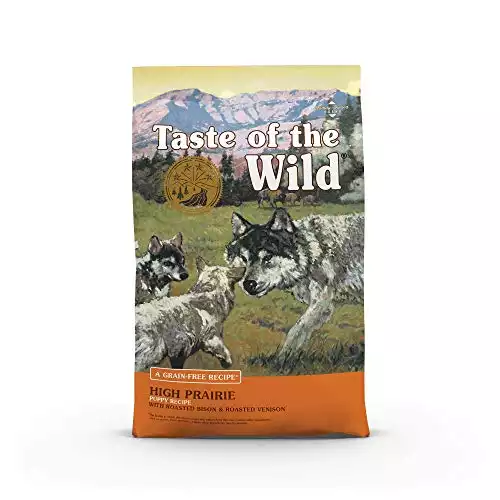 This puppy food is true to its name, as it's made from real bison and venison meat.
Taste of the Wild contains roasted meat that adds up to a protein content of around 28%.
Additionally, it has vitamins and minerals sourced from actual vegetables and fruits.
The omega-3 content here is pretty high too, which is essential to keep a large breed canine in good health.
Moreover, there's a wonderful added substance here which is a probiotic formulated specifically for K9 strains.
This makes the food easy to digest and metabolize.
Your young puppy would also benefit from this food as it's made without wheat, corn, or any other grains.
It's also free from artificial colors or flavors.
ALSO GREAT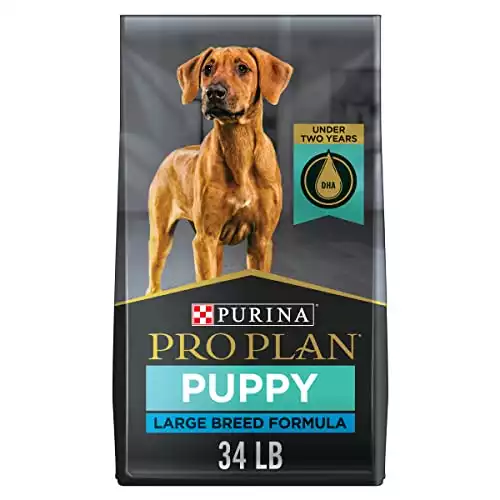 Purina Pro Plan High Protein Puppy Food
Meet your puppy's unique nutritional needs with Purina Pro Plan Brand Dog Food Puppy Chicken and Rice Formula dry puppy food. High-quality protein sources, including chicken as the first ingredient, help your puppy develop healthy muscles so he can frolic as long as he wants.
CLICK HERE FOR LOWEST PRICE
Purina is a big name in the world of pet food, and that's for a good reason.
They know what works and they offer it at a good price.
This formula for large dog breed puppies might not be tailor-made for GSDs, but still, it has the correct formulation for its proper growth.
It's prepared from a chicken and rice mixture which is both highly nutritious and gives the active puppies tons of energy.
Purina is also loaded with antioxidants, omega-3 fatty acids, and probiotics.
This boosts the dog's immune system, strengthens its bones, and helps in developing its cognitive functions.
It's also easy on the dog's stomach.
Being crunchy and delicious is a big plus!
ALSO GREAT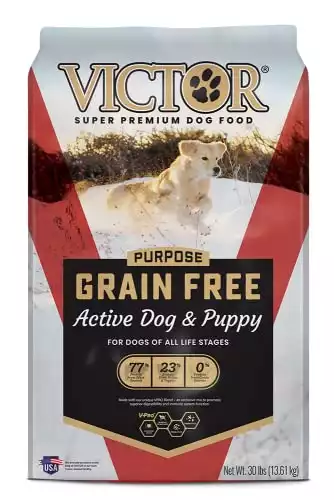 Some little dogs have allergies or seem to be incapable of digesting grains.
Victor premium puppy dog food is among the few food formulas that are suitable for these dogs.
It comes with a clean mix of gluten-free grain-free protein.
The high protein content comes from varied natural sources, and along with it, there's a cocktail of additional supplements.
It covers the puppy's daily requirements of minerals, vitamins, and antioxidants to maintain its healthy growth.
On top of that, this puppy formula includes a proprietary blend; VPRO.
This substance is known to optimize the genetic potential of the little GSDs.
How to Choose the Right German Shepherd Puppy Food
Several good brands offer GSD puppy food, but which one is the best for your little pet?
Selecting a particular type of food is always a big decision, as we all want to do what's right for our puppies.
That's why it would be best to consider the following points before committing to any dog food.
Make Sure the Puppy Food Is for a Large Breed
The right type of food for your pet should be age-appropriate and also breed-appropriate.
There are some significant differences in each formula.
And choosing one that suits your dog's natural needs is necessary.
The puppies of large dog breeds are known to grow fast.
Thus, you should give them food that accommodates their growth spurts.
Still, it's best to manage their meal sizes to curb excessive growth, as that could be burdensome on their bones.
Stay Away From Synthetic Ingredients
It's generally recommended to avoid such artificial flavorings, preservatives, and fillers.
But in the case of German Shepherds, it's a critical matter.
GSDs are susceptible to having some health problems as they grow into adults, and especially as they age.
Synthetic ingredients could aggravate these conditions significantly.
It's worth noting that less expensive dog foods have a higher content of fillers and inorganic substances.
So you might want to think twice before thinking of these brands as budget-friendly options.
Balance Is Good, but Go for High Protein Foods
GSD puppies grow quite quickly.
And when they're not doubling in size, they're so busy running around exploring every corner in their surroundings.
This calls for a diet that's high in nutrients and gives them plenty of energy.
This often translates to a high protein content, reasonable amounts of fat, and as few carbs as possible.
There Are Specific Needs for Each Puppy
As the puppies grow, some of them show signs of allergies, digestive issues, joint problems, or weakness in their muscles.
The kind of diet these pups get should address the specific needs of their health.
The best way is to get a recommendation from their vet on the best diet and supplements to give them.
Let The Puppies Give It a Try First
Every kind of dog food has a taste and texture that differs from the others.
Puppies often have higher affinities towards a certain taste.
Thus, they'd be much happier when you fill their bowls with it.
Every dog has its specific dietary requirement, and if you have a German Shepherd puppy, you know how smart and active it is.
You must be looking for the best food that would help its development and support its daily lifestyle.
That would be hands down Royal Canin German Shepherd Puppy Dry Dog Food.
It has the best ingredients, and it's tailor-made for your little puppy's special breed.