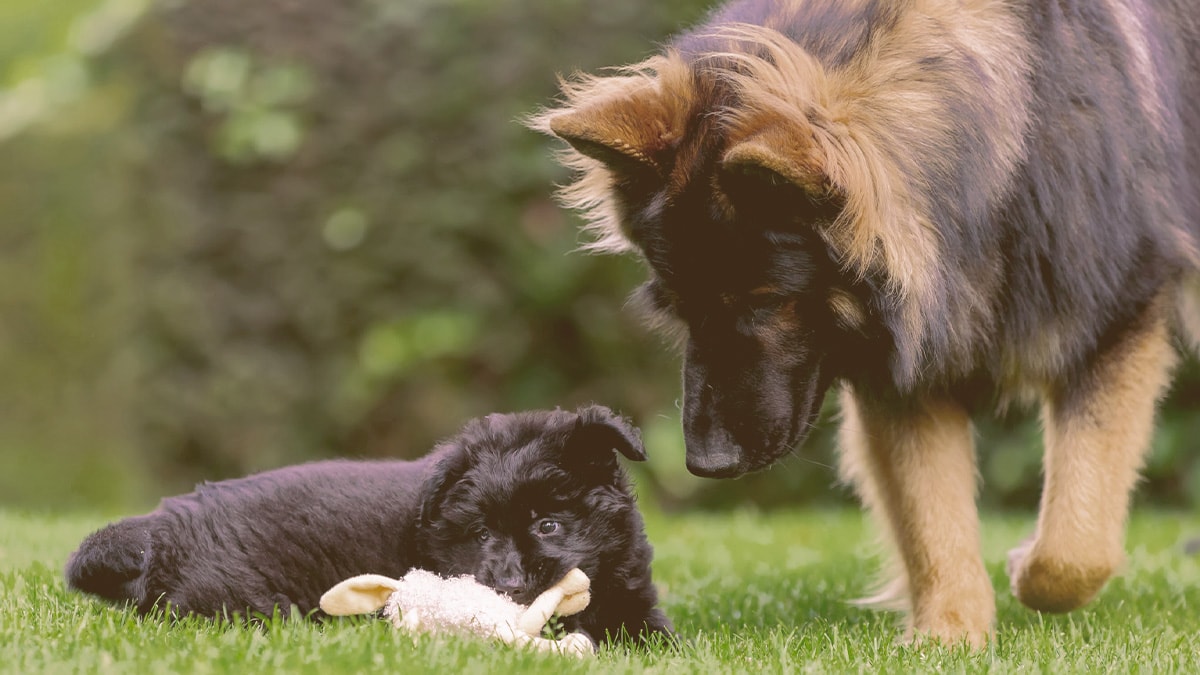 Complete Guide to Introducing a Puppy to a Dominant Dog
Alex Vicente • Updated on August 1, 2023
This review contains affiliate links. Read more here.
Not a substitute for professional veterinary help.
Getting a new puppy is an exciting time. Watching them explore and learn about the world provides you with entertainment and adds laughter to your day. Of course, they require a great deal of patience and training too. While the world is new to them, so are things like rules and structure.
If you have a dog already, the excitement of introducing a puppy to your home is tempered by anxiety about how the two will get along.
Introducing your new puppy to your dominant dog can be a great experience with a little patience and planning.
Your dominant dog has already been part of your life, but you want your new puppy to be a loved part of the pack.
How do you accomplish this seemingly mystical feat?
A successful introduction and integration are possible by following this guide. Keep reading for the key steps to introducing a puppy to your dog.
Other resources that you may be interested in:
Table of Contents
Prepare Yourself Mentally and Plan Ahead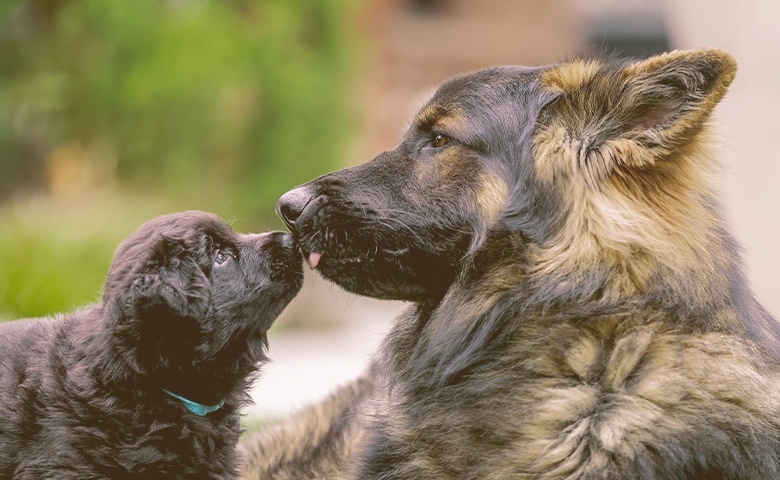 Remember, your dominant dog was once your baby. They have spent time with you, perhaps many years. You are their person, therefore, keeping their comfort in mind is important as you plan for your new puppy to join the family. Your dominant dog already has a structure and routine in the household. Try to fit the new puppy into your existing routine rather than forcing your dominant dog to change.
The addition of the new puppy will add enough changes for your old dog without a complete overhaul of the existing routine. It takes some planning and effort before you bring the pup home to create a successful introduction. The time you spend preparing for the introduction and easing through the process will pay dividends when you see the new puppy and your dominant dog happily playing together. To start, you will need:
Patience—Even though you are excited, do not rush the process.
A Sense of Humor—There are going to be mistakes. Embrace them with good humor.
Mindfulness—Keep your old dog in your thoughts too. Do not let them be overshadowed by the excitement of a new puppy.
Once you have prepared yourself mentally, you can start on the steps needed to introduce the puppy and your dominant dog. Remember, you are helping to steer the process, but you cannot force it. Provide an optimal environment for the dominant dog and the puppy to meet and get to know each other. Then, let them do the hard work.
Plan the First Meeting
It is hard to stress enough the importance of reinforcing to your dominant dog that they still have an important part in your life. When you plan the first meeting, make sure that you are the one with your older dog. Enlist a buddy to bring the new puppy into the equation. Doing this will lower the chances of your dominant dog being territorial about you. They may still be protective, but they are not liable to act out in the same way.
There are some other things to keep in mind for your first puppy to older dog meeting. Mostly, you want to create a tension-free environment:
Plan your location for the first meeting
Move at their pace, not yours
No toys or items to fight over
Assure your old dog of their place
Like many things in our lives, location is everything. The place where the puppy and your older dog meet should not be home to either of them. It is not so much that you are giving one the home advantage, but rather that you are eliminating possessiveness or territoriality from the meeting.
Choose a Neutral Place
It would certainly be easier to just bring the new puppy home, introduce them to your dominant dog and go about your life. Unfortunately, dog social rules do not work like that. If you bring the puppy into your older dog's territory, it will most likely spark a defensive attitude. It is your home, but it is your older dog's home too. They will instinctively protect their home and pack.
To set up your puppy meet and greet for success, choose a neutral place where neither the puppy nor the older dog has an attachment. You do not have to travel far to make this happen. Ask a friend to bring the puppy to the meeting place, which could include any of the following:
A pet park, during a slow time of the day
A neighbor's yard, a fenced yard would be ideal
A walk around the block
Once you assess how the older dog reacts to your new addition, you can do another meet and greet in your yard. Always be watchful for signs of aggression from your older dog. If you do not have the space to be able to accommodate this type of introduction. You can modify it to happen within your home or apartment by using a crate or baby gate to keep the older dog and the puppy separate at first.
Introduce the Puppy to the Dominant Dog Slowly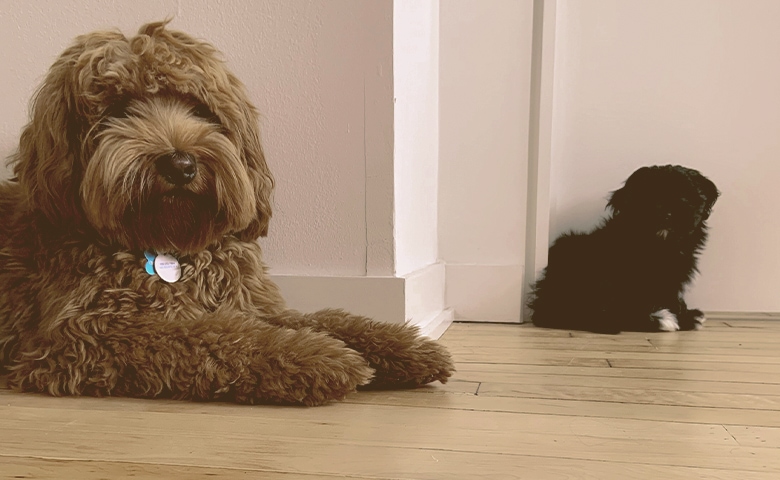 You have been your old dog's person. Now, you are bringing another dog into the relationship and their territory. Take it slow. Let your dominant dog ease into their relationship with the puppy. It is important that you are calm. Your dog will feed off your emotions. If you are tense, your dog will read this and think that there is something wrong with the situation.
If you are crate training, you can put your puppy into the crate. Then, let the older dog and puppy sniff and get a feel for each other through the crate. You can also accomplish the same thing by introducing them to each other from opposite sides of a fence. The important thing is for each dog to feel safe and unthreatened. With positive social reactions at the first meeting, you can start to do group activities like walking together.
Always supervise the puppy and dominant dog. You should be mindful of the dominant dog's reactions to the puppy. Do not forget that puppies are little bundles of energy who do not know the rules. Start training them immediately and correcting behaviors that you would not tolerate from your older dog. You should be mindful of the dominant dog's reactions to the puppy, both positive and negative.
Positive Behaviors
Signs that your older, dominant dog is accepting your puppy can include play that sometimes looks rough. It can be tough as a new puppy parent to let them play because it is so physical, but your dogs need to have an outlet for their energy. This is especially the case for your working and herding dogs. If they do not have a healthy outlet for their energy, they will channel it in unhealthy ways.
It is, therefore, important to encourage positive play. You can identify positive behaviors primarily from body posture and actions. Here are some of the positive behaviors you should see:
Tail wagging is often fast and quick on the part of the puppy and slower for the older dog. As long as it is wagging, it is positive.
The dog's body is relaxed without tension, especially for the older dog.
Yawning, which is the opposite of bared teeth. Yawning is a non-verbal way of communicating that they are not dangerous.
Bowing, with the head down and bottom-up shows they want to play.
Sniffing and showing interest in the puppy by the older dog.
The older dog does not use their full strength when playing with the puppy.
Vocalizations can also show that the older dog and puppy are getting along. Unfortunately, the growls, yips, and whines that come with play behavior can often sound similar to the vocalizations dogs use when they are not happy. It is for this reason that supervising play and paying attention to body language is important
during the puppy and dominant dog's time together.
Negative Behaviors
Watching your dominant dog's behavior can alert you to when they are on the verge of or being aggressive toward the new puppy. Like an adult playing with a young child, your older dog may tire of playing with the rambunctious pup. Thus, your supervision is important as you can keep an eye out for actions that might signal playtime is over.
Behaviors to watch for include:
The older dog curls up their lips to show their teeth. This behavior is a hostile behavior that tells the puppy to back off
Bristling up of the fur on the older dog's neck and along their spine
Your older dog has a stiff, tense body positioning, including a stiff tail
Snapping their teeth at the puppy
The older dog laid their ears back and flat against their head
The dominant dog may growl, bark or whine along with demonstrating the behaviors above. Pay attention to the message they are sending you and the puppy. They are telling you that they have had enough. Mind the warning and separate the puppy and the dominant dog before the situation escalates.
Create "Safe" Spaces for Each Dog
When playtime has ended and the older dog is signaling that they are losing patience, allow them to retreat to their own safe spaces. Remember, the puppy is likely to have a great deal of energy and will want to keep seeking out the older dog's attention. Allow the dominant dog their space, free from pushy puppies. There are lots of ways to create these spaces even in a small home or apartment.
Separate crate time. This time should not be a punishment. Have a favorite chew or give them a treat for some downtime.
Spread out the doggie beds. You will need to spread the doggie beds to different areas of the same room. This gets both dogs used to each other's company without pushing past too many boundaries.
Create a resting area in another room for one of the dogs. Ideally, you will want to leave your dominant dog's area as is. Put the puppy in a new room or spot in the room.
Similar to human adults and children, there are times when your puppy and the older dog will need some downtime. Create the space for them and allow them to have separate chill time, especially when patience for play is running thin.
Eliminate Opportunities to Fight Over Prized Items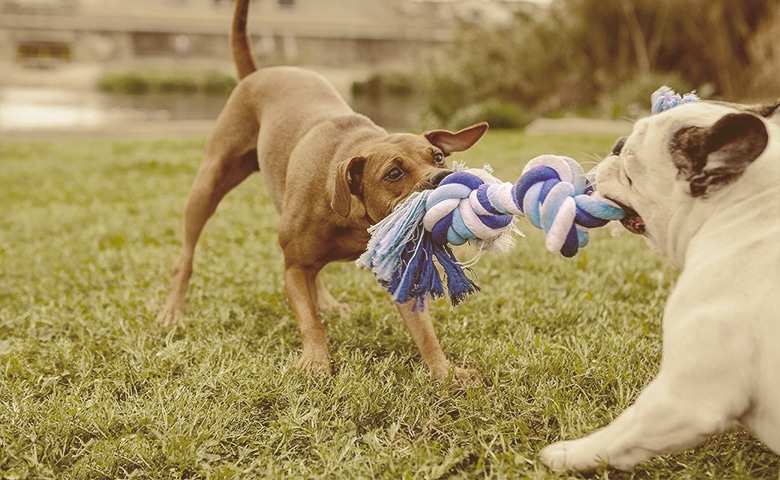 Like their home territory, the dogs are liable to be very possessive of certain toys or chew toys. The best way to avoid tension and fighting over these items is to remove them from the room. Introduce new toys to both dogs. Make sure that you are introducing them to both dogs. Do not single out the new puppy only for the new toys and bones.
Later, when the puppy has figured out their place in the social order, you can bring those toys back. You can also use those toys with your older dog in separate playtime. In this way, you are eliminating a potential area for conflict, while still allowing your older dog to play with their favorite toys.
Make Separate Meal Areas
Many dogs are food motivated. It is why treats work so well as a training method. Food, however, also has the potential for causing some serious turf wars between the dominant dog and the puppy. To avoid these conflicts from happening, you can do one of the following:
Create separate meal areas. While it is convenient for clean-up if the food bowls are near each other, having them nearby is likely to cause tension between your dogs.
Feed the older dog and puppy in separate rooms. If you have space, separate rooms for feeding are the way to go. This gives each dog their own space for eating without them having to see the other dog or their food bowl.
Have separate water bowls for each dog. This is a small expense for the amount of conflict it avoids.
Having separate eating areas for the dominant dog and the puppy will help ease transition tensions. Food and toys are the two things over which fighting is most likely to occur. By planning for separate feeding areas before introducing your puppy to the household, you can circumvent a source of contention.
How Do You Get an Older Dog to Accept a New Puppy?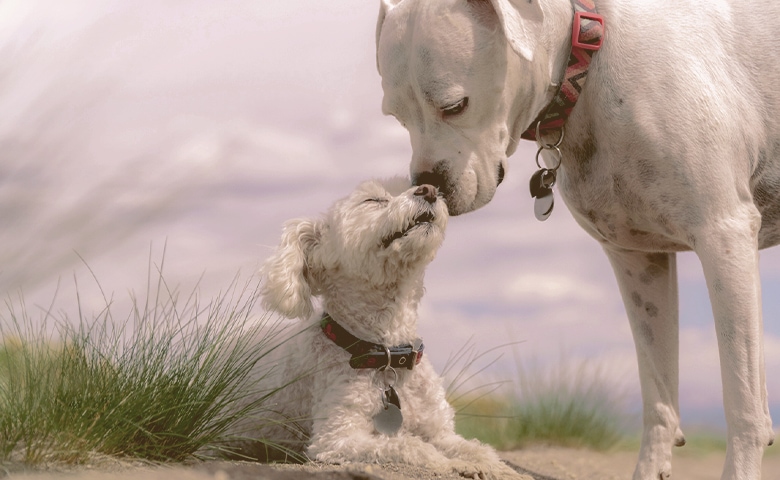 Getting your older dog to accept your new puppy can be a challenge, but it is not impossible. It is important to remember that your old dog has been the top dog in the house. They are used to being the dog of the house. Your older dog has a routine for their day. They have their favorite toys and know exactly where the best spots to nap are in the house.
Bringing a new puppy into the house upsets the older dog's routine. Moreover, the new puppy has to be put into the social hierarchy of the pack. Making sure that you continue to treat your older dog to your attention will go a long way toward them developing a positive attitude to the new pup. If you shower the new puppy with all the attention, however, you are increasing the likelihood that the older dog will be jealous.
Think About Each Dog's Personality
Your older dog has traits that you have noticed over your time together. Maybe they are always a prancing, high-maintenance mess. Your older dog might be very protective of you around other dogs. Whatever your older dog's personality, you will want to take it into account when choosing a puppy.
An older dog who exhibits a very dominant and aggressive personality is not going to respond well to another dominant personality. A puppy, who shows they are submissive by lying belly-up, for example, will mesh better with your older dog. If you are not able to get time with your puppy before meeting your older dog, make sure you take your time and supervise their time together to keep things on a positive plane.
Recognize the Difference Between Play and Aggressive Behaviors
One of the hardest things for many dog owners to understand is the difference between play behaviors and aggressive ones. As noted earlier, the vocalizations that accompany play can also be used aggressively. The whining, yipping, barking, and growling can be all in fun or they can be a warning to give them some space.
The key to recognizing the difference between aggression and play is body language. Watching your dog and puppy see which body postures signal that one of the dogs is no longer playing. Generally, you should be able to recognize the tension in their body, as they will often go very rigid with their tail outstretched. If their hair fluffs out along their spine, it is also a good sign that playtime is over.
Often, you may notice during play that although it sounds quite intense, the older dog is throwing the fight. You can see that while they are fully engaged in play, your older dog is nowhere near exerting their full strength to subdue the puppy. This type of play is a good sign as it shows that your older dog has accepted the new pup and sees them as part of their pack.
Keep the Dominant Dog's Routine the Same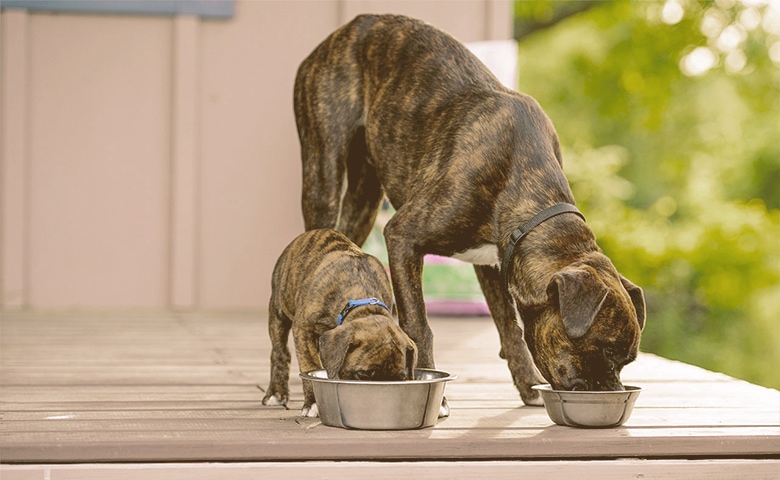 Your older dominant dog's routine worked before the puppy's arrival. Try to keep it as similar as possible. The goal is to fit the new puppy into the existing structure and not change the puppy's current routine. The less you upset your old dog's life, the more likely they are to accept the new puppy.
Feed the dogs at the same time but in different spaces. Put the food in your older dog's bowl first, then feed the puppy.
Keep walk time the same. If you can walk them together and they enjoy it, do so. If not, walk your older dog first at their normal time.
Maintain your older dog's nighttime routine. If they normally sleep with you, continue to do so. Do not displace them for the puppy as this will set the stage for a dominance conflict.
With some forethought and planning, you can work around your current dog's schedule to incorporate the new puppy's needs. By keeping your old dog on an even keel with their normal schedule, you are creating an environment in which they are more likely to accept the puppy.
Make Your Dominant Dog Feel Important
In addition to maintaining your older dog's schedule, you want to ensure that they still have a solid place in your life. Maintaining their schedule is one component, but finding other ways to demonstrate that they are an important part of your life is critical as well. From playtime to bedtime, there are a variety of ways that you can show your older dog that they are still number one in your eyes.
Spend quality time with your older dog
Make sure that you have one-on-one time with them
Take a walk together or spend an hour at the dog park
Nap or snuggle on the couch together
Play tug of war or fetch
Take a car ride together
The main thing here is to keep the time between you and the older dog. Do not bring the puppy along for whatever the outing might be. Spending too much time focused on doing things with the new puppy puts your dogs in competition with each other for a prized possession – your attention.
Give Your Older Dog a Break from the Puppy
Part of what makes puppies so appealing to people is their flopping, bumbling, nipping, and zooming. Amusing qualities though they may be, these are also the ones that can wear on your older dog, who may well have left those energetic and frenzied days behind them. Even the best adjusted and welcoming of older dogs may need a break from a puppy with never-ending energy.
Do not expect your older dog to constantly be the source of entertainment for the new puppy. Instead, monitor their playtime. Pay attention to the cues your dominant, older dog is giving. When they are starting to communicate that their patience with the pup is wearing thin, allow them a space to retreat to and rest. Crate training can be a real boon here for several reasons:
Each dog has its own space
The crate offers a place to retire and recenter after stimulation
The puppy may even seek the crate out when tired to have a place to recharge
It is a safe, contained space. For this reason, it is imperative to not use the crate as a punishment
Your older dog will be the best communicator of how much space or time they need. Some may well be able to lie down in the same room and doze, as long as you help keep the new puppy from crawling or jumping upon them. Other dogs may need some time in a separate room to nap and recharge their inner battery before they jump back into the play fray with the pup.
Remember Dominance Is Part of Dog Social Life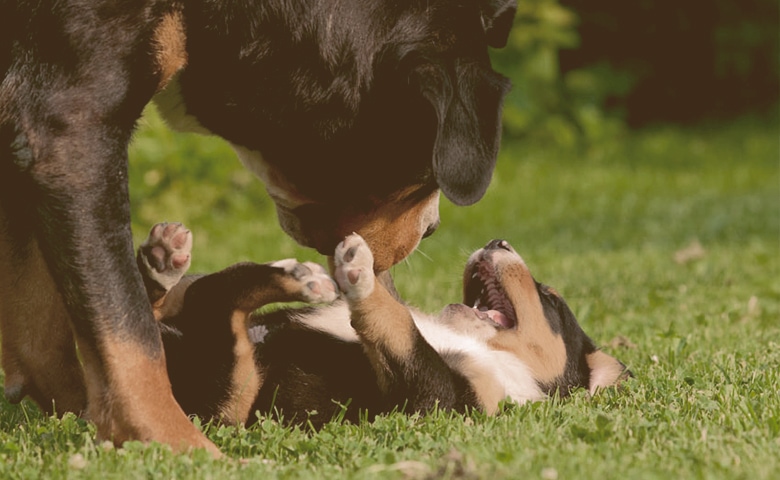 Dog social life is hierarchical in nature. In any situation where more than one dog is present, they will work to establish their place in the hierarchy. This does not have to be as conflict-focused as it sounds. Like it or not, the hierarchy of the pack is going to be established, even if it is only a two-member pack in your home. You are also part of the pack. The dogs should view you as an alpha or training can be difficult.
The posturing that occurs to establish placement in the hierarchy can be difficult for humans to watch, it is best not to interfere, especially if there is no threat of physical danger. Even the newest puppy must find its place in the dog world. In a sense, they have done this since birth as they compete with their littermates for food. By the time your puppy meets your old dog, they may have already learned how to be submissive.
You can use this social hierarchy to help reinforce your new puppy's place in the household. Ways you can validate the dominant dog's status include:
Giving your older dog attention first when you arrive home
Feeding your older, dominant dog first in their own space
Allow your older dog to go outside first
Take the older dog for a walk first
The list above makes it apparent that the order in which things happen for each dog is important based on their hierarchy status. If you deviate from this by placing a submissive dog first, you are liable to insert tension even if you intended to alleviate it.
Often, the new puppy will help the process by displaying certain behaviors and postures. A new puppy who rolls onto its back or bows down to your older dog before playing is simultaneously demonstrating that it knows its place in the house's hierarchy as well as its desire to play.
By practicing these behaviors, your puppy is showing its submissiveness to the older dog in the household. All of which makes your older dog much more likely to accept your new puppy.
Sources
The Dog Training Secret.
Dog Listener
Rover – The Dog People