A Step-By-Step Guide for Removing Dog Hair Dye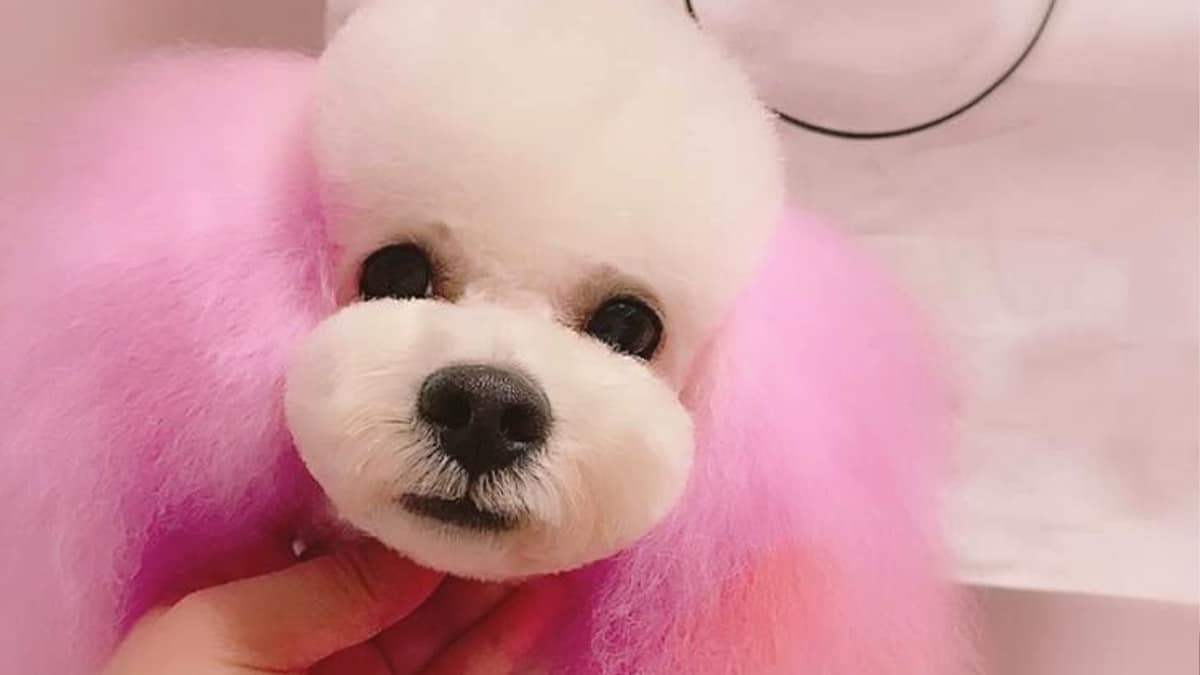 A Step-By-Step Guide for Removing Dog Hair Dye
Alex Vicente • Updated on March 30, 2023
This review contains affiliate links. Read more here.
Not a substitute for professional veterinary help.
Dog hair dye is a fun way to add some vivid color to your light-colored dog's fur, but what happens when you're ready for your dog to be his natural color again? Dog hair dye is a non-toxic product that won't hurt your pooch, but some of the potential removal methods might if you don't know what you're doing.
Dog hair dye can be removed from a dog's coat by washing the dog with canine shampoo. Since dye sets into the dog's hair, it may take several baths to remove. Removal time depends on whether it is a temporary or semi-permanent dye. Human-based dye removal methods and hair dyes should be avoided.
Getting ready to dye your dog's hair and you're not sure how to pull it off? You'll need to know some common pitfalls to avoid a disaster hairdo. Read on to learn more about the step-by-step process for removing dog hair dye and what you should avoid when you tackle it.
Table of Contents
Step-By-Step Guide for Removing Dog Hair Dye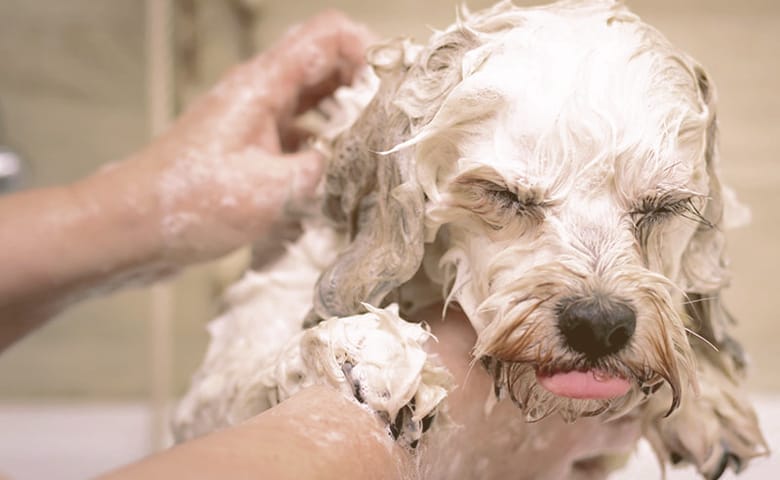 Removing the hair dye on a dog follows many of the same procedures that you would use to remove either temporary or semi-permanent hair dye from a human's hair. Here's the step-by-step process for removing dog hair dye from a dog's fur:
Soap the dog thoroughly with dog shampoo. Using your regular brand of dog shampoo and conditioner is fine, but you can also get special dog shampoos designed to whiten the dog's coat that will be a stronger option for stripping out the hair dye.
Rinse the dyed suds out of the dog's hair. Be sure not to leave any excess soap in the dog's coat, as this can cause irritation and itchiness if it isn't rinsed out.
Repeat soaping up the dog at least two or three times. Pay extra attention to areas where dye may collect, such as the face and feet. It might take a little additional elbow grease to get the stain out of the fur in these areas.
Repeat washings once a week until the dye fades out of the dog's fur. It may take up to six shampoos before the color comes completely out of the dog's coat, especially on white dogs where the dye is highly visible.
Both temporary and semi-permanent dog hair dyes can be removed by washing the dog until the dye fades out. With temporary hair dyes like pet chalk, the color should rinse out within just one or two shampoos. With semi-permanent or permanent pet dyes, you should expect to shampoo your dog several times until the dye eventually lifts.
Tips for Using Dog Hair Dye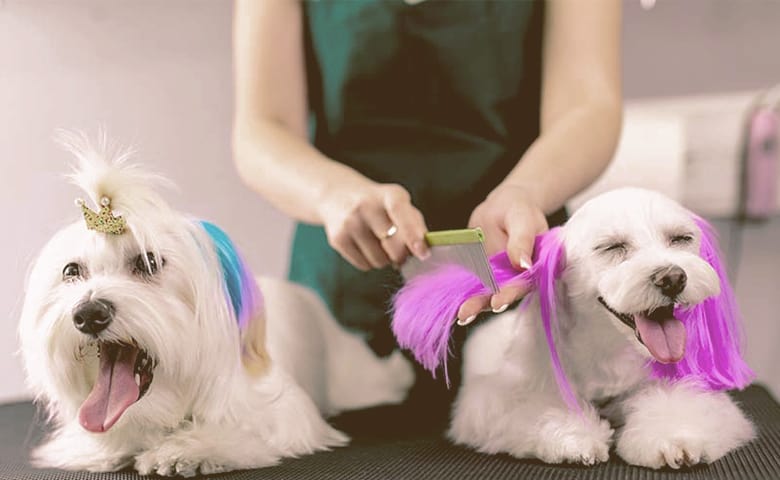 Removing dog hair dye successfully depends on knowing how to dye a dog correctly in the first place. Here are a few tips that can help you get the best results when it comes time to dye your dog:
Hire a professional groomer. For complicated dye jobs, hiring a professional groomer to do the job can help you end up with a much neater and better-looking result. This is an especially good option for permanent hair dyes where any mistakes may take weeks or months to come out.
Use temporary hair chalk for easy dog hair dye removal. If you're new to coloring your dog's hair, starting out with temporary hair chalk can let you dip your toes into the world of coloring your dog without committing to a long-term look you or your dog might not like. Washable, non-toxic markers are also a safe option.
Limit hair dye to the ears if you're worried about licking. If you're using a strong dye and worried that your dog might ingest it by licking himself, limiting the dye to the dog's ears can give them a pop of color without taking the risk.
Use a dog whitening shampoo afterward. Dog whitening shampoos use optical brighteners and bleaching agents to help dogs look whiter, so they can help dog hair dye fade more quickly on a white dog.
If you dye the dog's hair correctly to begin with, it's a lot easier to take the dye back out when you're ready for your dog to be his natural color again. But using the wrong dye can make removal difficult.
Steps to Avoid When Working With Dog Hair Dye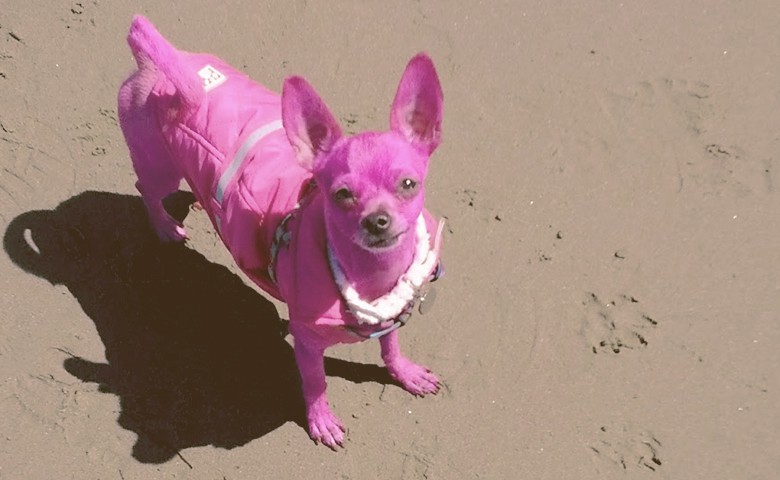 There are steps you should take to successfully remove dog hair dye from your dog, and then there are some things you definitely shouldn't do. Here's a list of all the things to avoid when it comes to getting hair dye out of your dog's fur:
Don't scrub the dog too hard. Trying to scrub the dog harder with soap will not cause the dye to lift better and will only risk irritating the dog's skin. Instead, wash the dog over several sessions for the same effect.
Don't use peroxide or other human-based hair dye removal methods. Human hair dyes and bleach are not intended for use on animals. Hydrogen peroxide in the concentration used to bleach hair can burn the dog's skin and even blind them if it gets in their eyes.
Don't get dog hair dye in a dog's eyes or mouth. You shouldn't use anything but non-toxic hair dyes on a dog so it won't hurt them if they swallow a little of it, but it's still a good policy to avoid getting the dye near the dog's eyes or mouth.
Don't use dog hair dye on dogs with sensitive skin. Dogs with naturally sensitive skin or skin allergies may have a severe allergic reaction to hair dyes that will require medical intervention at the veterinarian. If you know your dog is already prone to eczema or hives, you should skip the hair dye.
Following the tips above will help make sure you dye your dog's hair in a way that is both fun for you and safe for your dog. If you use the right kind of dye and follow the proper process for removing it, it shouldn't be harmful to the dog at all.
Can You Permanently Dye a Dog's Hair?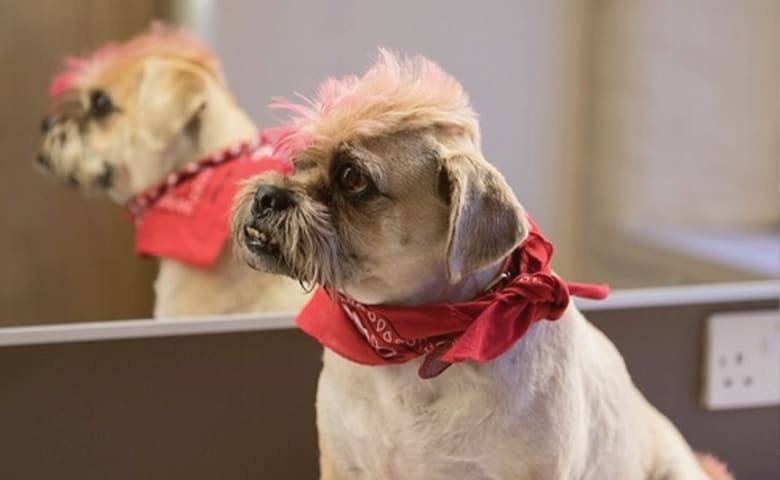 There are permanent hair dyes that can safely be used on dogs, but permanent dyes cannot be removed through the normal processes that will remove temporary or semi-permanent hair dyes.
Instead, dogs that have been dyed with permanent dye have to wait until the dye fades out on its own. In most cases, a permanent dye won't lift completely but will fade into a lighter shade of the same color.
How Does Dog Hair Dye Affect Different Dog Coat Types?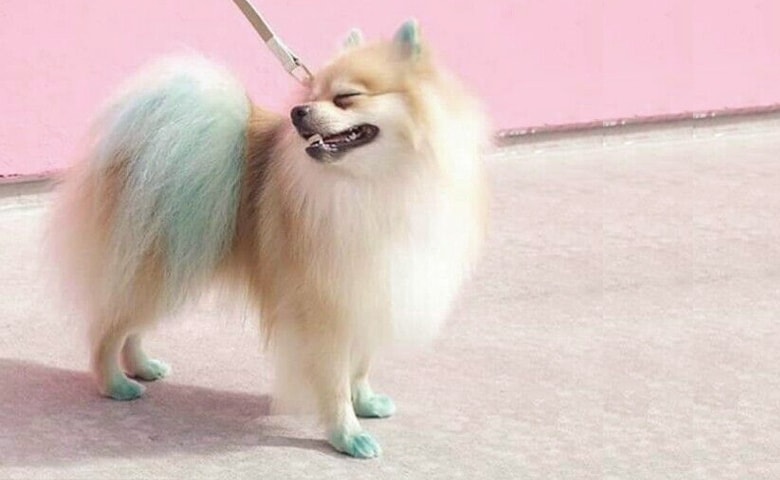 Hair dye for dogs has a different effect on some dog coat types than others. Dogs that are heavy shedders will seem to lose their hair dye more quickly as the dyed hairs fall out and are replaced by fresh hairs, but for non-shedding dog breeds like poodles, hair dye might seem to stick around for a long time even with multiple shampoos.
Can You Dye a Dark-Colored Dog?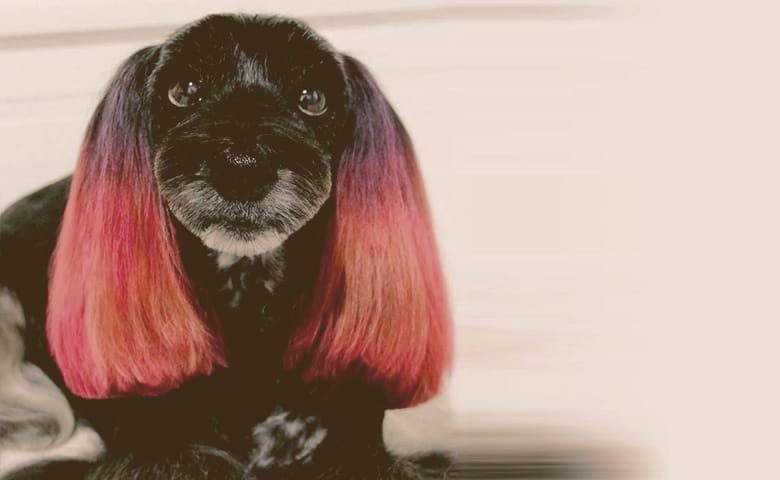 While you can technically dye any dog, colored hair dyes tend to show up better on light-colored or white dogs than they do on dark-colored dogs. This is because unlike hair dyes used by humans, most hair dyes used by pets do not contain peroxide, so the hairs aren't bleached in preparation to take up more of the dye's color.
There are some lightening agents designed specifically to be used on dogs that can help a black dog's coat take more color. Bleaching a dog's coat can be complicated, so this is a dye job best left to a groomer.
Removing Dog Hair Dye Means Time and Baths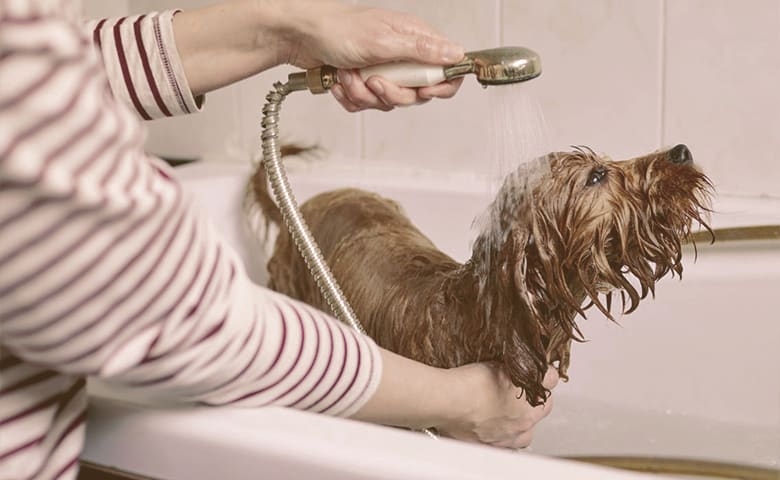 Colorful hair dye can look great on dogs, but if you're not sure you're down with the look on your own canine, going with a temporary hair dye is a much safer bet than jumping straight to permanent color.
Removing more permanent dyes is a matter of waiting for the dye to fade out on its own, so only use these colors if you want your dog's color to last a long time and don't mind frequent washing to remove it over months.
Sources
Rover
The Dog Geek
IFL Science
OPawz