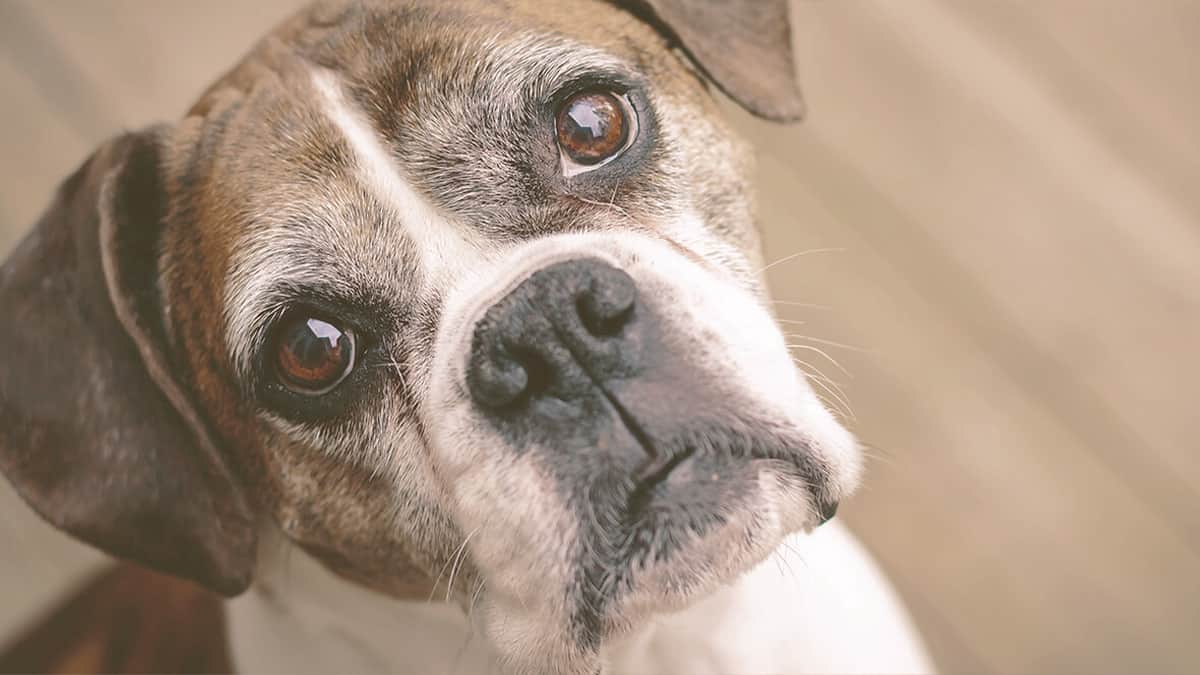 8 Tips and Tricks to Get Your Senior Dog to Eat
Alex Vicente • Updated on August 1, 2023
This review contains affiliate links. Read more here.
Not a substitute for professional veterinary help.
When a dog gets older, it may begin exhibiting behavior you have not seen since they were a puppy.
Getting old is difficult for any animal, and your dog is no different.
A senior dog can move slower, sleep more, and have a tough time eating.
When you notice that your senior dog is not eating like he used to, you may begin to worry.
While sometimes it may be due to an illness, it may just be because their sense of smell is fading or that their muscles ache and they cannot get down to the bowl as easily anymore.
Read on to discover eight tips and tricks to get your senior dog to eat.
ALSO READ: Best Senior Dog Food for Small Dogs
Table of Contents
Reasons Why Your Senior Dog Will Not Eat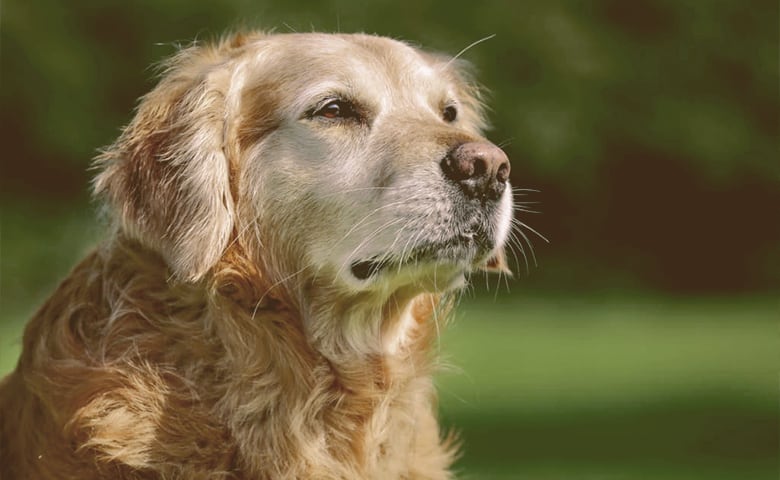 Often, when dogs get older, they become more susceptible to ailments that can hinder their eating habits. If you notice that your senior dog is not eating anymore, this should be your primary concern. A veterinarian can check the health of your dog and tell you whether it is or it is not. Simple dehydration is also one reason why your senior dog will not eat, but there could be a more serious issue at play.
Pain is also a big contributor to why senior dogs do not eat properly or regularly. Sometimes, whether it is their teeth or their joints, they hurt and cannot move to get the food they want. This does not mean they do not want to eat. It just means that they have enough pain that they choose not to.
Dogs, regardless of age, can also be depressed. Dogs are known to get sad or anxious, and these emotional stressors can affect their eating. If you notice that your senior dog eats more when they are active and have energy, but when they are left alone they sleep more and more, it could be a sign of one of these stressors.
The diet you are giving them can also determine if they will eat or not. If a dog is given unhealthy food all the time, besides weight gain, it will actually lose its appetite. This is why giving your senior dog the best possible diet will ensure it will stay healthy and willing to eat.
Make Sure Your Senior Dog Has Water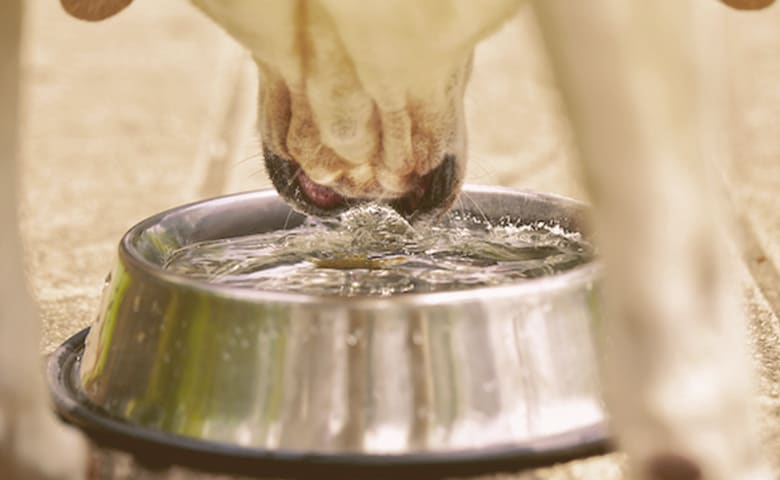 Staying hydrated is a very important part of staying healthy for your senior dog. Dehydration can cause many issues for a senior dog. Water is a vital component of their health as it aids in healthy organs and quality of life.
If your senior dog is not getting enough water, it could be leading to why they are not eating. Water helps keep their heart and lungs and muscles healthy and working at an optimal level. When they lose too much water content in their body, they can become ill and lose their appetite. Remember, water helps aid digestion.
Always keep fresh water in their bowl. Dogs, regardless of age, will drink throughout the day. It can be easy to not notice their bowl is empty, but you need to monitor it. By monitoring their water bowl, you can add water when it runs out. Make sure it is clean and fresh. Dirty water will have adverse effects.
Clean the water bowl every day. Your senior dog may not be drinking enough water because the bowl is dirty. They may want the water, but if the bowl is dirty then it is contaminating the water it is holding. It is a good habit to start each day by cleaning the bowl and filling it with fresh water.
Make sure you are giving them enough water. Maintaining a full bowl of water is good, but you should be aware of how much you should give them. A good guide is to give one ounce of water per pound of the dog's weight. For example, a 10-pound dog would need 10 ounces of water per day.
On hot days, make sure you give them extra. Dogs sweat just like humans, and on hot days they can lose a lot of water content from their bodies. So, on hot days during the summer, make sure you are giving them extra water. If they are thirsty, provide them with water.
When you provide your senior dog with plenty of water, you will increase their chances of eating. A dehydrated dog can seem "out of sorts." It is more difficult for senior dogs to move around like they once did. When they are dehydrated, it is even more difficult.
If you want your senior dog to eat, you have to look at their water intake. It can be easy to miss, but if you monitor it closely each day, you should be able to see if they need more water or if they have just enough.
ALSO READ: How To Trick a Dog Into Drinking Water
Switch to Food Designed for Senior Dogs
Senior dogs do not eat the same way as their younger counterparts. When a dog is older, they have different nutritional needs than they once did. For example, senior dogs should have fewer calories because obesity is an issue with older canines.
Likewise, the eating habits and behaviors of a senior dog change, too. The first thing you should do when you notice that your senior dog is not eating like they once did is to bring them to a veterinarian. This is important so they can rule out serious illnesses such as cancer. If your senior dog is cleared by the veterinarian then it is their old age that is changing how they eat.
Your veterinarian may prescribe a special diet for your senior dog, but you may ask them about switching your dog's food to food designed specifically for senior dogs. This is important for a few reasons.
Get dog food for your dog's stage in life. Dog foods come in different varieties based on how old your dog is. For example, there are dog foods for puppies. Each age can have a different food. There are, however, "multi-stage" foods that are suitable for all dogs, though they may not be perfect.
Nutrients. Dog food designed for a senior dog will have the nutrients that a senior dog needs. These foods will have lower calories and lower sodium levels. They will also be formulated with certain vitamins that are important for your senior dog to have.
Senior dog foods will boost their health. If you are still feeding your senior dog the same food you did years ago, your senior dog may not be as healthy as it could be. It is important to keep up with their dietary needs because when they eat healthily they act healthy, too.
Additionally, senior dogs generally need more fiber in their diet than when they were younger. Senior dog foods will also include more fiber. Nevertheless, switching their food may be the best option.
However, as with any change, it may take some time to fully implement the new food into their diet. You should change it slowly so that they can get used to the new food. If you change it all at once, your senior dog may refuse to eat it.
Check Your Senior Dog's Teeth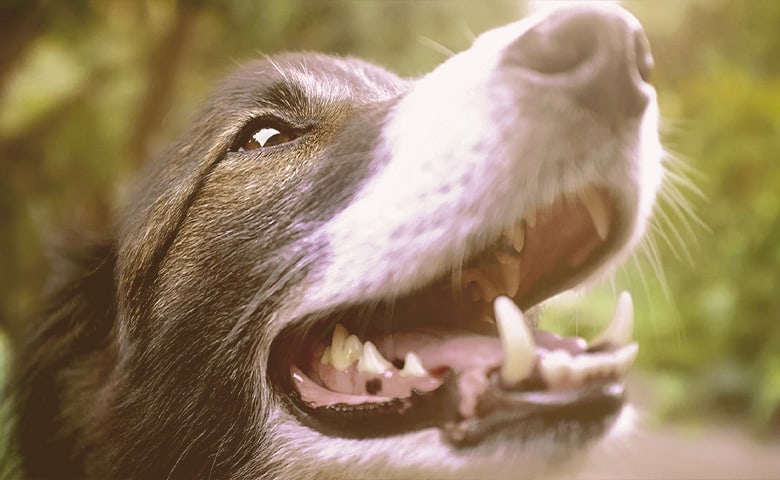 Pain can cause senior dogs to not eat, and when they have dental issues they can be reluctant to eat. Dental issues are an issue when a dog gets older. This is why it is important to clean their teeth throughout their lives, not just when they are old.
While dental disease can happen at practically any age for a dog, it is most common for older dogs. Older dogs can lose teeth, which can make it difficult to eat food. Likewise, if their teeth have a disease, or are rotting, they will have gum pain. When they chew, it will hurt them. Therefore, they will avoid eating.
There are ways to avoid dental disease for your senior dog. If you notice that they are not eating, their teeth may be to blame. However, if it is another reason causing your pet to not eat, you should still check their teeth to prevent any future issues.
Clean their teeth. You should clean your senior dog's teeth often. You can do this by brushing them. It may seem like it will be difficult, but offer them a reward for doing a good job and they will be all for it.
Use dental treats. If you do not want to brush your senior dog's teeth, you may also buy dental treats. These are bones and other edible treats that are designed to clean and freshen a dog's mouth. These can work well in maintaining the health of your senior dog's teeth.
Check with your veterinarian. If you want to be sure nothing is wrong with your dog's teeth because you cannot tell yourself, you should bring your senior dog to the veterinarian. They can give a full overview of the health of your dog's mouth, and, if the need arises, prescribe medication that can help clear up any disease.
A high-quality diet helps keep teeth healthy. If you feed your dog a high-quality diet with the nutrients they need, they will be able to maintain healthy teeth and gums.
Be sure to monitor your senior dog's teeth. It may be the reason they are not eating their food, and it is an issue that can be resolved. When the issue is resolved, you will notice them being more willing to eat their food.
ALSO READ: What to Give Newborn Puppies to Eat
Use Supplements for Senior Dog Health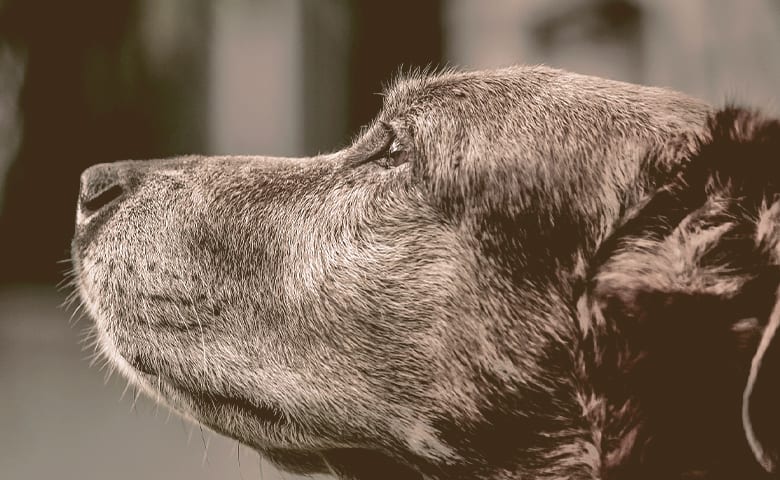 Supplements are a great way to help your senior dog eat. Often, senior dogs are not getting the nutrients they need. You may have changed their diet, but sometimes that is not enough to provide them what they need.
While many dog foods that are formulated for senior dogs include supplements in them, it can still be a good idea to manually add some yourself, but what supplements should you be looking for?
Joint supplements. One of the most important supplements you can add to your senior dog's food is a joint supplement. One of the reasons they may not be eating is because their joints hurt and they cannot lower their heads the way they used to.
Add antioxidants to their diet. Dogs should not just eat the kibbles you provide them. They will need other food to get the nutrients they need. You can use antioxidant supplements that are in pill form, but you can also feed your dog certain antioxidant-rich foods, like vegetables.
Add Omega-3. Omega-3 is something that can be added to the senior dog's diet. The fatty acids are great for the health of the brain and heart.
If you use the pill form of any supplement, you should feed it to them from your hand. This is especially helpful when they cannot lower their heads like when they were young. Moreover, you can cover the pill with a treat, like peanut butter or a slice of cheese.
Once the supplements begin working, they will be healthier and their energy levels will rise. When their energy levels get higher, they are more able to eat the food you give them. While supplements may not be a "cure-all," they are a part of a full plan to get your senior dog to eat again.
Add Warm Water to Your Senior Dog's Food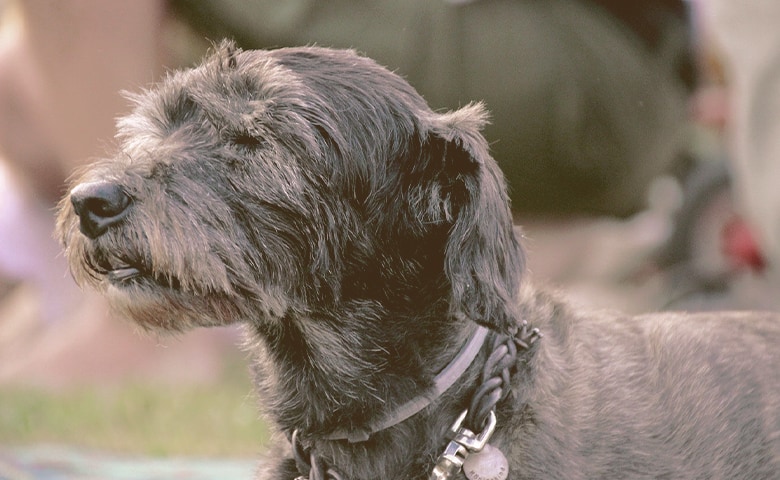 Adding warm water to your senior dog's food is a simple trick that can go a long way. Often, the senior dog is not interested in the dryness of their food. So, when you mix a little bit of warm water with the food, they get interested. There are a couple of reasons for this.
First, the warm water actually makes the food smell stronger to the senior dog. When dogs get older, their sense of smell diminishes. They may not be smelling their food the same way as they did when they were younger, which can cause them to ignore their food.
Second, the warm water changes the texture of the food that they are eating. They will think they are getting something special. Moreover, adding warm water feels good to a senior dog. You can also try a couple of other similar methods to get your senior dog to eat.
Add chicken broth. Instead of warm water, you can also add warm chicken broth to the dry food. It has the same effect as the warm water, but it will also add the taste of chicken to the food, which your senior dog will love.
Add bone broth. Bone brother is another liquid you can add to the dry food. Senior dogs like bone broth, and they are quick and easy to make. It will also add an interesting flavor profile to the food that they normally would not receive.
Heat the food. Alternatively, you may decide to heat the food itself. While this will not change the texture of the food, it will make it warm, which can still open up the scent of the food.
Sometimes the solution is as simple as warm water. The idea is to entice your senior dog to want to eat. Often, older dogs lose interest and would rather sleep. They are prone to forgetfulness just like humans, and they need to be enticed. Luckily, however, alternating how the food feels and smells can go a long way.
Try a Variety of Food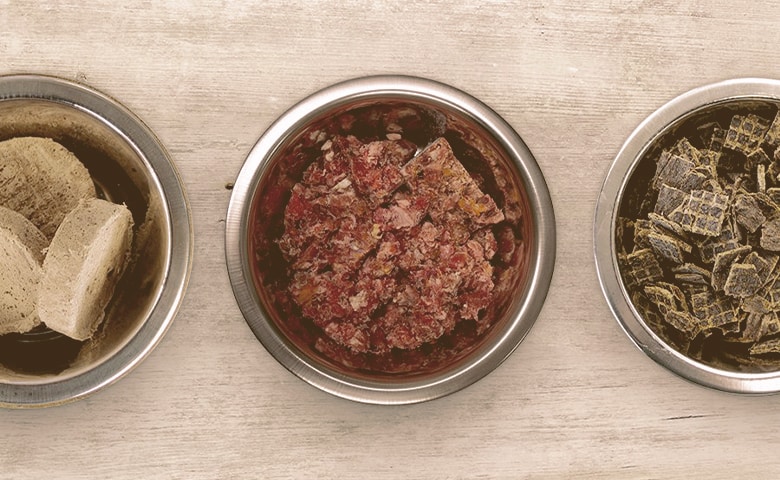 Having a variety of food can keep your senior dog interested in the food you are giving them. Remember, dogs are not meant to always eat the same thing. In the wild, animals have a variety all the time.
Consider how dogs in the wild eat. They eat what they can find. This will not always be the same each day. So, when your dog eats the exact same food each day, it is going against their instinct to have variety. Unfortunately, people often feed their dogs the same kibbles or wet food every day.
Now, this does not mean to stop giving them their normal food. Their normal food is important and if you decide to use food that is designed specifically for senior dogs, crucial to their nutritional intake. However, a variety should be used. The following table shows a variety of food you can start implementing now into your senior dog's diet.
| | | |
| --- | --- | --- |
| Salmon | You can feed your senior dog a piece of salmon from time to time. Make sure the salmon is cooked thoroughly. You should also avoid using seasonings. | Salmon provides omega-3 fatty acids and proteins, which are essential for your senior dog's health. |
| Turkey | Turkey is a classic food you can give your dog, and it is good for them, too. You can cut the turkey up into little pieces and mix it with their other food. | Turkey will offer a variety to their diet, just make sure excess fat is cut off and do not serve with the bone. |
| Eggs | Eggs can be eaten as long as they are fully cooked. As with other types of food you can give your dog, you can easily mix it with their regular food. | Eggs provide a lot of important proteins for your senior dog's health. |
| Cheese | Dogs love cheese, and it is a great way to administer vitamin supplements in pill form. Make sure your dog is not lactose-intolerant beforehand. | Cheese provides proteins and calcium for your dog's health. |
| Peanut Butter | Peanut butter can be given directly to your senior dog on a spoon, and it can also be mixed with their food. You can also use it to give the supplements. | Peanut butter can be given directly to your senior dog on a spoon, and it can also be mixed with their food. You can also use it to give the supplements. |
| Green Beans | Green beans can be chopped up and mixed with their food. It is a popular choice when trying to have a variety of food because it is very healthy. | Green beans do not provide many calories but do provide a lot of fiber. |
| Carrots | Carrots can be given raw to your dog to chew on, which will help their dental health. They can also be chopped up and mixed in with their food. | Carrots are great sources of fiber and vitamin A. |
| Coconut | Coconut is a great option for the health of your senior dog. You can give it as coconut milk, oil, or the coconut itself. | Coconut provides lauric acid, which is a very beneficial acid for your senior dog. |
| Corn | Corn is a very common ingredient in dog food. Just make sure you cut the corn off the cob first, as the corncob can be dangerous for your dog to handle. | While corn does not provide many nutritional benefits, it is a good option when you want variety in their diet. |
| Honey | A small amount of honey now and again can go a long way with helping your dog eat and stay healthy. | Honey has 6 vitamins, many proteins, and is filled with antioxidants. |
Many of the foods you can give your senior dog are very healthy. Others should be served as special treats. However, the key is the variety of the diet. Variety will keep your senior dog engaged with their meals. Dogs get bored, too, so keeping their meals interesting by switching them up each day or every few days, can get them to start eating the way they should.
Alter Your Senior Dog's Eating Schedule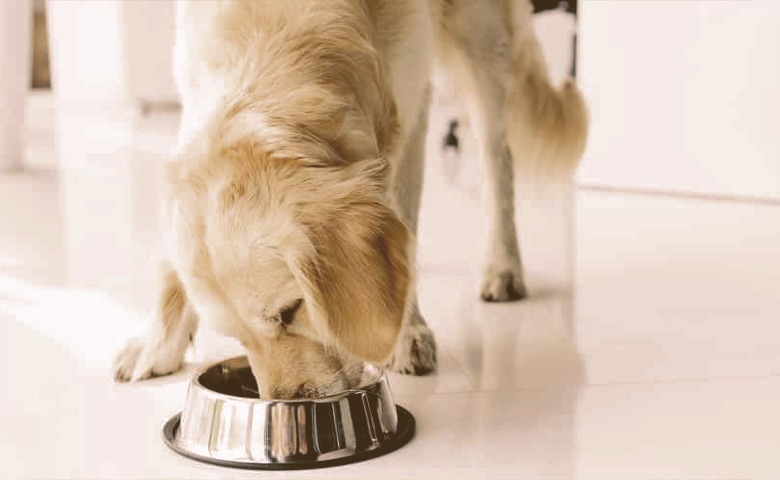 You have probably had the same eating schedule for your dog since they were very little. This means you have been feeding them twice a day at about the same time each day. However, over time, your senior dog may grow tired of the routine.
Moreover, they may forget the times they are supposed to be eating. Remember, senior dogs' bodies operate much slower than younger dogs, so they may begin to get hungry at times they did not get hungry before. Altering the eating schedule for your senior dog may be what they need to start eating again.
Take note of when they are hungry. Maybe you used to feed them each day at eight in the morning, but now they are not hungry at that time anymore. Make note of when they are hungry. If they go near the bowl near eleven in the morning, make sure there is food there and see if they eat.
Be consistent. Even if you are going to change the eating schedule of your dog, you still need to remain consistent. Consistency will help them remember when they are going to receive food, which helps them create new (and good) habits.
Consider the amount of food. As dogs get older, their appetites change. When they were younger, they probably ate more. Now that they are seniors, they may want to eat less. Do not worry if they do not finish what is in the bowl. You can alter the amount you give them to adjust for this change in appetite.
A proper eating schedule will help with the metabolism of your senior dog, which is slower now that they are old. The main idea is to feed them when they are hungry. This may mean that you have a bit of trial and error to find the times when they are most likely to eat.
However, when you pair a new eating schedule with a variety of food, you are giving them the best scenario to eat.
Elevate Your Senior Dog's Food Bowl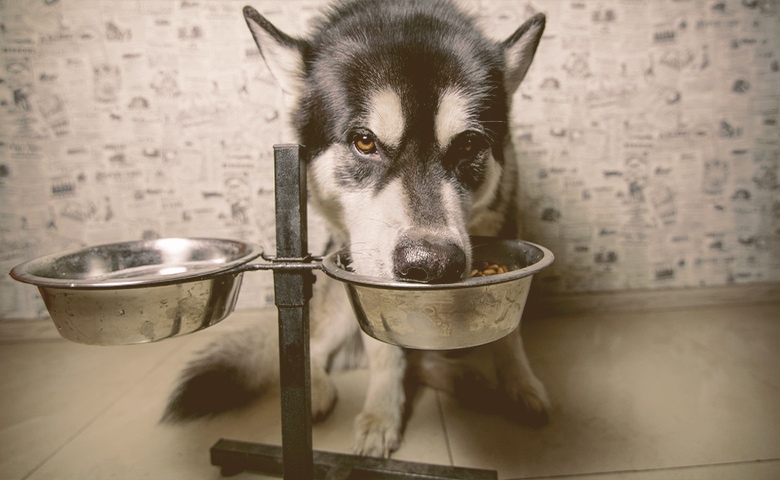 The joints in a senior dog do not work the same way as when they are younger. Younger dogs have much more energy, and their muscles and joints are healthier, too. Even if you are diligent with how you feed your dog through its life, it will still slow down as it ages. This cannot be avoided, but it does not have to stop your dog from eating.
Oftentimes, people put their dog's bowls directly on the floor. While this may have worked when they were younger, it may not work now that they are old.
An elevated food bowl will allow less stress on its joints. With an elevated food bowl, your senior dog will not have to lower its head as much, which can cause a lot of stress on its joints. Instead, they can eat at a comfortable angle without issue. There are a few ways you can elevate your dog's food bowl, and none of them require much work.
You can buy a premade dog bowl stand. These stands elevate the food bowl and sometimes the water bowl, too. Usually, they are made of wood, but they can be made of other materials as well. Additionally, they can come in different shapes, such as a giant dog bone.
You can build your own. Building your own dog bowl stand is relatively easy. The main component is a piece of wood with two bowl cutouts in it, and two legs to keep it elevated.
Place the bowls on a raised surface. If you do not have the time to build one, or are still searching for the right one in stores, you can always place the bowls on an elevated surface, such as a small box. This is a good temporary solution.
Younger dogs eat very quickly, but older dogs will not. When you use an elevated bowl for a young dog, it can actually cause some issues because they will want to eat even quicker. However, your senior dog will not have this same restriction. Of course, every dog is different.
Sources
Fetch – Water and Your Dog's Health
Your Old Dog – How to Get Your Older Dog to Eat
Caring for a Senior Dog – How to Get an Old Dog to Eat
Kids Aint Cheap – Giving Your Senior Dog the Best Life Possible
The American Kennel Club – How to Feed the Senior Dog
PetMD – Feeding Your Senior Dog
PetMD – How to Care for Senior Pets
WebMD – Meeting Aging Canines' Nutritional Needs
WebMD – Possible Causes and Appetite Solutions
The Nest – The Correct Height for a Dog Food Bowl
pawmaw – The Ultimate Dog Feeding Schedule Time and Chart
The American Kennel Club – Human Foods Dogs Can and Can't Eat
I Heart Dogs – "People Foods" You Can Give Your Dog