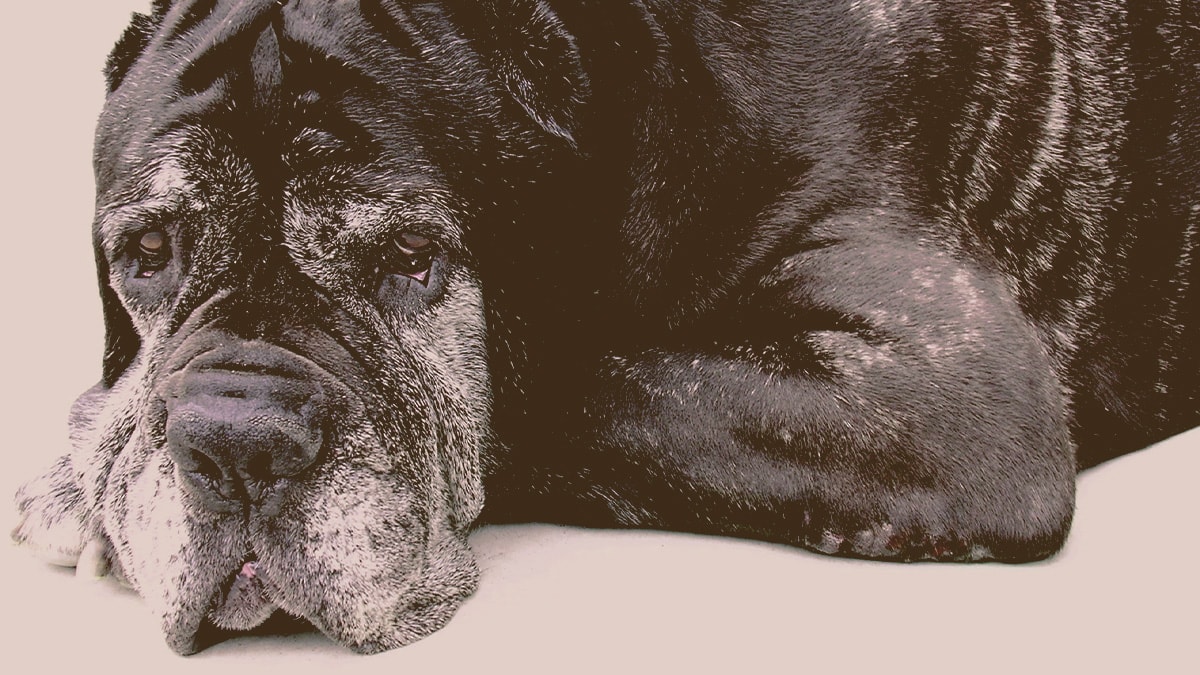 Guide To Feeding Older Dogs That Are Losing Weight
Alex Vicente • Updated on August 19, 2023
This review contains affiliate links. Read more here.
Not a substitute for professional veterinary help.
You may expect your dog to gain weight as they age. Their metabolism slows down, and they are likely less active, so it makes sense for your senior dog to put on a few pounds. However, sometimes quite the opposite happens. Your senior dog may be losing weight instead. If this is the case, then you probably need to alter how you feed your dog.
When feeding an older dog that is losing weight, ensure that your dog gets as many nutrients and calories possible. You can achieve this by looking at what your dog eats and how you feed them. Improving quality and making mealtimes more enticing can help your senior dog maintain a healthy weight.
Watching your dog lose weight can be scary and painful, but you can help them with some effective diet changes. Keep reading to learn everything you need to know about feeding an older dog that is losing weight.
ALSO READ: Best Dry and Wet Dog Food for Senior Small Breeds
Table of Contents
My Older Dog Is Losing Weight: What Should I Do?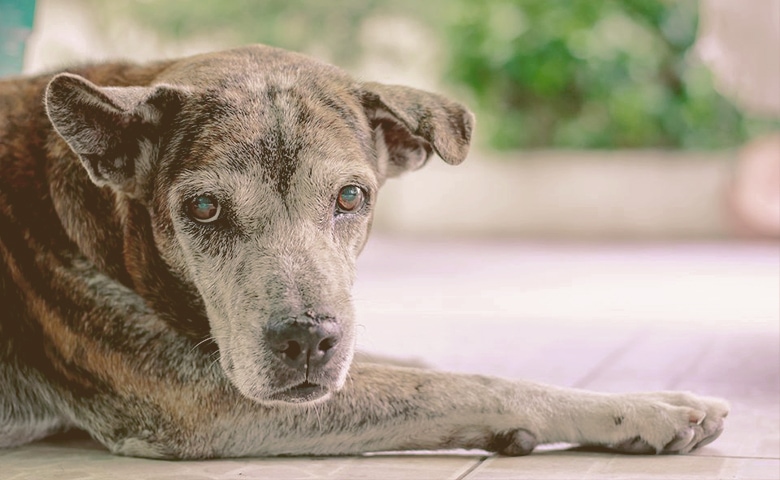 If you notice that your senior dog has started dropping pounds the first step is always to take your dog to the vet. While in many cases weight loss is not a sign of a severe issue in older dogs, weight loss that is sudden or accompanied by other symptoms could be a sign of an underlying medical condition. Here are some medical conditions that can cause weight loss:
Cancer
Heart Disease
Kidney Disease
Diabetes
Dehydration
Dental Problems
Liver Disease
Gallbladder Disease
Arthritis or other joint issues
If your dog's weight loss is caused by a health issue like these, then you need to address these problems first. In these cases, weight loss is a symptom, and you need to treat the root cause instead.
Once you have taken your dog to the vet and had them confirm that there is not a more serious disease causing the weight loss, you can begin making a plan to help your dog gain weight and keep it. Food is often the key to this. Helping your dog stop losing weight relies on the answer to two questions about their food: what are you feeding them and how are you feeding them?
Why Is Your Dog Losing Weight?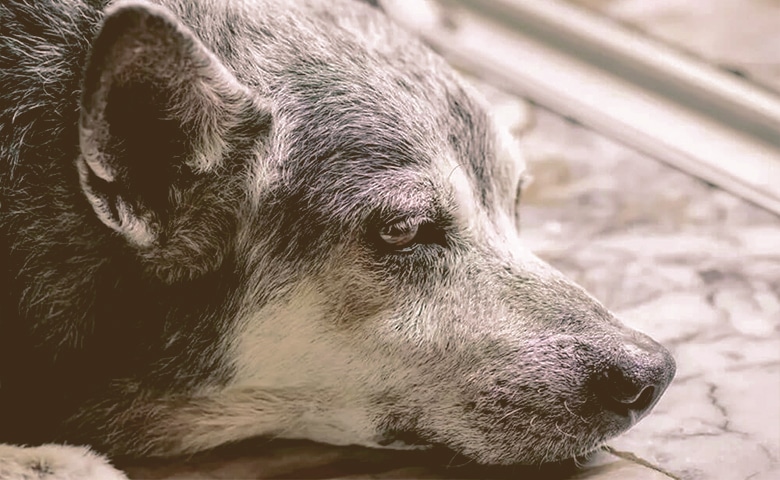 Besides medical conditions, there are two main reasons that older dogs lose weight: lack of appetite and decreased bodily functions. Knowing which one your dog is suffering from can help you identify what steps will be the most effective when altering your dog's food.
Some older dogs lose weight because they stop eating. If this is the case you will want to focus on making your dog's food more enticing to encourage them to eat. You may also need to identify what has caused the failing appetite (dental problems, boredom, and depression can all be reasons) and work to combat that.
Your older dog may also be eating all of his food and still be losing weight. A dog can lose weight simply because he cannot effectively absorb his food as well. In these cases, you will need to focus on providing your dog with a diet that he can easily digest and absorb.
If your dog is losing weight because of a reduced appetite you may need to focus on how you feed your dog. If your dog is still eating but dropping weight then you may need to look at what you are feeding your dog. Whatever the issue, be sure to look at both categories for a full list of ideas to help your older dog with their weight.
ALSO READ: Best Dog Food for Anal Gland Problems
What Do You Feed Your Dog?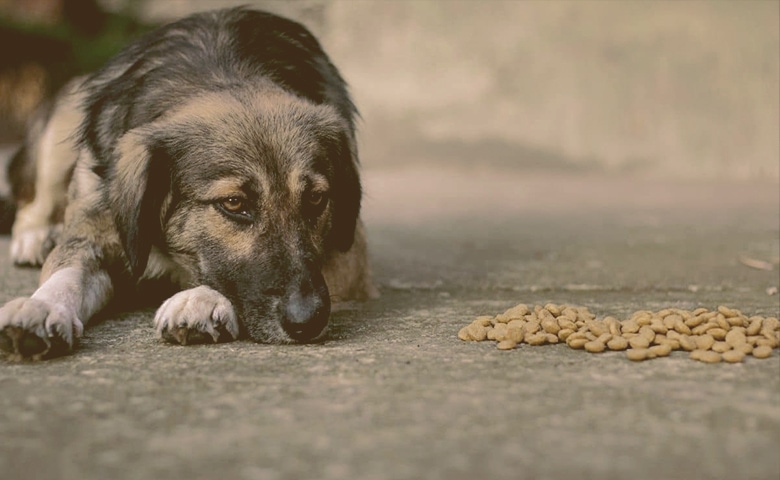 As your dog ages, his body simply does not work as well as it once did. This means his ability to digest his food and absorb nutrients often takes a hit. To compensate for this decrease in function, older dogs may need food that has higher concentrations of nutrients.
Some brands and dog foods are far richer in nutrients and calories than other types. Therefore the first step in improving your senior dog's diet is to look at what they are eating. Here are some tips you can use to choose the best food for your older dog.
Stay Away from Senior Dog Food
First of all, you need to check that senior dog food you have been buying. Because of a slowing metabolism and decreased energy levels, many dog food companies assume that senior dogs are gaining weight. Their senior dog food lines thus tend to have fewer calories, but if your senior dog is losing weight this is the opposite of what they need.
Another issue with senior dog foods is a decreased protein content. There is a misguided belief that feeding an older dog the same level of protein as an adult dog will put a strain on its kidneys. However, dogs are naturally meat-eaters. Their bodies are equipped to handle high levels of protein.
Unless your dog is suffering from kidney problems, it is not a good idea to choose dog food with a lower protein level for your senior dog. All this is doing is depriving them of an essential nutrient to help them maintain muscle mass and weight.
Look for Premium Dog Food
Now that you know to stay away from senior dog foods for your thinning older dog, you need to know what types of dog food to look for instead. Sometimes paying more for high-quality dog food could give your dog the nutrient boost it needs.
Premium dog foods have fewer filler ingredients which means that they are easier to digest, have a denser caloric content, and contain higher levels of protein and fat.
What exactly constitutes premium dog food? Look for quality proteins from meats rather than meals or by-products. The protein should also make up at least 25% of the food's calories. For a dog that is losing weight higher than 35% is ideal. You also want foods with a small ingredient list and with ingredients that you recognize.
Here are some great options:
Try a High-Quality Puppy Food
In some cases, a food designed for puppies might be appropriate for your senior dog suffering from weight loss. Puppy food is meant to feed growing bodies, so it tends to be higher in calories and more nutrient-dense than senior or even adult dog foods.
If you choose to go the puppy food route, still make sure to buy food of premium quality. The protein source should be meat, and there should be a limited amount of filler ingredients.
ALSO READ: When to Take a Dog to the Vet For Not Eating
Include Wet Food in Your Dog's Diet
The truth is that dry dog food is actually more nutrient-dense than wet food, so why should you add wet food to your dog's diet if they are losing weight? If part of your dog's weight loss is due to a lack of appetite or simply refusing to eat, then wet food could encourage your dog to eat more.
As dogs age, many of them suffer from dental problems that can make eating dry food difficult and even painful. Wet food is easier for them to chew and swallow. Wet food also tends to be smellier which can be more enticing to a dog. Many older dogs that are not eating may also be struggling with drinking and avoiding dehydration. Wet food can help combat this as well.
The best quality dry food will do your dog little good if they won't eat it. If you are struggling with getting your dog to eat, wet food may be the change and encouragement your dog needs.
Prepare Human Food
Human food just tends to be more nutrient-rich and easy to digest than dog food. You can prepare your aging dog homemade meals. The new flavors might entice a dog with a failing appetite, and you can better ensure that the meals are always easy to chew if your senior dog has dental issues.
When preparing human food for your dog, you need to ensure that you do not include any ingredients that are toxic to dogs and that you are including the necessary vitamins and minerals. It can be done, but if you want to do this, you should talk to your vet to get advice about what would be best for your dog specifically.
Add a Digestive Supplement
Maybe the food your dog eats is fine, and maybe he still has a healthy appetite, but his body may just not be digesting and absorbing his food as well as it once did. Adding a digestive supplement can help your dog to get the most out of its food. There are several types of supplements that might help including prebiotics, probiotics, and digestive enzymes.
Add a Calorie Supplement
If getting the necessary calories in your dog is a struggle a high-calorie supplement could help. These supplements tend to come as a paste or liquid which you can add to your dog's food or give alone. This is a good option if a better dog food alone is not doing the trick for your dog.
Here are some great options:
So, now you know steel is the best, but to find out exactly why some of the other options aren't up to par, keep reading as we explore the world of dog bowls a bit more in-depth.
How Do You Feed Your Dog?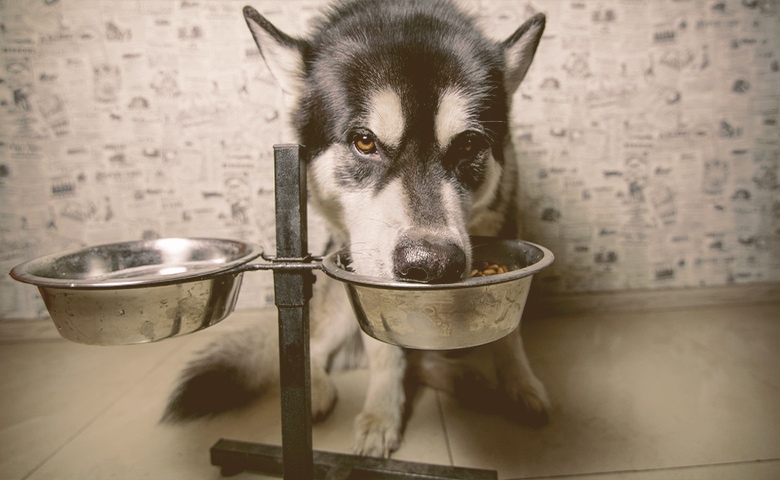 Maybe you have selected the best food on the market, but your senior dog just won't eat. Sometimes old age comes with a lack of appetite, which can be particularly concerning. Luckily there are several things you can try to get your dog to eat more and get more from their food.
Add More Meals
One simple way to improve digestion and increase calorie intake is to feed your dog more. If you feed your dog once a day, try feeding them twice a day. If you feed them twice a day, try three times a day.
Even simply breaking your dog's food into multiple meals without necessarily adding more could be beneficial. It gives your dog more time to digest to get as much from their food as possible.
Add Toppings
If your dog is showing a marked lack of interest in their food, then you may need to spice things up a bit. You want them to eat that amazing premium dog food you bought, but your dog just isn't interested. Adding some toppings can be a great way to get your dog to eat that premium dry dog food. Here are some things you can add:
Chunks of wet food
Gravy
A little cooked chicken
Bone broth
Scrambled egg
Soak the Food
If your senior dog is struggling with its ability to chew its food, then you may need to make things easier. Soaking their dry food in warm water or bone broth can both fight against dehydration and make it easier for them to manage. You will need to soak their food for about ten minutes before giving it to them.
When adding broth to your dog's food opt for low sodium options as high sodium intake can put a strain on your aging dog's kidneys.
Elevate the Bowl
We all know that your joints and muscles ache more the older you get. The same is true for your dog. It may not be discomfort from chewing, but your dog may discover that getting food from its bowl is painful or difficult.
One simple solution here is to elevate their bowl. Put your dog's food bowl at a level where they can reach it with minimal effort. This can even make a difference for small dogs. If your dog is drinking less, you should also elevate their water bowl.
Hand Feed Your Dog
Sadly there are a lot of things that can begin to go wrong when a dog hits a ripe old age. They can lose their eyesight, making it difficult for them to find their bowl. Dogs may also suffer from dementia or confusion associated with old age, which can lead to trouble finding their bowl or even problems remembering to eat.
In these cases, your dog may need a bit of help with its daily meals. Bringing the food to your dog and holding the bowl, or even hand feeding may prove effective when your dog has completely ceased to find and eat their food on their own.
Mix Things Up
Your dog's lack of appetite may be tied to boredom. By the time they reach old age your dog has been doing the same thing for quite a while.
There are several ways you can mix up feeding time for your dog. All of these may simply increase your dog's interest in mealtime and result in a healthier appetite.
Put their food in puzzle toys for an extra challenge
Move their bowl to a different location
Try a different flavor of dog food
Change bowls
Warm your dog's food
Other Tips to Help Your Older Dog Stop Losing Weight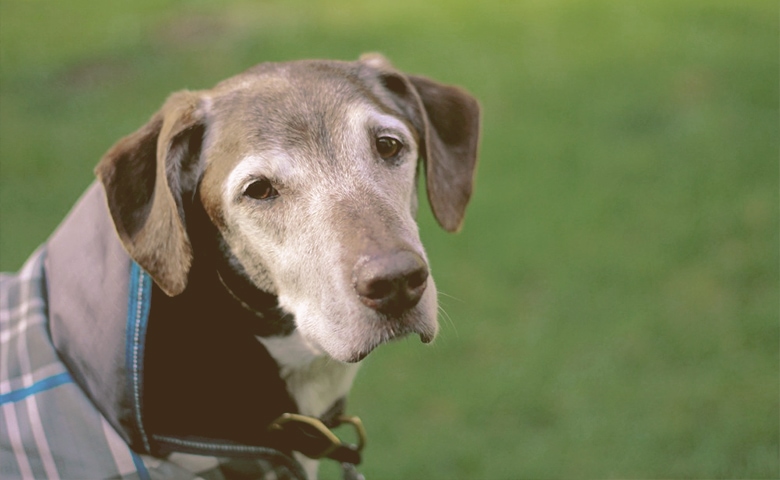 When it comes to their weight, food is vital but it isn't absolutely everything. Other things can cause a general loss of appetite and result in weight loss. Here are a few extra tips to keep your senior dog at a healthy weight.
Help Your Dog Maintain a Moderate Activity Level
This may sound counter-intuitive. Letting your dog be a couch potato should help them gain weight right? While your thin senior dog does not need tons of exercise, they do need to stay moderately active as much as possible. Moderate activity helps a dog maintain its appetite and keeps its body functioning better.
Keep Tabs on Your Dog's Emotional Health
Dogs can suffer from depression, and it can be severe enough to cause a complete lack of appetite and weight loss. If your senior dog has recently lost a companion, you have moved homes, or any other event that has largely impacted your dog, this may be causing stress that has resulted in weight loss.
In these cases, you often need to encourage your dog to eat and maybe even add a calorie supplement to maintain your dog's physical health while they adjust to their new situation.
Conclusion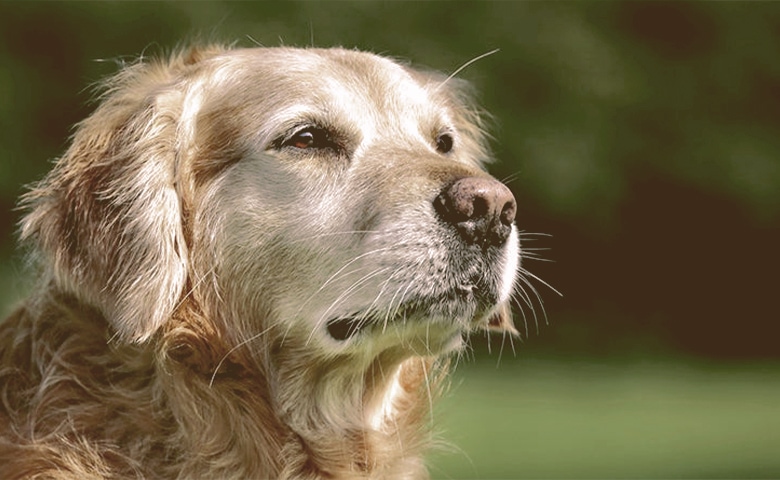 Just like people, dogs face changes as they age. One of the changes your older dog may face is unexpected weight loss. When facing weight loss with your older dog, the first thing you should always do is check with your vet to ensure there are no larger health issues at play.
After ruling out any serious medical causes, you can get your dog on a diet designed to help them gain and keep weight. Whether you are changing up their food or changing up how you give it to them, you can work with your dog to find a feeding plan that works for them.
Sources
Labrador Training HQ
The American Kennel Club
Senior Tail Waggers
Senior Tail Waggers
PetMD
Caring for a Senior Dog