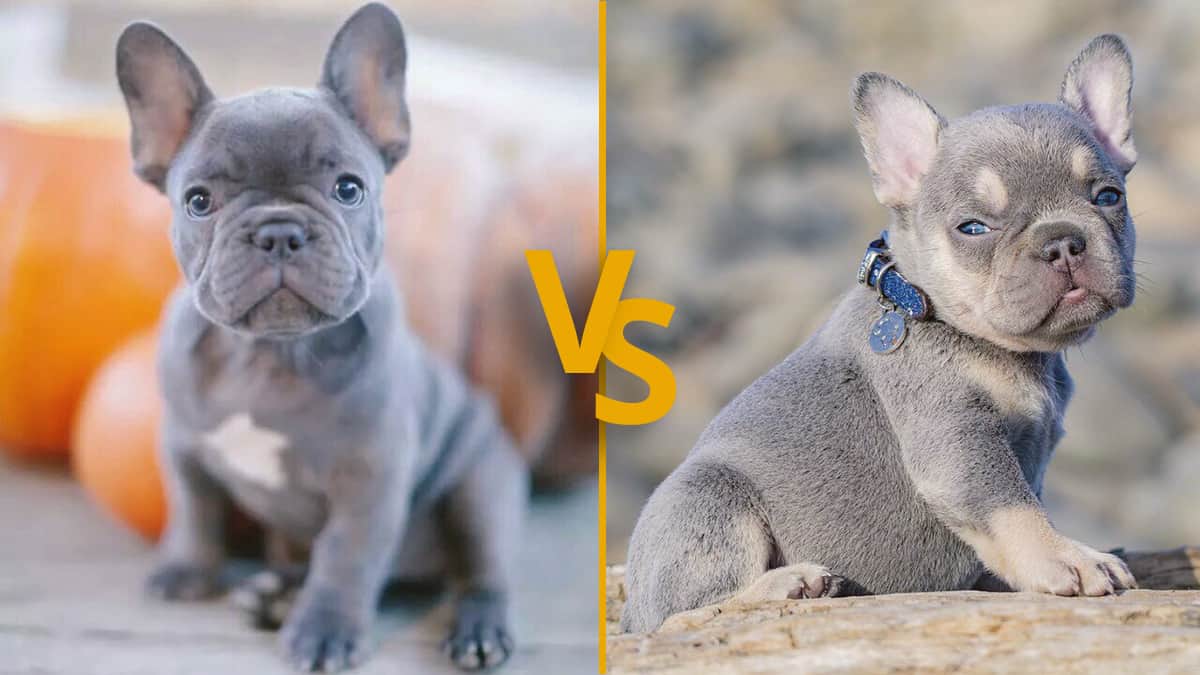 Lilac vs Blue French Bulldog: Differences And Similarities
Alex Vicente • Updated on August 1, 2023
This review contains affiliate links. Read more here.
Not a substitute for professional veterinary help.
While there are countless breeds of dogs across the world, the French Bulldog shines especially bright.
It's the second-most popular dog breed in the US, second only to the unbeatable Labrador Retriever.
When it comes to rarity, though, Blue and Lilac French Bulldogs top the list.
They're so rare that the AKC has yet to recognize them as an "official" French Bulldog color.
In this comparison guide, we'll discuss the major differences and similarities between Blue and Lilac French Bulldogs.
Lilac vs Blue French Bulldog: which should you get? Let's find out!
Table of Contents
Blue French Bulldogs vs. Lilac French Bulldogs: Similarities and Differences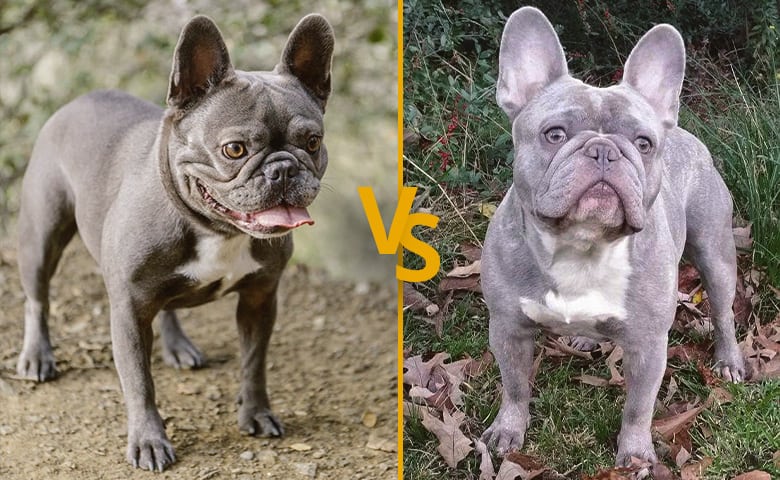 Blue- and lilac-colored French Bulldogs are the same as other French Bulldogs in most respects.
However, there are several factors that make them as unique as their coat colors, including:
Gene
Several gene variants are known to produce unique coloration in dogs.
This holds true for both Blue French Bulldogs and Lilac French Bulldogs.
The bluish coat of Blue French Bulldogs comes from a dilute black gene, a rare mutation of the MLPH locus.
The gene causes the dog's eumelanin pigment to "dilute" or lighten to a gray-blue color without affecting the pup's light brown pheomelanin pigment.
Unfortunately, Frenchies with the dilute gene often suffer from Color Dilution Alopecia (CDA), a genetic disease that causes hair loss due to structural abnormality.
As such, the AKC has yet to add "blue" to its shortlist of standard colors—not only because it's so rare but also because of the health conditions associated with it.
Breeders "create" Blue French Bulldogs by breeding two blue carriers to increase the chance of producing an all-blue litter.
Blue French Bulldogs produced by non-blue carriers have a special mutation on their Chromosome 25.
This mutation is extremely rare and only happens 1-5%% of the time.
Lilac French Bulldogs, on the other hand, have a dilute brown gene.
They're produced by breeding a blue Frenchie and a brown Frenchie with blue DNA together.
As opposed to Blue Frenchies, Lilac Frenchies show no traces of brown in their coat.
Instead, their coat is dusted and purple-like in the light.
Lilac Frenchies are much harder to breed than Blue Frenchies because they're a product of multi-recessive coat coloration.
In order to produce a "perfect" lilac pup, both of its parents must possess two identical pairs of alleles of the brown gene (b/b), the dilute gene (d/d), or both (b/d).
Eyes
Like cats, French Bulldogs are born with blueish eye colors.
As they grow older, the pigment of their eyes darkens to the color brown.
The same can't be said with Blue and Lilac French Bulldogs.
Both colors retain their light-colored eyes into adulthood.
Most of the time, their eyes are blue, crystal blue, or green.
If the pup's eyes turn darker as it grows old, the color of their fur might change in tandem.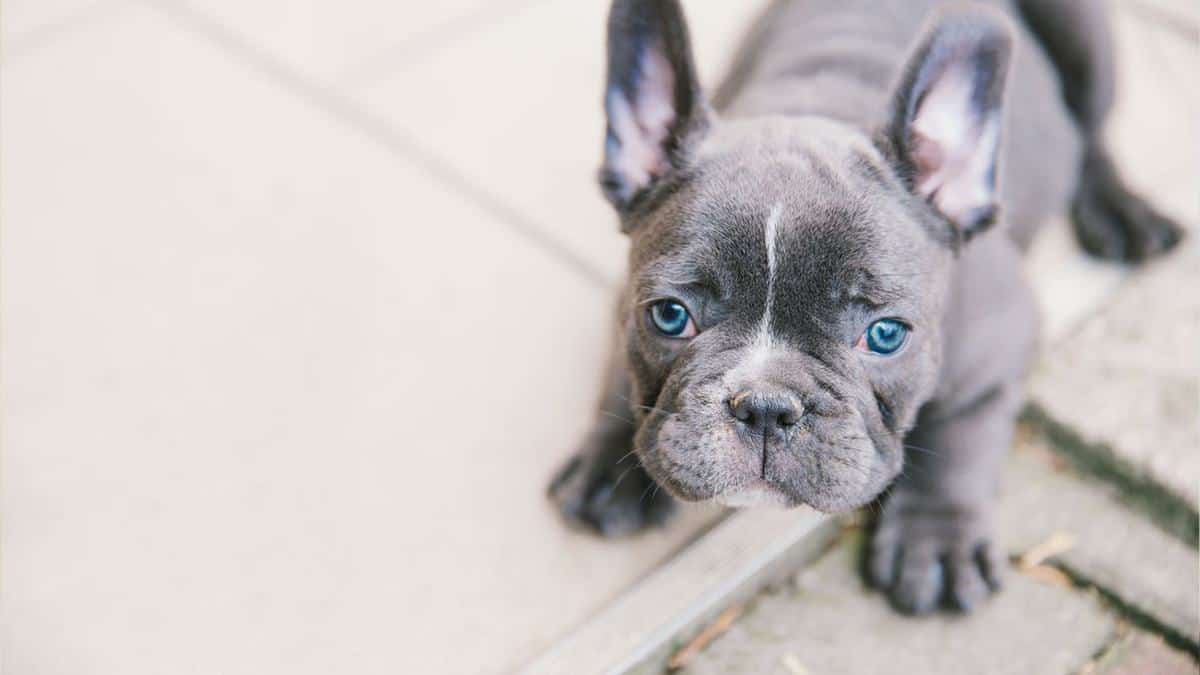 AKC Recognition
As mentioned earlier, Blue and Lilac French Bulldog colors aren't recognized by the AKC.
According to the AKC, the only "correct" colors are:
Brindle
Fawn (from light fawn to red fawn)
White
Brindle and white
Cream
Pied
For most people, this isn't a huge deal-breaker.
But those that actively participate in dog shows and AKC events find this a bit of a bummer.
Although the AKC has changed a lot from decades ago, adding lilac and blue to the list is highly unlikely considering their rarity and the health problems associated with the colors.
Appearance
Aside from the obvious difference in coat colors, Blue and Lilac Bulldogs have some distinct qualities.
For one, Blue French Bulldogs are generally bigger than Lilac French Bulldogs.
Blue French Bulldogs stand at around 13 inches in height, while Lilac French Bulldogs rarely exceed 11 to 12 inches.
There's some difference in weight, too.
Blue French Bulldogs can weigh up to 28 pounds—heavier than average French Bulldogs.
Lilac French Bulldogs are much lighter at around 20 pounds.
Apart from the size and weight, Blue and Lilac Frenchies look like any other Standard French Bulldog.
They have a distinct, barrel-like body, bat-like ears, a Brachycephalic face, and a half-flat, half-domed skull.
They're compact and buff, falling in between small and medium.
Temperament
Blue and Lilac French Bulldogs have some distinct breed traits that are rooted in their genes.
Blue French Bulldogs are laid-back, loving, and cuddly.
They thrive off of human attention and may sometimes be a bit too clingy.
They love mental stimulation and would do anything to spend more time with you.
Lilac French Bulldogs have the same temperament as ordinary French Bulldogs.
They're not as clingy as French Bulldogs, but they're not opposed to being cuddled and moved about.
They're well-tempered, friendly, and full of energy, but can also be stubborn and lazy from time to time.
Trainability
Blue and Lilac French Bulldogs are just as easy to train as regular French Bulldogs.
They're not particularly athletic and tire faster than non-brachycephalic dogs.
They don't do well with high-intensity training, agility courses, and anything that requires too much sprinting, jumping, and climbing.
Consistency and persistence are a must when training these dogs.
Frenchies are ritualistic, so they're best trained on a schedule.
They'd sometimes display a strong unwillingness to train, but don't let that stubbornness sway you.
Set a schedule and stick to it as much as you can.
How Much Do Blue and Lilac Dogs Cost?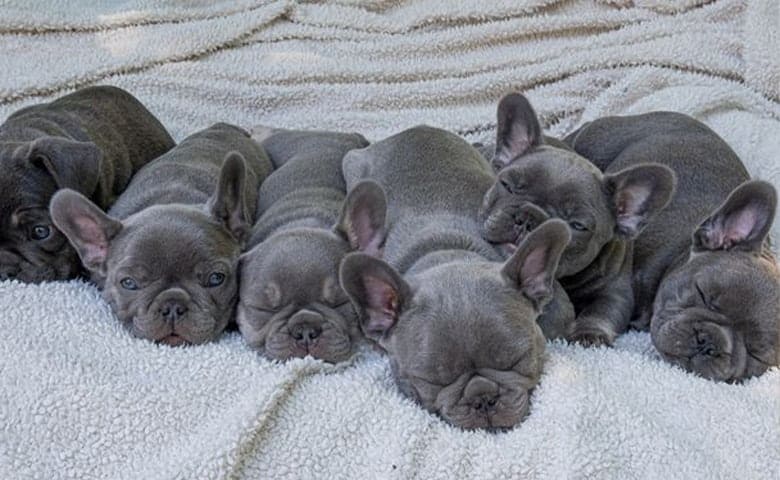 Although not recognized by the AKC, Blue and Lilac French Bulldogs are much more expensive than the standard French Bulldog.
In general, Blue and Lilac French Bulldogs cost anywhere between $5,000 to $15,000.
Unless the pup has some health issues, breeders wouldn't sell them for less.
In comparison, standard-colored French Bulldogs cost between $1,500 and $3,000.
The most expensive French Bulldog to date was sold at a whopping $100,000.
The pup's name was Micro and he was bought by American rapper 2 Chainz.
Final Thoughts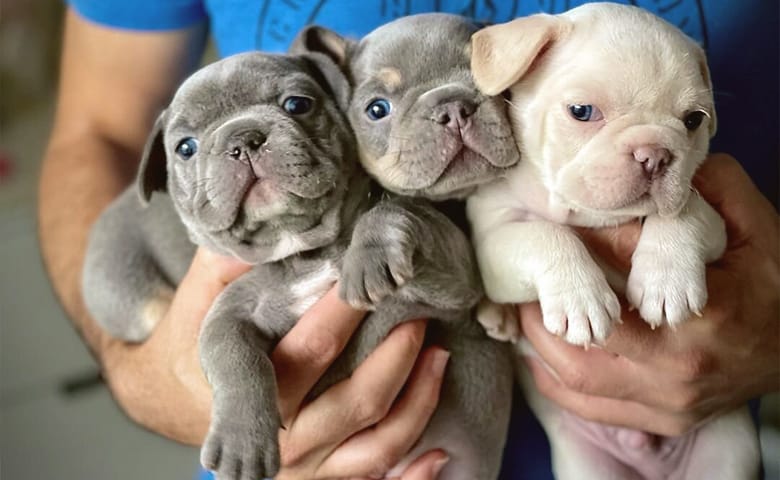 Blue and lilac are two of the rarest French Bulldog colors to date.
It's unsurprising, then, that they're particularly sought-out in the French Bulldog community.
Blue and Lilac French Bulldogs get their coat colors from a rare mutation of the MLPH locus.
Blue Frenchies have a dilute black gene mutation, while Lilac Frenchies have a brown gene mutation.