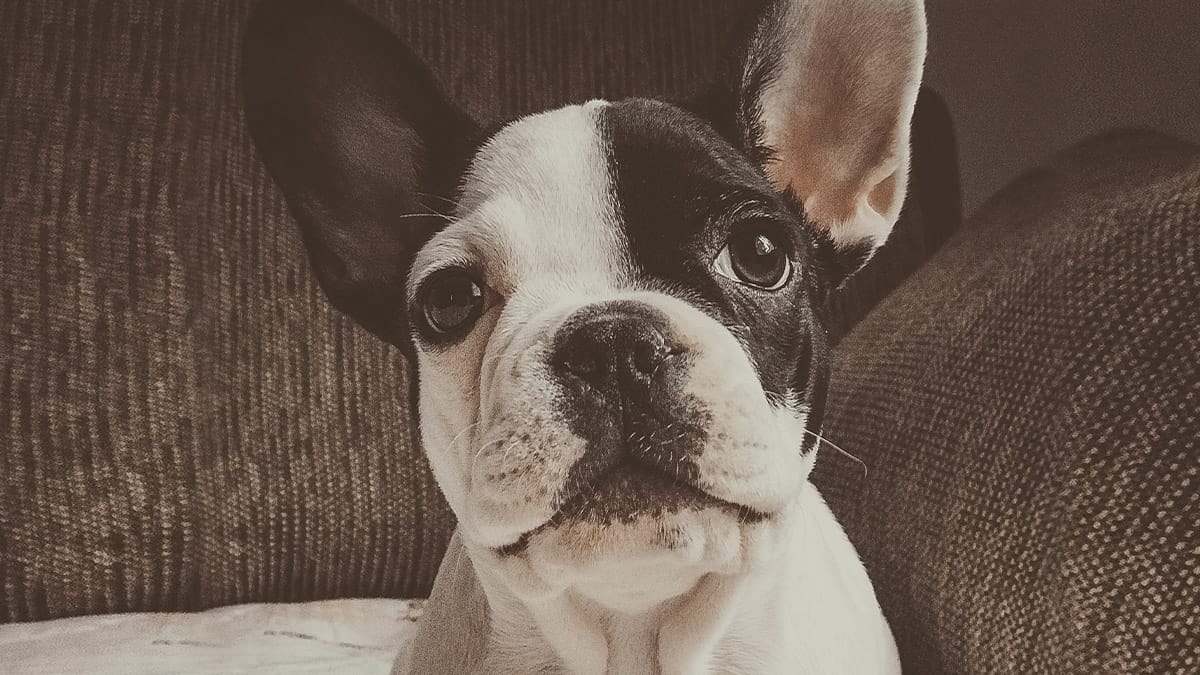 Pied French Bulldog: What It Is + Full Guide
Alex Vicente • Updated on August 1, 2023
This review contains affiliate links. Read more here.
Not a substitute for professional veterinary help.
In recent years, the popularity of the French bulldog has been on the rise.
They're the second most wanted dog in America and they rank fourth in all the world.
Interestingly as well, there are various breeds of Frenchies out there.
They all share the same habits and puppy qualities.
In the article below, our focus will be on the Pied Frenchie breed.
What is a Pied French bulldog, you may ask?
We're here to answer that question and many more.
Let's get to it.
Table of Contents
What Is a Pied French Bulldog?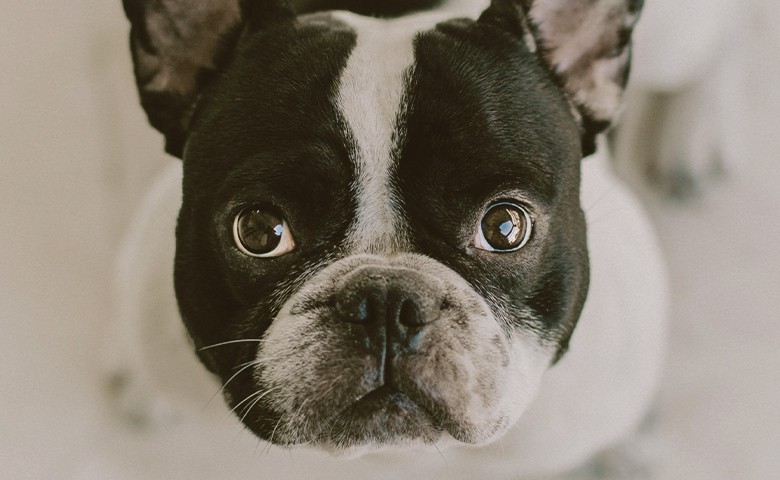 A Pied French bulldog is simply a Frenchie with white or eggshell-colored fur.
This breed of French bulldogs is distinguished from the rest by the pattern of colorful patches all over their bodies.
Although Pied French bulldogs aren't rare, breeders continue to mix up their genes to get different colors.
As it stands, there are over ten different types of Pied French bulldogs—all of which have a unique arrangement of furry spots.
Some color combinations found on Pied Frenchies aren't yet recognized by the American Kennel Club (AKC).
These include lilac and blue-coated Pied bulldogs.
That simple fact, though, hasn't stopped those breeding Pied French bulldogs from still trying.
Luckily, though, Pied Frenchies are growing increasingly popular.
More and more people are realizing their distinctive beauty and can't get enough of these beloved, furry pets.
This, in turn, means that the AKC will soon have no choice but to recognize all Pied Frenchies, no matter their color.
What Does Pied Mean in Dogs?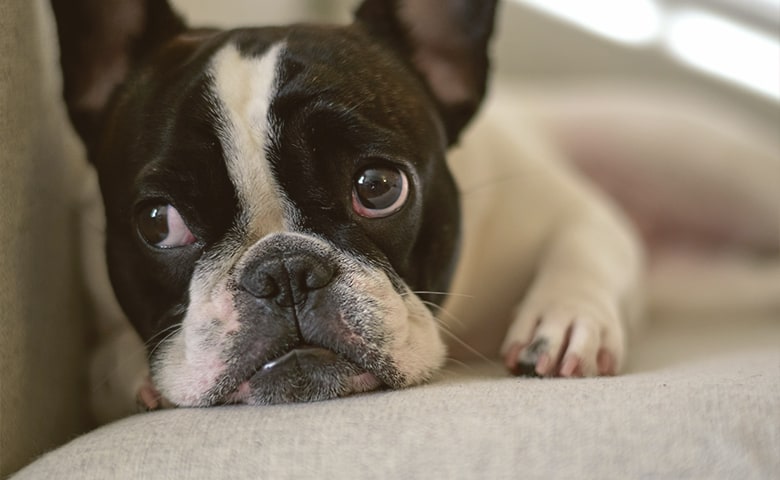 Pied is short for Piebald. Piebald is a kind of gene found in dogs that causes their outer coat to go completely white.
Now, that doesn't mean that the dog with this gene is 'bald'.
The Piebald gene has nothing to do with how thick a dog's fur is or how much it'll shed.
As a matter of fact, the Piebald gene is a recessive one, meaning it's not commonly found in the genetic makeup of dogs.
These lively animals have 39 chromosomes, out of which, only one is responsible for the color of their bodies.
If this chromosome is found to be carrying the Piebald gene then the dog will turn out to have a white body with patches of colored fur on its front legs, back, or behind its ears.
That can only happen if both parents are also Pied dogs or are carriers of the Piebald gene.
What Does Pied Mean in French Bulldogs?
The presence of the Piebald gene in French bulldogs functions the same as it will in any other breed.
It won't pigment their fur with a solid color, so it'll become an eggshell white instead.
The gene will also give them cream, black, or fawn-colored spots on their bodies.
The Piebald gene doesn't affect how hypoallergenic a Pied French bulldog will be.
A Pied Frenchie will still shed a healthy amount of dog hair and dander.
Note also that Pied doesn't refer to the Frenchie's color.
It's simply used to describe a French bulldog that was born with the Piebald pattern of white fur mixed with dark-colored patches.
How Many Breeds of Pied French Bulldogs Are There?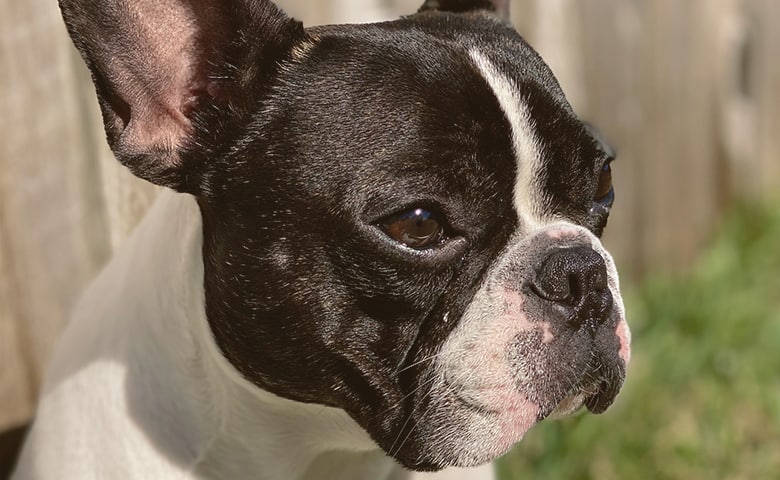 Pied French bulldog breeders are constantly mixing and matching all sorts of Pied Frenchies together.
Their aim is to have their mating dogs give birth to rare and differently colored Pied French bulldogs.
As a result, we currently have knowledge of more than a dozen kinds of Pied Frenchies.
Around five of these colored breeds are common, while the others are considered more exotic and harder to get.
The standard colors for the Pied French bulldog are cream, fawn, black, and brindle.
These are the breeds that are accepted by the American Kennel Club too, whether for registration or showing purposes.
Rare breeds of Pied Frenchies, on the other hand, include those with patches of a distinct color.
Their fur may be blue, merle, lilac, chocolate, tan, or isabella purple—the latter is the hardest to come across.
In a few cases, a Pied French bulldog will end up being a mix of two colors.
These unique types of Pied French bulldogs require parents of a certain color in order to get them.
This is mainly why these Pied Frenchies are expensive.
Plus, because of their lovely and colorful coats, the demand for them is quite high.
How Are Pied French Bulldogs Different?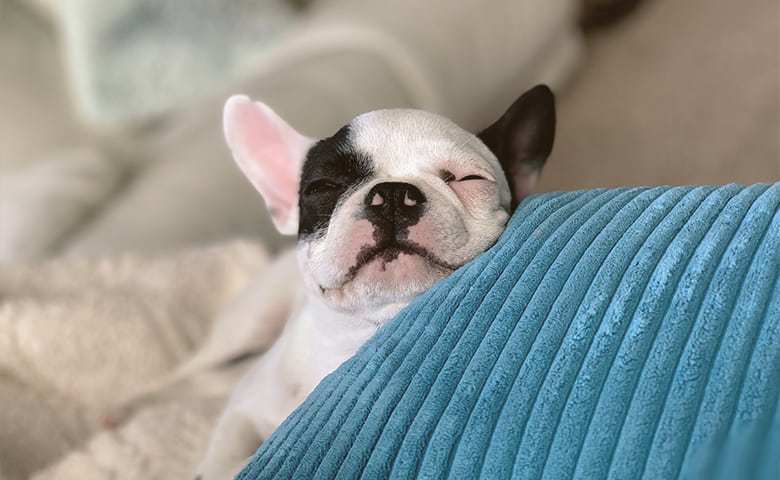 Even if the color of their fur is different, Pied Frenchies and other French bulldogs have almost no differences.
One is just as cuddly and wonderful as the other.
Similar to a solid-colored Frenchie, a Pied French bulldog is an excellent choice for families and apartment owners.
They're not aggressive dogs.
On the contrary, they're rather friendly and love to be around people.
Both breeds are often considered lazy too, but that's only because fully grown Frenchies sleep around 13 to 15 hours a day.
Still, any dog needs its fair share of daily exercise and a French bulldog is no different. Make sure you take them on a walk two times a day.
The grooming habits of either kind of French bulldog are the same as well.
You should wash your Pied French bulldog at least once or twice a month.
Avoid getting shampoo in the fold and wrinkles, though, since that'll irritate their skin.
Remember to wipe down their fur, paws, and tail pockets daily too.
A Pied French bulldog is just as susceptible to health problems as the rest of its breed.
As their caretaker, properly clean them to avoid harmful bacteria getting into their system.
On that note, the main–and perhaps the only difference between Pied Frenchies and other French bulldogs–is that the former is at risk of being deaf at birth.
Since this disorder is DNA-related, Pied Frenchies are naturally more prone to it due to the Piebald gene.
Wrapping Up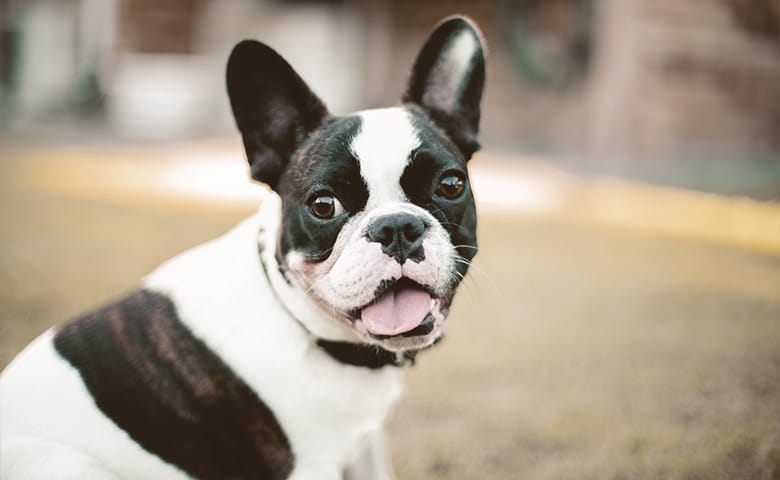 What is a Pied French bulldog?
A Pied or Piebald Frenchie is a kind of bulldog breed whose white fur makes it stand out from others.
Each Pied bulldog will have a colorful number of patches on its body too.
Along with a friendly, easy-going personality, Pied French bulldogs are a popular choice with dog lovers.