5 Boston Terrier Rescues in Arizona (UPDATED List for 2023)
Alex Vicente • Updated on August 1, 2023
If you're looking to find a Boston Terrier in Arizona (AZ) you're in the right place.
Before you check the rescue centers below, please make sure you're aware of how big a responsibility is to foster or adopt a dog, particularly Boston Terriers. You need to know they may have pre-existing medical conditions and may need to be followed by a vet periodically.
You should also be aware that animal cruelty is a punishable crime.
Most of these rescue centers are just outside Phoenix, AZ, and Tempe, AZ, with a few in the Tucson, AZ area as well. The rescue centers below are presented in no particular order.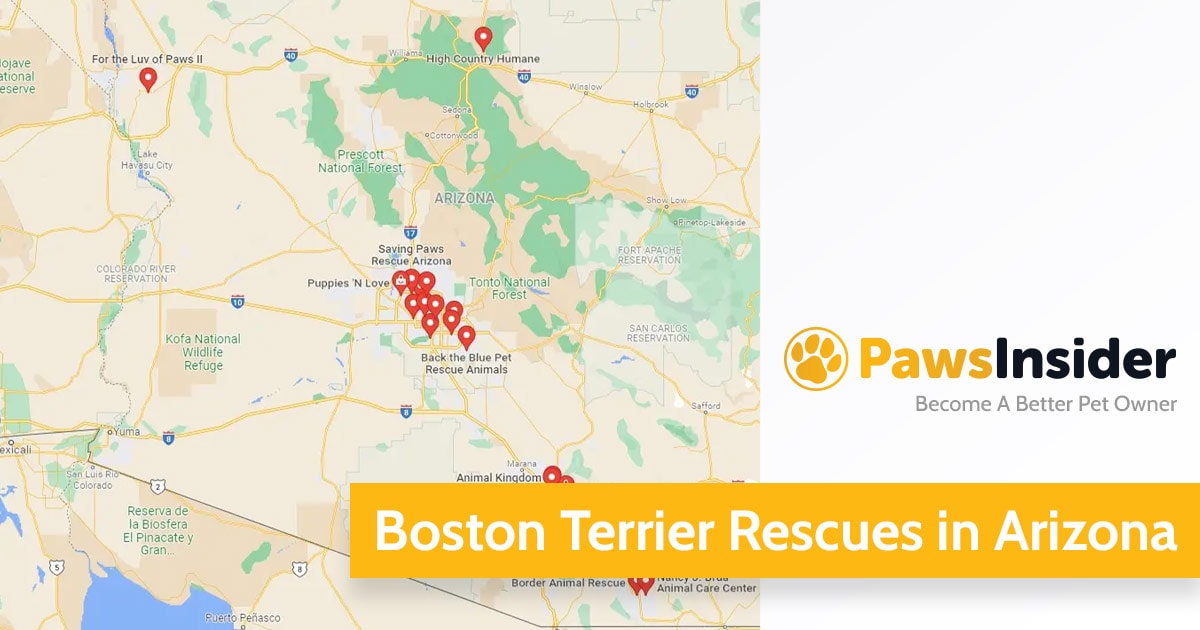 Other resources that you may be interested in:
Table of Contents
Stealing Hearts Rescue (Phoenix, AZ)
Stealing Hearts Rescue was created with the aim of improving the lives of large breed shelter dogs.
The purpose of this organization is to save the lives of many bigger breed dogs that are frequently overlooked and offer them the chance to become loved and cherished pets.
Stealing Hearts promotes the adoption of dogs who would otherwise be put to sleep by other shelters due to illness, pregnancy, or nursing mothers, or breeds of dogs that are frequently disregarded by others.
They are committed to educating the public about these amazing creatures, and not only do they save dogs' lives, but the owners' new information is also shared, allowing them to reach many more people.
Their motto is "By saving one, we save many."
Rescue and Adoption Details
Address: FACILITY LOCATION – THE PIT STOP

2211 W Shangri La Rd, Phoenix, AZ 85029, United States

Mail Address: NOT OPEN TO THE PUBLIC! PLEASE ARRANGE A TIME TO MEET ONE OF THEIR DOGS WITH TONI (Email Address below)!

2211 W Shangri La Rd, Phoenix, AZ 85029, United States

Phone: 602 686 4158
Emails:
Website: www.stealingheartsrescue.com
Form:

Adoption Application here
Arizona Small Dog Rescue (Phoenix, AZ)
Founded in 2004, Arizona Small Dog Rescue is a 501(c)3 nonprofit dog rescue organization based in Phoenix that was founded in 2004.
This no-kill shelter admits small dogs and puppies of all breeds from overcrowded shelters or owner surrenders, provides veterinary care, and, where possible, finds them new homes.
Arizona Small Dog Rescue has been named one Top-Rate Nonprofit by Great NonProfits for its work to save small dogs, namely french bulldogs.
The team also hosts adoption events on weekends at Petco and Petsmart, where they showcase their french bulldogs available for adoption.
Rescue and Adoption Details
Ghost Town Dog Rescue (Mesa, AZ)
Ghost Town Dog Rescue is a French bulldog rescue center based in Mesa, Arizona.
They are passionate about saving dogs and rely solely on the kindness of animal lovers to care for the animals in need.
Adopting one of their pets today can help make a difference!
Rescue and Adoption Details
Valley of the Sun Dog Rescue (Mesa, AZ)
Valley of the Sun Dog Rescue is an all-breed, no-kill rescue and adoption service.
Since 2000, Valley of the Sun Dog Rescue has been a certified 501(c)3 non-profit organization.
They specialize in American Pitbulls and American Staffordshire Terriers, but they will accept any breed into their shelter.
The staff consists of family members, foster care professionals, and volunteers who are all working together to make this incredible rescue a reality.
These dogs are obtained from various animal shelters throughout Arizona, or they are surrendered by private citizens who no longer want them.
Valley of the Sun Dog Rescue strives to increase public awareness about Frenchies as well as other bully breeds.
Rescue and Adoption Details
Follow Your Heart Dog Rescue (Mesa, AZ)
Follow Your Heart Animal Rescue is a small organization dedicated to helping the most vulnerable animals.
They save them from being euthanized or abandoned and place them with loving families.
This rescue center was founded on the principles of love and care for all life while also working to reduce the number of homeless pets in Gilbert, AZ.
Rescue and Adoption Details