7 French Bulldog Rescues in Virginia: Updated for 2023

7 French Bulldog Rescues in Virginia: Updated for 2023
Alex Vicente • Updated on February 7, 2023
If you're looking to find a French Bulldog Rescue in Virginia you're in the right place.
Frenchies have been increasing in popularity over the past few years and according to the American Kennel Club (AKC) they are ranked as the #2 breed in America (1). For this reason, the umber of abandoned puppies and adult french bulldogs has also increased. Rescues and shelters are always looking for loving families to adopt frenchies.
Before you check the French Bulldog rescue centers below, please make sure you're aware of how big a responsibility is to foster or adopt French Bulldogs.
You need to know they may have pre-existing medical conditions and may need to be followed by a vet periodically.
You should also be aware that animal cruelty is a punishable crime.
If you plan to rescue a french bulldog, you should also know about the best harnesses for french bulldogs.
The rescue centers below are presented in no particular order.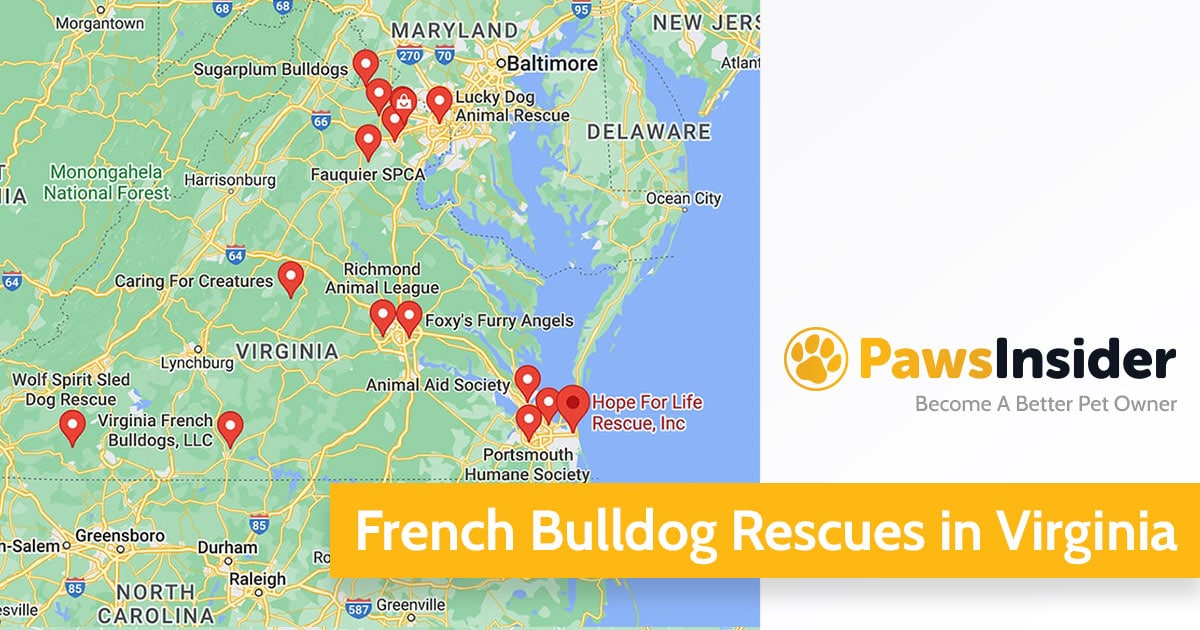 Table of Contents
French Bulldog Rescue Network (Glen Allen, VA)
The French Bulldog Rescue Network (FBRN) works to rescue, rehab, and rehome French Bulldogs that are in need from breeding facilities, import brokers, shelters, private rescue organizations, owners, or good samaritans.
FBRN is made up entirely of volunteers who care for and foster these dogs while also imparting knowledge and instruction to foster families or new owners.
Their mission is to find healthy, love-needing French Bulldogs their forever homes.
Rescue and Adoption Details
Bulldog Rescue Club of America Network
The BCA Rescue Network (BCARN) is a 501(c)(3) non-profit organization with many members around the country that love the Bulldog breed and are committed to its continued well-being.
BCARN is made up of volunteers who strive to accept Bulldogs whose owners can no longer care for them and give them responsible, stable, and loving new homes.
In addition, to maximize the odds of a successful placement, bulldogs must be rehabilitated prior to placement by receiving appropriate medical care and training.
Rescue and Adoption Details
French Bulldog Village Rescue
The French Bulldog Village (FBVR) is a rescue group formed by volunteers from all across the country whose aim is to rescue, rehabilitate, and rehome French Bulldogs and French Bulldog mixes.
FBVR seeks to raise awareness and understanding about the proper purchase and ownership of the French Bulldog breed as part of its purpose.
It is also a resource for other rescue organizations and private rescuers attempting to save French Bulldogs.
Rescue and Adoption Details
Richmond SPCA (Richmond, VA)
The Richmond SPCA (RSPCA) is a no-kill humane charity located in Richmond, Virginia.
They are not affiliated with or involved with any other organization that includes the acronym "SPCA" (Society for the Prevention of Cruelty to Animals).
Each year, the RSPCA saves the lives of over 4,000 homeless dogs, cats, kittens, and puppies by taking them into their care, usually from shelters throughout Virginia, when their lives are in danger.
In addition, the great majority of the dogs and cats in their shelter receive thorough veterinary medical treatment and behavioral rehabilitation.
Rescue and Adoption Details
Address: 2519 Hermitage Road, Richmond, VA 23220, United States
Phone: 804 521 1300
Emails:
Website: richmondspca.org
Events: See upcoming events here
Forms:
Donate: Donations here
Lucky Dog Animal Rescue (Arlington, VA)
Lucky Dog Animal Rescue (LDAR) is a volunteer-led organization devoted to saving homeless, neglected, and abandoned animals from euthanasia and placing them in loving forever homes.
LDAR envisions a society in which all animals are spayed or neutered, and where all pets are cared for by responsible families in loving homes.
They educate the community and all pet owners on responsible pet care, such as the significance of spay/neuter, obedience training, and proper nutrition.
Rescue and Adoption Details
Rainbow Animal Rescue (Norfolk, VA)
Rainbow Animal Rescue (RAR) is a non-profit, all-volunteer organization founded in April 2005 to rescue and rehome abandoned animals. Foster families, with their help, offer a secure, loving environment for rescues until they can find permanent homes.
Through education, RAR hopes to foster an animal-friendly community in the Tidewater area.
Prior to adoption, their animals are inspected and vaccinated by a veterinarian, and they are spayed/neutered and microchipped wherever feasible.
Rescue and Adoption Details
Hope for Life (Virginia Beach, VA)
Hope for Life Rescue (HFLR) was founded in February 2002.
The founder had been saving animals independently for some years and had visited other local rescue groups on numerous occasions to observe how they operated.
HFLR is a pro-life group dedicated to the rescue and placement of abandoned, mistreated, and neglected animals, most of which come from high-kill shelters.
They frequently find animals in deplorable conditions as they attempt to take those that require their assistance the most.
Rescue and Adoption Details
Address: 610 Jack Rabbit Rd #3, Virginia Beach, VA 23451, United States
Email:
Website: www.hopeforliferescue.com
Events: See upcoming events here
Forms:
Donate : Donations here