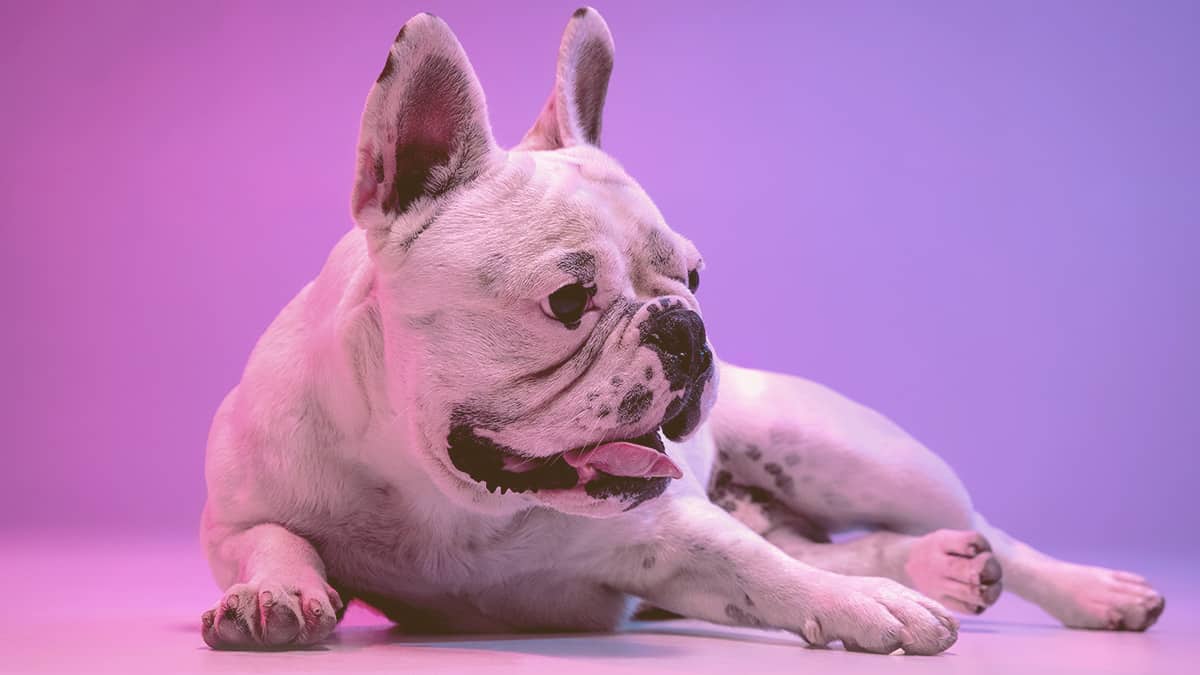 Can French Bulldogs Be Left Alone? For How Long?
Alex Vicente • Updated on August 1, 2023
This review contains affiliate links. Read more here.
Not a substitute for professional veterinary help.
In a perfect scenario, you'll have all the time in the world to spend with your French Bulldog.
These affectionate dogs like to spend time with their humans, and this is one of the reasons why they're very popular among families and single people.
But, life happens, and whether you like it or not, you'll have to leave your pooch for some time on its own.
So, how long can French Bulldogs be left alone?
What are the tips to follow if you want to leave your dog at home by itself?
Keep on reading to learn about this topic.
Table of Contents
How Long Can French Bulldogs Be Left Alone?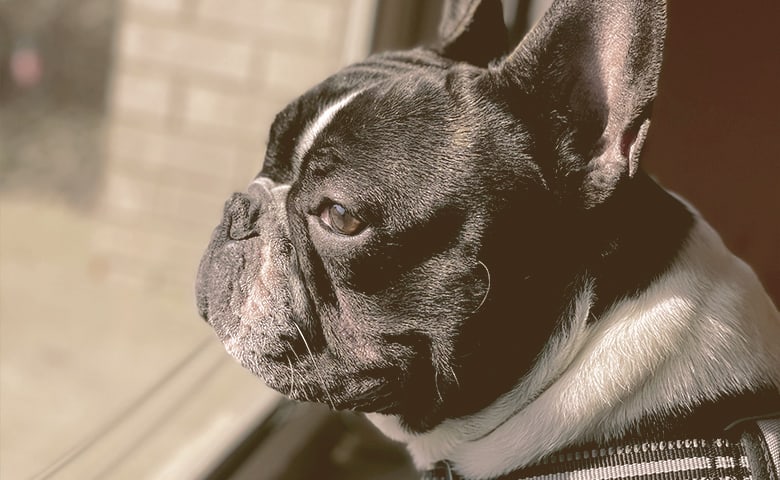 French Bulldogs are small playful dogs, and they're known to be fond of and highly loyal to their humans.
But the other side to their loyalty is that they don't want to be left home alone.
However, you can't just quit work and sit home to play with your Frenchie.
Even if you don't work, there will be times when you have to go outside, and your French Bulldog won't be able to come along.
This is why it's important to know how long you can safely leave your pooch alone.
There's no exact answer to this question because the answer depends on the dog's age, health, and personality.
And leaving the dog alone is related to two factors, soiling accidents and separation anxiety.
A newborn puppy won't be able to hold its bladder for more than one hour.
Moreover, it might feel too scared or too cold if you're not around and it's been separated from its mother.
A French Bulldog 4-month-old puppy won't be able to hold itself for more than 4 hours, so unless you're OK with dealing with your dog's accidents, it shouldn't be left for a longer period inside.
An adult dog can hold itself for 8 hours, but this might not always work.
In some cases, your dog might not be able to hold its bladder, and even if it can, spending that much time alone won't be healthy.
A senior or sick dog needs more attention, so you might not be able to leave it alone for more than 5 to 7 hours.
So, it's safe to say that you can leave your French Bulldog alone for an average of 7 hours, or a little more if you don't mind dealing with accidents.
Of course, a younger puppy should be left alone for a shorter period.
If you already know that your dog is suffering from separation anxiety, you shouldn't leave it alone for more than a couple of hours.
This will help your pooch overcome this problem faster.
What Happens When You Leave Your French Bulldog Alone For Too Long?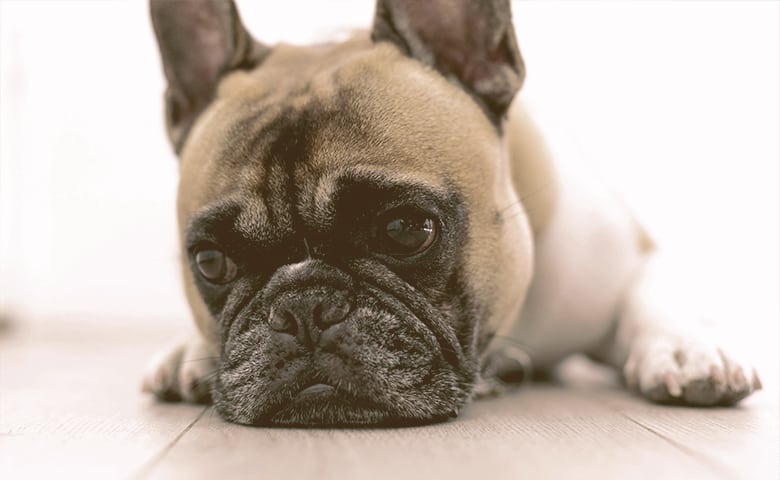 If you're looking for a dog that is going to be your all-time companion and will never leave you alone, then a French Bulldog is the right dog for you.
This is the kind of dog that will follow you wherever you go, constantly showering you with love and affection.
This is why Frenchies are more prone to separation anxiety than other dog breeds.
The more you leave it alone, the more the dog will feel anxious and bored.
Although dogs don't usually soil the spot where they sleep and eat, this information doesn't apply when you leave your Frenchie alone for too long.
As long as the dog can hold itself, it will keep its crate or the room where you're keeping it clean.
Leaving the dog alone for too long will lead to the following.
Your dog is likely to soil its crate or bed. You might even have to deal with accidents around the house, as it might ruin your favorite rug or couch because you weren't able to take it outside on time.
Expect your French Bulldog to bark, whine, and cry, especially if you leave it alone for extended periods. Continuous barking can get you in trouble with your neighbors, especially that Frenchies are known to be popular apartment dogs.
The dog will start chewing on any item it can find. This includes your shoes, cables, pieces of furniture, and any chewable object it can gain access to. Boredom and sadness will cause the dog to become highly stressed, and it will start destroying whatever it finds in response to this stress.
If you're leaving your Frenchie in a closed room, it will start scratching at the windows and door, trying to leave.
French Bulldogs become extremely restless and irritated when they're left alone for too long. The dog can become aggressive and more challenging to deal with in very severe cases.
Best Tips to Leave Your French Bulldog Alone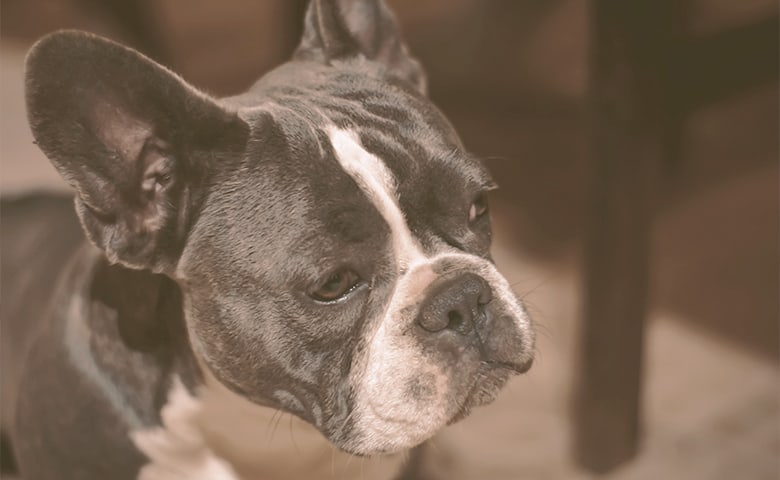 Leaving your French Bulldog alone might be inevitable.
But there are some tips that can help you both.
Train your dog to spend time by itself while you're in the house. For example, you can leave it in a room by itself and close the door for 15 to 30 minutes, making sure that it has access to food, water, and toys. Watch the dog's reaction, repeat this several times a day for a few days, and see how your dog behaves.
Avoid keeping the dog in the crate for long periods because it will feel too restricted.
Before leaving the house, try to take your dog for a long walk. This will help release its energy, so it can enjoy a long peaceful sleep when you're away.
Make sure that you scatter some hidden treats around the house, so your Frenchie can find them while you're away. This will make the dog's alone time more enjoyable.
Consider taking your dog to a dog care center. These centers might be expensive, but they'll keep your Frenchie entertained as they interact with other dogs, especially since this breed is quite sociable.
Ask a friend or a neighbor to check on your dog, make sure that it has enough food, and take it for a walk. You can also hire a dog walker to take your dog out once or twice a day.
Keep the food out of reach, and hide any valuable items that the dog might chew on when it's bored.
Try to keep the radio or TV on when you're not home. This background noise of people talking can make your Frenchie overcome discomfort and loneliness, but make sure that there's no music playing as some noises can scare your dog.
Give your dog all the attention it needs once you get home, as this will help strengthen your relationship with it.
Wrap Up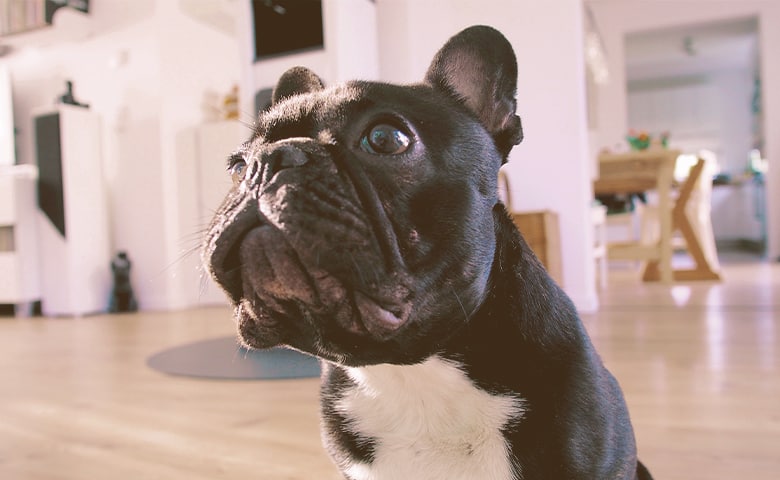 French Bulldogs don't like to be left alone, but if you must, you need to pay attention to the dog's health and age.
A newborn puppy shouldn't be left alone for more than one hour, while an adult dog can tolerate being alone for up to 7 hours.
You need to train your dog to spend time on its own and make sure that it has access to everything it needs.
This will reduce the risk of developing separation anxiety and other behavioral issues.