The Only Royal Canin French Bulldog Review You'll Need
Alex Vicente • Updated on August 21, 2023
This review contains affiliate links. Read more here.
Not a substitute for professional veterinary help.
Caring for pure breeds is often a challenge — a challenge that starts with finding the best diet for our furry friends. We all know that choosing breed-specific kibble can help with a lot of sensitivity issues. The question is: which brand to go for?
There are a lot of options out there but Royal Canin is one of the most common kibble brands that we get asked about.
In this Royal Canin French Bulldog review, we cover the product's features, drawbacks, and alternatives. Let's see what's there to love about Royal Canin.
Table of Contents
Royal Canin French Bulldog Review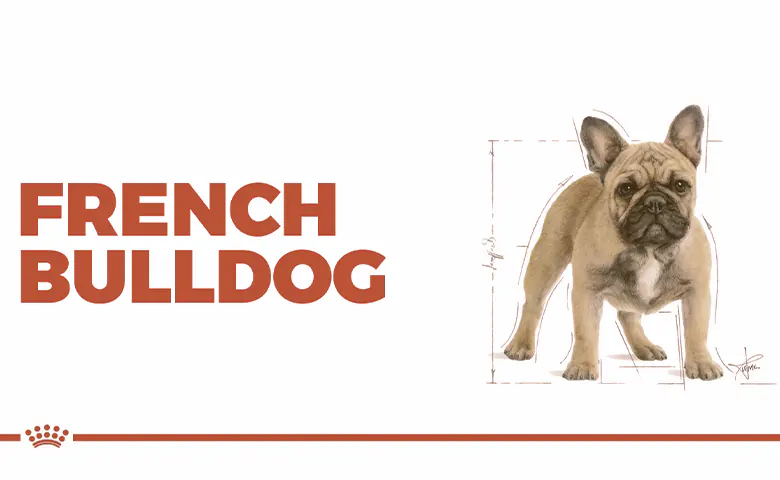 Royal Canin is an AAFCO approved pet food company with a rich history that goes back to the 1960s.
What we like about Royal Canin is that they produce breed-specific formulations. This is especially for brachycephalic breeds with special needs.
French Bulldogs are lovable muscle bags with sensitive skins and irritable digestive systems. Frenchies also have a shorter, flatter snot that makes eating regular kibble hard.
Chewing is also difficult for them. Sometimes they end up swallowing whole kibbles, only to regurgitate later. Healthwise, they can often get flatulence and suffer from malnutrition. The breed is also very prone to skin rashes.
Ingredients
First thing first, let's take a look at the ingredients in Royal Canin's French Bulldog dry food:
Brewers Rice
Brewer's rice is the parts of the kernel that separate during milling. It's a decent animal food filler, but as a stand-alone, it doesn't provide a significant nutritional value.
Wheat
Grains are usually used as a cheap alternative to animal proteins. However, in this product, it's more of an adjuvant.
Chicken By-Product Protein
When a product says "by-product meal" it usually means that it contains all the remnants after processing for human consumption. By-product meals can actually be very tasty and nutritious. It can contain the liver, kidneys, lungs, cartilage, etc.
Pork Protein
Rendered pork meal is a source of condensed protein. It also has a low moisture content to extend the shelf-life.
Unsweetened Beet Pulp
A great source of dietary fibers that regulates bowel movements and reduces bad odor. We like that Royal Canin kept the beet pulp plain instead of sweetening it.
Oils
Royal Canin's French Bulldog food has soya, fish, and vegetable oil. Fish oil is a great source of omega-3 fatty acids.
Supplements
To enhance growth and muscle mass, Royal Canin's dry food has L-carnitine and trace minerals. It also contains chondroitin sulfate and glucosamine which are good for joint pain. Additionally, the product contains vitamins E, B, D3, and A.
Extracts
For better digestion, extracts like green tea, marigold, and rosemary are added. They're all antioxidants as well.
Overall, we find that this product balanced nicely between animal-based and plant-based nutrients.
Royal Canin Dry vs. Wet Food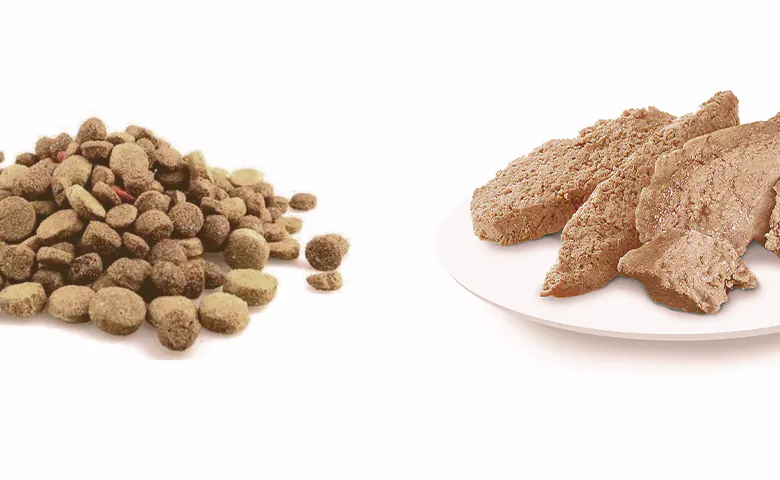 Royal Canin's French Bulldog selection is made up of two options: dry food for adults (over 12 months) and dry food for puppies.
Unfortunately, Royal Canin doesn't offer bulldog-specific wet food. It does offer Gastrointestinal and Satiety Support options.
However, these aren't tailor-made for bulldogs. They could contain allergens and might not provide the best nutritional value
Drawbacks
The only complaint that we found was the taste, but that's not exclusive to Royal Canin. Not every dog is going to like the same meals.
Why Is Royal Canin Good for French Bulldogs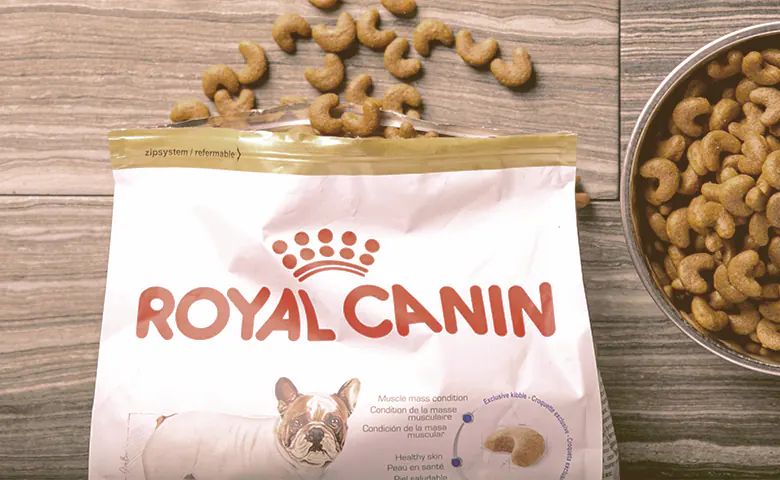 While you can choose to feed your Bulldogs regular dog food, it won't be as suited to their needs.
We're always hearing about "tailored" pet food, is it really worth the hype? In our opinion, even the subtle changes can make all the difference.
Here are a few ways the Royal Canin adjusts the product to be perfect for Frenchies:
Cashew-Shaped Kibble
French Bulldogs have deformed snots. Meaning that they have both breathing and swallowing issues. To solve this problem, Royal Canin came up with what they call "tailor-made kibble." We like to call it cashew-shaped, though.
This shape is better fitted for the Bulldog's jaw and it's easier to pick up. It also stimulates chewing over swallowing which helps reduce the dog's eating speed. Over time, this reduces regurgitation.
When compared to regular pellet-shaped kibble, Royal Canin's French Bulldog selection takes the cake. The puppies' dry food is also made in a smaller kibble that's bite-sized for Frenchies under 12 months.
Muscle Mass Formula
French Bulldogs are very muscular and that reflects on their dietary requirements.
L-carnitine is an amino acid that plays multiple roles in muscle building and cholesterol modulation. Thanks to supplements like L-carnitine, Royal Canin caters to your Frenchies' growth needs.
For puppies, adequate amounts of vitamin E helps in their growth and maturation. The fat content in the kibble is great for coat maintenance and it fights dandruff.
Sensitivity Consideration
With a range of dietary fibers and natural extracts, Royal Canin's kibble works to reduce odors. It regulates bowel movements, reduces flatulence, vomiting, and acid reflux.
In some cases, breed-specific food resolves red skin rashes. That's probably because it's caused by high sensitivity to allergens.
Final Thoughts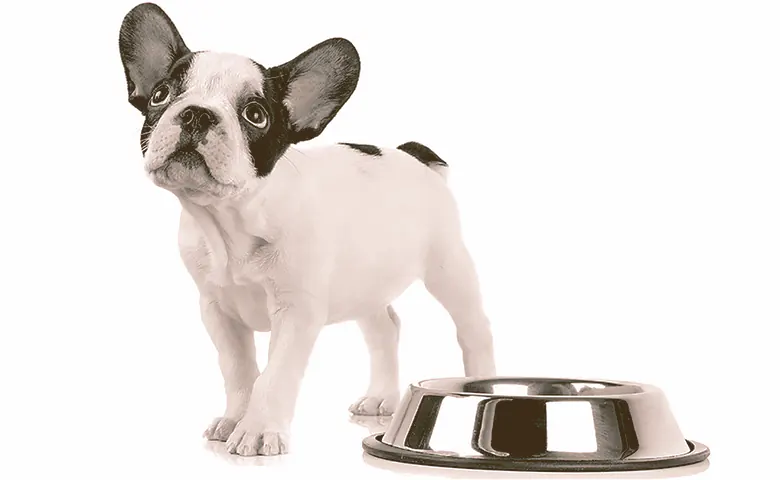 That's a wrap on our Royal Canin French Bulldog review. In our opinion, the product takes a lot of the breed's characteristics into consideration.
The cashew-shaped kibble seals the deal for us; it's just perfect for a Frenchie's jaw. It encourages the dog to chew properly and it's easy to pick from a bowl.
Royal Canin also recognizes the most common health challenges for French Bulldogs. The product is formulated to provide muscle mass maintenance, coat nutrition, and bowel movement regulation.
On the downside, the size options are limited and not very convenient. Also, some dogs might not like the taste. It's relatively rare, though. Try it out with your Frenchie and see how it works!