German Shepherd Rescue Indianapolis

German Shepherd Rescue Indianapolis
Alex Vicente • Updated on March 1, 2023
If you're looking to find a German Shepherd Rescue Indianapolis you're in the right place.
Before you check the rescue centers below, please make sure you're aware of how big a responsibility is to foster or adopt a dog, particularly German Shepherds.
You need to know they may have pre-existing medical conditions and may need to be followed by a vet periodically.
You should also be aware that animal cruelty is a punishable crime.
If you plan to rescue a german shepherd, you should also know about the best harnesses for german shepherds, as well as the best bed for german shepherds.
The rescue centers below are presented in no particular order.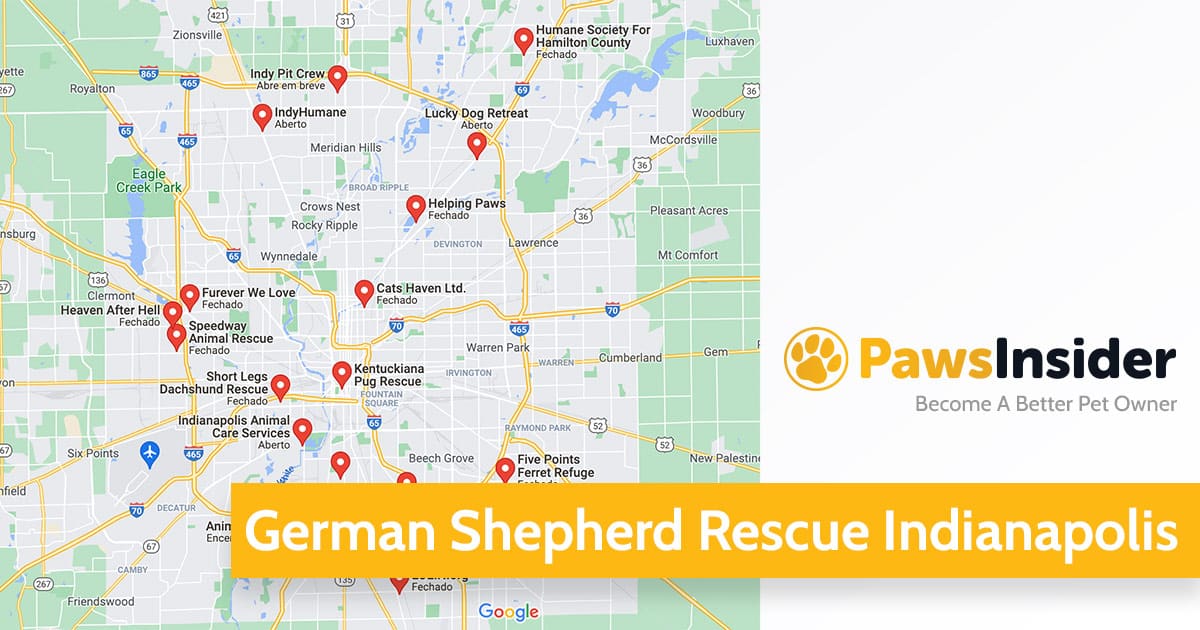 Table of Contents
IndyHumane (Indianapolis, IN)
IndyHumane was started in 1905 as the Humane Society of Indianapolis by nine people who wanted to make a difference in the lives of those who were suffering.
At the time, they accepted not only abused and neglected pets, but also women and children from abusive marriages and partnerships.
As IndyHumane grew to support a greater number of animals, the organization's footprint in the city grew as well, eventually holding properties as far north as the Indianapolis Zoo, near its home in Washington Park at the time.
In the mid-1960s, the leadership of IndyHumane determined that it was time to consolidate and establish a single location for all of their operations.
Rescue and Adoption Details
Address: 7929 N Michigan Rd, Indianapolis, IN 46268, United States
Phone: 317 872 5650
Email:
Website: indyhumane.org
Events: See upcoming events here
Forms:
Heaven After Hell (Indianapolis, IN)
Heaven After Hell is an animal rescue dedicated to giving shelter animals a voice and a loving home.
They rescue unwanted or abused dogs and cats from high-kill shelters, prepare them for adoption, and match them with the perfect adoptive family and animal.
HAHR speaks for people who are unable to speak in order to ensure that they are given a fair chance at happiness.
Before going to their forever homes, the group ensures that all of the animals have been spayed or neutered.
They pair animals with people so that both the animal and the new owner can have the loving relationship that they both deserve.
Rescue and Adoption Details
Speedway Animal Rescue ()
Speedway Animal Rescue does not have a shelter; instead, all of their animals are housed in foster homes.
You should always schedule an appointment to meet one of their available animals.
Prior to adoption, all of the dogs and cats in their care are properly vetted – spayed/neutered, microchipped, flea treated, dewormed, vaccinated, and tested for heartworm (dogs) or FIV/FeLV (cats).
To adopt an animal from SAR, you must first fill out an adoption application.
When you return your completed application, the organization will do a criminal background check, verify house ownership or landlord permission, contact any veterinarian references, and conduct a home check.
The idea is to establish a lifelong bond between the owner and the adopted animal.
Rescue and Adoption Details
Lucky Dog Retreat (Indianapolis, IN)
copy
Rescue and Adoption Details
Southside Animal Shelter (Nationwide)
Rosie Ellis is the shelter's founder and Executive Director.
She threw her heart and soul into rescue from the very first kitten she saved.
"Rosie was rescuing before'rescue' was even a thing," a colleague recently remarked.
Longtime employees and volunteers have been vital to Southside's ability to rescue, rehabilitate, and place at-risk dogs and cats, in addition to the importance of family.
But, in the end, Rosie understands that it isn't just Rosie, her staff, or her volunteers who make a difference; it is the entire rescue community working together to achieve progress and improve the lives of so many.
Rescue and Adoption Details
Tails and Trails Rescue (Indianapolis, IN)
copy
Rescue and Adoption Details
Furever We Love (Indianapolis, IN)
Furever We Love is a volunteer-led rescue dedicated to rehabilitating the dogs in their care to physical and emotional health as they wait for new furever homes.
All contributions will go directly to animal welfare.
FWL's purpose is to find loving homes for dogs whose guardians are nearing the end of their lives and have no one to leave their dogs with when they die.
They do not want these dogs to end up in a shelter, but rather to live in a warm and loving home when their guardian dies.
Rescue and Adoption Details