Washington State German Shepherd Rescue
Alex Vicente • Updated on August 1, 2023
If you're looking to find a Washington State German Shepherd Rescue you're in the right place.
Before you check the rescue centers below, please make sure you're aware of how big a responsibility is to foster or adopt a dog, particularly German Shepherds.
You need to know they may have pre-existing medical conditions and may need to be followed by a vet periodically.
You should also be aware that animal cruelty is a punishable crime.
If you plan to rescue a german shepherd, you should also know about the best harnesses for german shepherds, as well as the best bed for german shepherds.
The rescue centers below are presented in no particular order.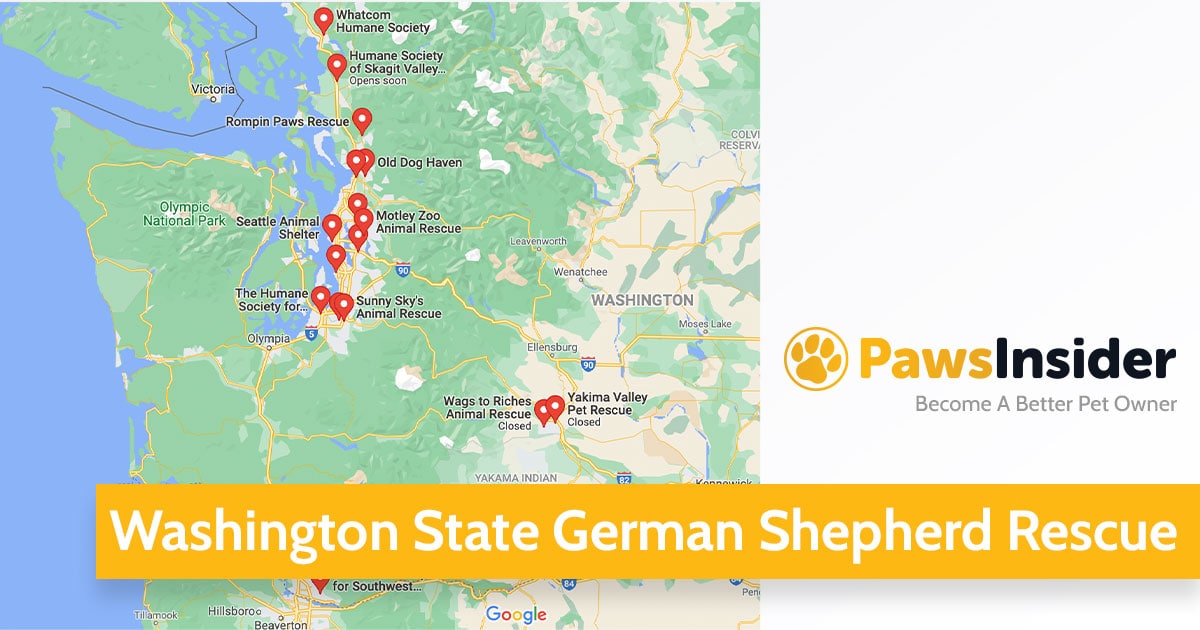 Other resources that you may be interested in:
Table of Contents
Washington German Shepherd Rescue (Nationwide)
Washington German Shepherd Rescue is a 501(c)(3) non-profit organization that serves the state of Washington and the larger Pacific Northwest region.
The charity is dedicated to finding loving homes for German Shepherd dogs and puppies that have been surrendered, abandoned, or neglected.
WGSR strives to reduce the existing issues of population overflow in several shelters.
This organization also educates the individual on the importance of sterilizing pets and providing superior care to the animals.
Rescue and Adoption Details
Northwest German Shepherd Rescue (Bothell, WA)
Northwest German Shepherd Rescue is a foster-based rescue run entirely by volunteers.
All of the dogs in their care are placed in foster homes, where they live in a typical home with a family.
As a result, they do not have a single location where potential adopters or volunteers can visit the dogs.
NWGSR strives to respond and provide feedback to all inquiries within 48-72 hours.
Because they are an all-volunteer group that works full-time jobs during the day in addition to helping for the rescue, please keep in mind that they make specific requirements to better maximize their time and aid as many pets as possible.
Rescue and Adoption Details
True North GSD Rescue (Medina, WA)
True North GSD Rescue is a 501(c)3 nonprofit organization that is entirely funded by contributions and volunteers who are bonded by a love and respect for German shepherds.
They are all committed to the rescue and placement of needy German Shepherd Dogs.
Their mission is to discover and place every dog in a permanent home that is both supportive and caring.
TNGSDR believes that rescuing is not just about taking dogs and finding homes.
It is about doing the right thing, for the dog – for the human.
It's about listening to your heart and following cold trails of information. It's about doing the right thing, always.
Rescue and Adoption Details
Shepherds Without Borders (Nationwide)
Shepherds Without Borders is a 501(c)3 non-profit organization that is entirely run by volunteers and donations.
They are based in the United States' Pacific Northwest and are currently active in Oregon, Washington, Idaho, and Northern California.
SWB accepts owner surrenders of good temperament, and its trained volunteers explore shelters in specific locations for the casually abandoned, but good dogs that have become homeless through no fault of their own.
Shepherds Without Borders Rescue evaluates every German Shepherd Dogs for temperament before accepting them – they are not a "last chance" rescue, and not every dog is accepted.
While the assessment is no guarantee of future behavior, it does assist them in understanding the dogs' preferences and needs.
Rescue and Adoption Details
CHEW Dog Rescue (Gig Harbor, WA)
CHEW (Canine Health Education and Welfare) is a 501(c)(3) non-profit organization.
This is an all-volunteer organization dedicated to rescuing abandoned dogs, dogs facing euthanasia due to shelter capacity constraints, and other canines in need.
CHEW is continuously looking for new foster homes and funding for veterinary treatment and other critical aspects of dog rescue in order to help more dogs in need.
Since its inception as a rescue group, this organization has rescued and saved 1,032 dogs.
Rescue and Adoption Details
Address: 5803, 125th Street Court, Gig Harbor, WA 98332, United States
Emails:
Website: chewdogrescue.org
Events: See upcoming events here
Forms:
Wags to Riches Animal Rescue (Yakima, WA)
Wags to Riches Animal Rescue and Sanctuary is a non-profit organization with 501(c) 3 status that was founded in 2008 and serves Central Washington.
All of the people involved are volunteers, and all of the money goes to the care, concern, and feeding of the animals, not for staff salaries.
WRAR aims to improve the lives of homeless animals.
Their major objective is to facilitate the rescue and adoption of stray, abandoned, neglected, mistreated, and surrendered animals and to find them permanent, loving homes.
In the meanwhile, they will offer appropriate foster and veterinarian care, adequate nutrition, and plenty of love and attention.
Rescue and Adoption Details
Adopt-a-Pet (Shelton, WA)
Adopt-a-Pet, Mason County's all-volunteer dog shelter, has been in operation for 41 years.
This organization is formed by is a passionate group of people dedicated to preserving the lives of unwanted, abandoned, and abused dogs.
Their mission is to find safe and loving homes for all of our dogs.
ADP relies on adoption fees, contributions, grants, fundraisers, and estate bequests to continue our good work as a 501(c) 3 non-profit organization.
It takes a village to save a dog, and we are grateful for the community's help.
Rescue and Adoption Details