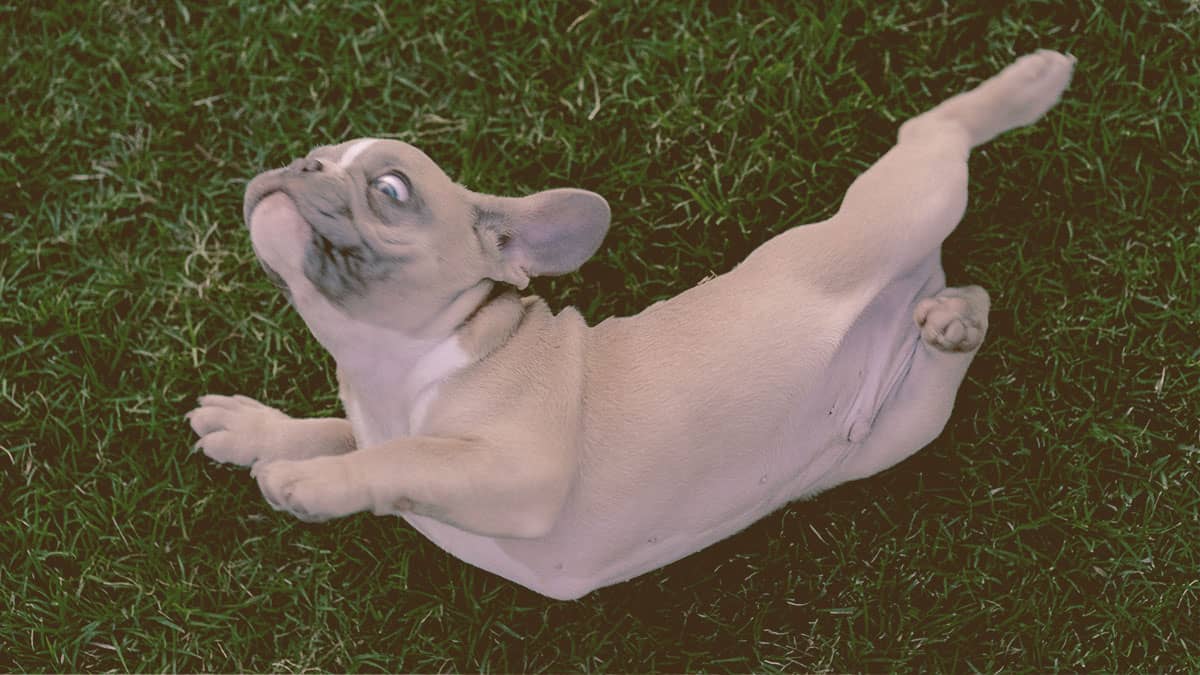 Why Do French Bulldogs Rub Themselves? Reasons+Prevention
Alex Vicente • Updated on August 1, 2023
This review contains affiliate links. Read more here.
Not a substitute for professional veterinary help.
One day you walk up to your French Bulldog rubbing himself in a manner you haven't seen before.
This strange behavior keeps happening day after day.
Eventually, you notice how he scoots his rear on the floor.
You haven't changed anything in how you treat or feed your dog, yet the rubbing persists.
So, you Google up: Why do French Bulldogs rub themselves?
French Bulldogs have many reasons to rub themselves.
Some of them are of no concern like puberty, turf marking, and self-cleaning.
However, infection, pests, and inflamed glands cause your Frenchie to itch and rub himself.
Take him to the vet to solve this problem.
If you'd like to learn how to differentiate between normal self rubbings and problematic ones, read on.
Table of Contents
Normal Self Rubbing Behavior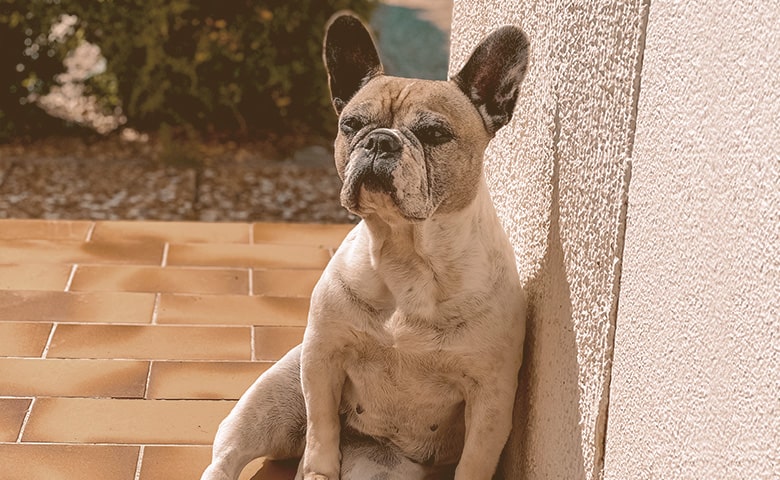 In the following scenarios, you don't need to worry if you see your Frenchie rubbing himself.
1. Puberty
Frenchies start to rub themselves when they begin to mature.
Especially when heat cycles are close.
Both male and female Frenchies would be curious about that new change in their bodies.
French Bulldogs will rub themselves to explore that new change.
Frenchies rubbing themselves could be bothering to some people.
Spaying your Frenchie is a good way to fix this.
2. Territory Marking
When Frenchies want a mate, they try various methods to attract one.
Examples of these methods are howling, urinating, and rubbing.
French Bulldogs rub their anal glands to secrete a fluid with a distinctive "fishy" smell.
When they do that somewhere, it means that they're marking it as their territory.
This fluid is also used to attract members of the opposite gender for mating.
Again, sterilizing your Frenchie is a good way of avoiding all the stinky behaviors of territory marking.
3. Attempting to Clean Themselves
Most dogs clean themselves using their tongues.
The French Bulldogs can't do that, though.
Frenchies belong to the brachycephalic dog family.
These short-nosed pups have great difficulty in reaching all their bodies with their tongue.
That's why they try to clean their parts using their paws.
It's common for things to get stuck in the butts of Frenchies.
They don't have long tails that prevent dirt from reaching them.
Even some fecal matter could get stuck in their butts.
Since their tongue can't reach, they will use their paws to rub.
French Bulldogs will need your help to stay clean.
They can't clean their ears, teeth, paw pads, facial folds, butts, and backs.
It's up to you to brush, groom, and take care of your Frenchie's hygiene.
Problematic Self Rubbing Behavior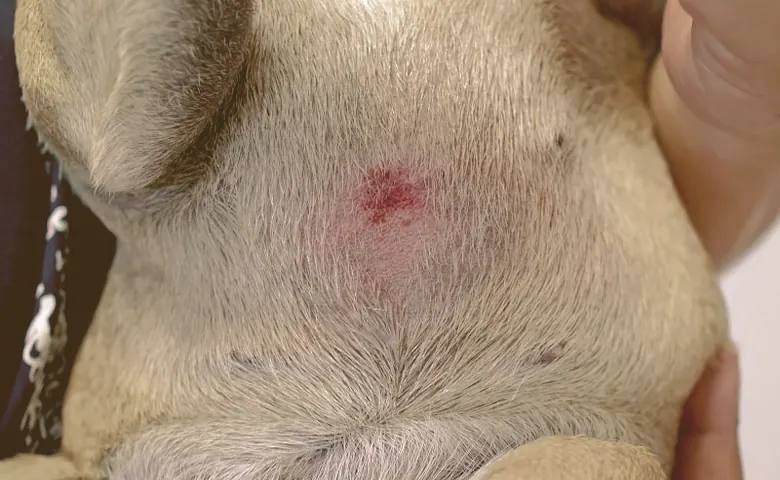 There are some scenarios when your Frenchie rubbing himself is out of normal.
1. Infected Anal Glands
Any part that is hard to reach for your Frenchie could get infected.
Their anal glands are the furthest glands from their faces.
Because of that, these glands are commonly infected and in some other cases, blocked.
An infected or blocked anal gland is very painful for you Frenchies.
They will try to reduce the pain by squeezing the gland with their paws.
In additional efforts to get rid of the pain, your Frenchie might also drag or scoot his butt across the grass or floor.
If you notice inflamed or enlarged anal glands on your Frenchie, then it's time to call the vet.
He should prescribe the proper antibiotics to relieve the condition.
The vet should also help you unblock or "express" the dog's anal gland.
2. Urinary Tract Infection
All dogs are liable to have an infection in their urinary tract.
This is more common in French Bulldogs because how they can't clean themselves properly.
Trapped bacteria and yeast will cause infections over time.
To your Frenchie, this infection is an itchy sensation in their butts.
The Frenchie will try to get rid of this itchiness by scratching it with his paws or scooting on the ground.
This will worsen the condition and increase inflammation.
If you don't take your Frenchie to the vet, the infection will progress further and cause a urinary tract infection.
In addition to the constant irritation, you may encounter further symptoms like smelly or even bloody urine.
3. Pests
French Bulldogs aren't known to have thick coats.
That makes them more liable to pests than other dogs.
When the number of these pests increases, your Frenchie will try to get rid of them by trying to rub them off.
Make sure that your Frenchie is getting his pest treatments on time to reduce the severity of these pests.
Bugs and insects could also bite your French Bulldog in areas where he can't lick.
So he'd rub that area instead. You could notice this when your Frenchie keeps rubbing the same area over and over.
Proper hygiene of your Frenchie is paramount if you want to rid your pup of these small buggers.
4. Skin Infection
French Bulldogs' inability to properly clean themselves makes them liable to having skin infections.
These infections happen in every area that the dog can't clean.
The facial folds, for example, could trap a lot of moisture between them.
This trapped moisture could lead to a condition known as Lip Fold Pyoderma; a condition where the skin inside the facial folds of the Frenchie gets inflamed.
Skin infection can happen anywhere on the body of your French Bulldog.
Feet, ears, paw pads, and anal sacks are all areas that could easily get infected.
If the skin infection reaches the rear of your Frenchie, he will try to relieve the itchiness by rubbing it or brushing it against the floor.
Constant cleaning and consulting your vet are good measures to prevent those skin infections.
Keep Him Clean, Keep Him Checked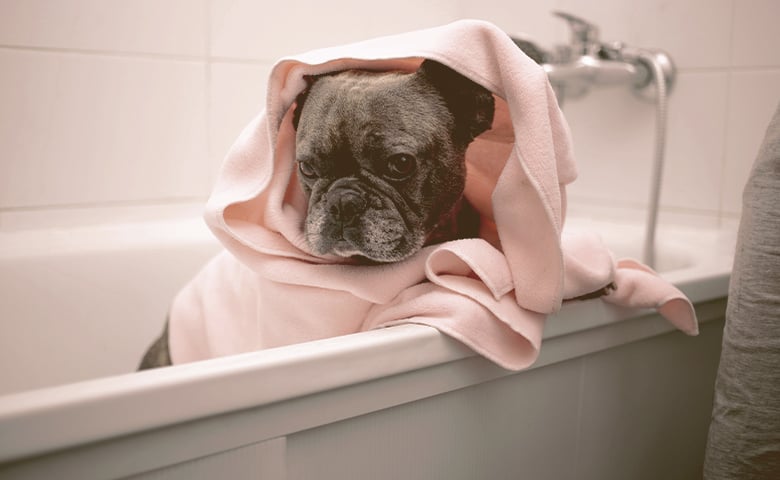 Why do French Bulldogs rub themselves?
It often stems down to infections, inflammations, and bad hygiene.
These issues cause itchiness and discomfort to your Frenchie that he tries to get rid of by rubbing himself.
You should be aware of the normal self rubbing behavior to avoid worrying too much when you don't have to.
On the other hand, you should be aware of when things need the intervention of the vet.
Moreover, you can prevent the whole thing from happening by keeping your dog clean and checked.