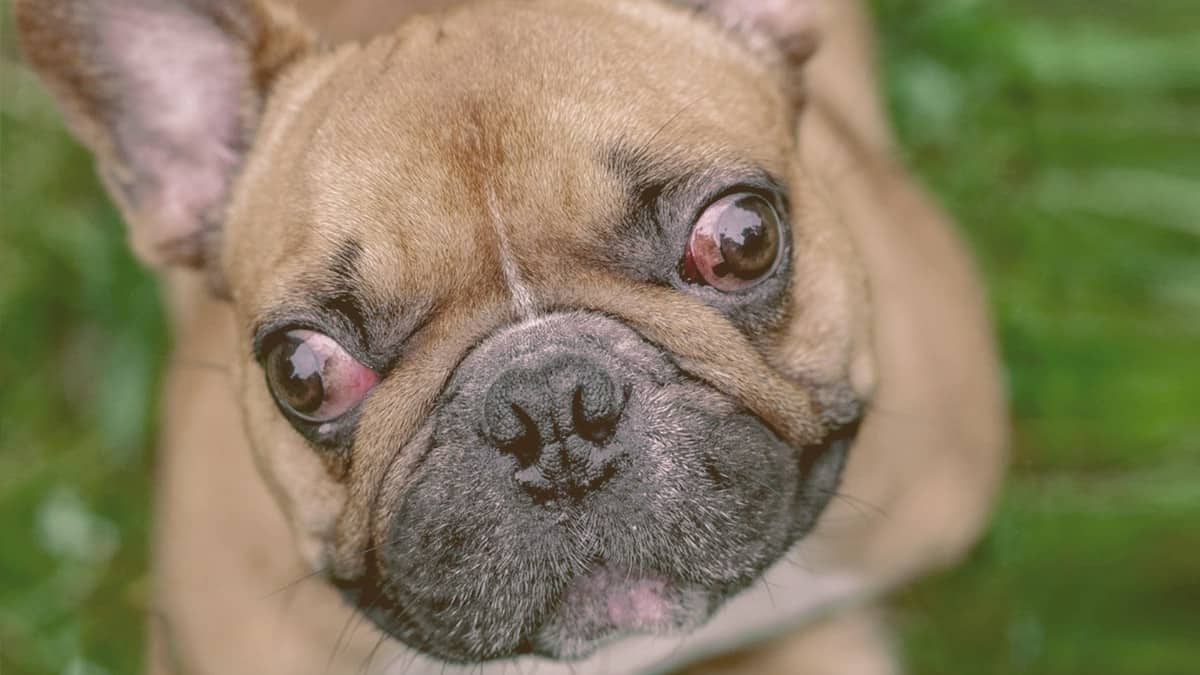 French Bulldog Eye Problems & Allergies: Why Are They Red?
Alex Vicente • Updated on August 21, 2023
This review contains affiliate links. Read more here.
Not a substitute for professional veterinary help.
French bulldogs are such sweethearts. I mean, it goes without saying that we all love our pets dearly.
We care about the tiniest of details when it comes to taking care of our little ones.
Frenchies tend to need special attention, especially their eyes.
Having said so, red-eye is common in their breed.
But, if you're wondering whcih french bulldog eye problems and allergies are more common, here's the answer to your question.
Frenchies' eyes get red for a variety of reasons.
It could be Cherry eyes, corneal ulcers, dry eyes, glaucoma, uveitis, or conjunctivitis.
Eye problems are easy to spot and shouldn't be left untreated to avoid unpleasant scenarios.
Keep reading to find out why your Frenchies' eyes are red and what to expect at your vet's visit.
Table of Contents
6 Reasons Why Your Frenchies' Eyes Are Red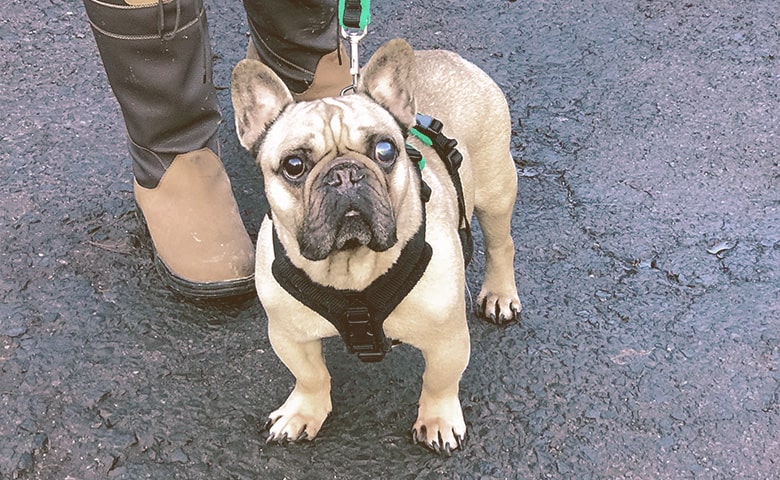 Red eyes in Frenchies happen for a variety of reasons.
It could be a result of environmental factors such as dust.
If that's the case, there's no need to worry.
Such cases can be easily treated, but others need a trip to the vet.
The good news is that once you know what's wrong, treating it becomes much more manageable.
So here's a list of other things that might be causing your little one's bloodshot eyes.
Cherry Eyes
As prevalent as Cherry eye in Frenchies is, it's not painful.
It could easily be distinguished by the presence of red tissue protruding from the inside corner of the eye.
The protruding tissue results from a prolapsed eyelid gland.
Another way you could figure out if your French has Cherry eyes is by checking if their eyes are always wet or if there's a discharge.
Corneal Ulcers
Frenchies have protruding eyes.
Corneal ulcers occur due to blunt traumas or injuries.
It could be mistaken for Cherry eyes, but it results in a range of symptoms.
If your Frenchie is suffering from corneal ulcers, it'll be difficult for them to open their eyes.
They'll have a runny nose on the same side, and their eyes will be swelling and red.
Additionally, you may notice an unusual discharge.
Dry Eye Syndrome
A few reasons could result in dry eyes: Cherry eye removal, medication, or a congenital condition.
If your Frenchie is suffering from eye dryness, their cornea will be inflamed.
It could result in exuding a thick yellow or green discharge.
Dry eye syndrome is very uncomfortable for your dog; therefore, you'll catch them squinting and blinking excessively.
The treatment for such cases is relatively easy.
The vet will probably prescribe an ointment or eye drop to use regularly.
Glaucoma
Glaucoma is an inherited condition. It results in an abnormal drainage angle inside the eye.
If the drainage angle is crooked, intraocular pressure will surge.
If the case is severe, it results in blindness.
Vets often recommend medication that could delay the occurrence of glaucoma.
In extreme cases, surgery could be needed to perform eye removal or place an intraocular silicone prosthesis for blind eyes.
Uveitis
Uveitis is an inflammation of one or more of the three uveal structures.
There are a few causes behind the inflammation.
It could be due to infection, diabetes, hypertension, or eye tumors.
Its symptoms are extreme eye redness, cloudy appearance, or a tendency to avoid bright lights.
Uveitis is painful for your Frenchie.
Its treatment plan ranges from using pain-killing ointments to repairing corneal tears.
Conjunctivitis
Conjunctivitis is a disorder that causes inflammation of the conjunctiva membrane, which covers the front of the eye and the eyelids.
It could develop due to eyelid or conjunctival tumors, dry eye, trauma, or other eye disorders.
Conjunctivitis could be treated using topical or oral medications, depending on the severity of the case; the vet will be able to decide the suitable course of treatment.
How Do I Know if My Frenchies' Eyes Hurt?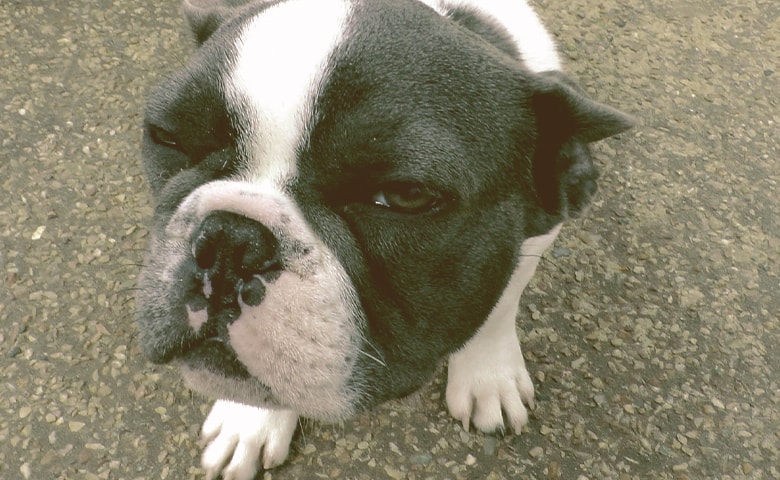 You'll always be able to tell if there's anything wrong with your pet.
Paying close attention to your Frenchie's behavior and physique will help you detect anything unusual in no time.
Frenchies have unique, prominent eyes; therefore, eye care could be challenging.
Several unusual behaviors may help you detect your Frenchie's eye problems.
They're as follows:
Squinting
Rubbing eyes excessively
Inordinately teary eyes
Inflammation of eyes
Will My Frenchies' Red Eyes Go Away on Their Own?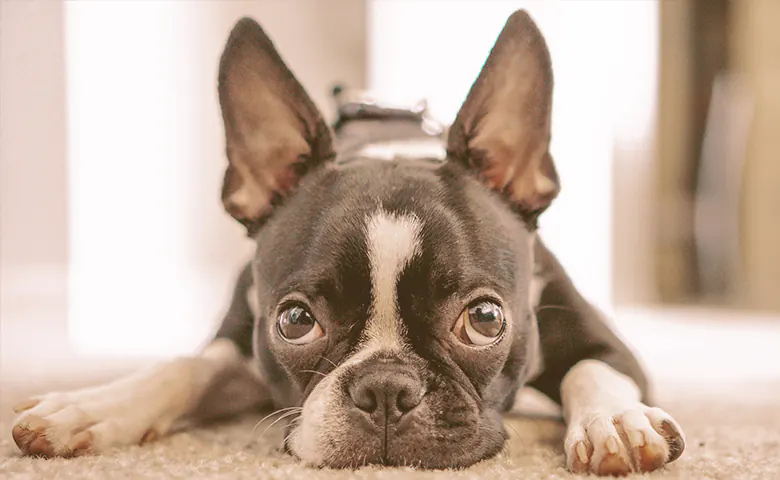 Although red eyes aren't necessarily a symptom of something wrong, eye damage and illness can proceed quickly, so it's best to be cautious than sorry.
If you see anything out of the ordinary in your dog's eyes, if she's scratching or rubbing her face, and/or if you observe discharge or squinting, it's time to call the doctor.
Keeping your Frenchie's' red eyes untreated for an extended time might make it more challenging to treat using both home remedies and surgical treatments.
In cases of Cherry eye, the connective tissue between the gland and the eyelid will gradually deteriorate, resulting in the eyelid no longer being strong enough to hold the gland without it prolapsing later on.
If your Frenchie's third eyelid isn't working correctly, it might cause their eye to become dry and prone to infections and other illnesses that the third eyelid would generally protect them from.
What to Expect at the Vet?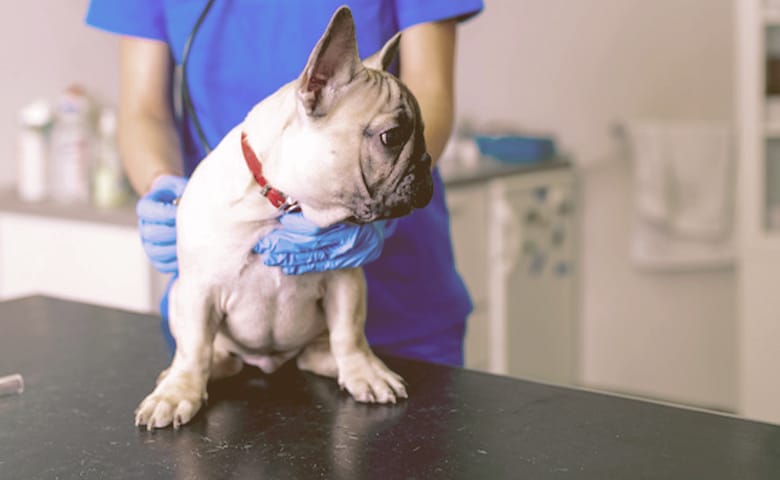 As discussed previously, the courses of treatment vary greatly from one eye disorder to another, depending on the severity of the case.
There are a few procedures that your vet may carry out to detect the reason behind your Frenchie's red eyes:
Ophthalmologic exam: to examine all of your pet's eye structures.
Schirmer tear test: to see if your dog's eyes are adequately lubricated.
Tonometer: to measure the internal pressure of your dog's eye.
Fluorescein stain test: to observe scratches and corneal injuries that would otherwise be unseen.
Blood tests: to look for underlying medical conditions and diseases that might be causing vision problems.
Can I Avoid My Frenchies' Eye Problems in the Future?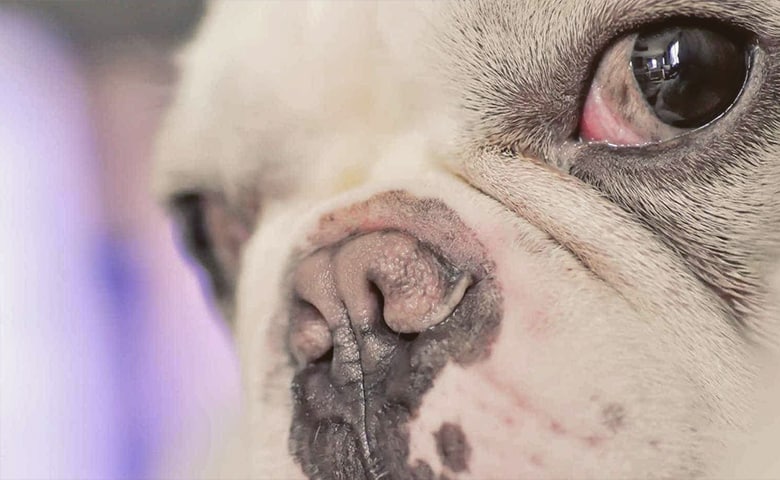 Dogs will always be dogs.
We all want to shield our dog's eyes from every possible irritation, damage, or sickness, but unfortunately, we can't.
However, there are a few tips that you could follow to keep your Frenchie's eyes as healthy and protected as possible:
Remove discharge from their eyes using a damp tissue or cotton ball. Make sure not to touch the eyeball.
Always lookout for any unusual behaviors as aforementioned.
Keep your car's window rolled up. Don't allow your little one to hang their heads out during a car ride.
Never skip veterinary check-ups. Better be safe than sorry.
To Wrap Up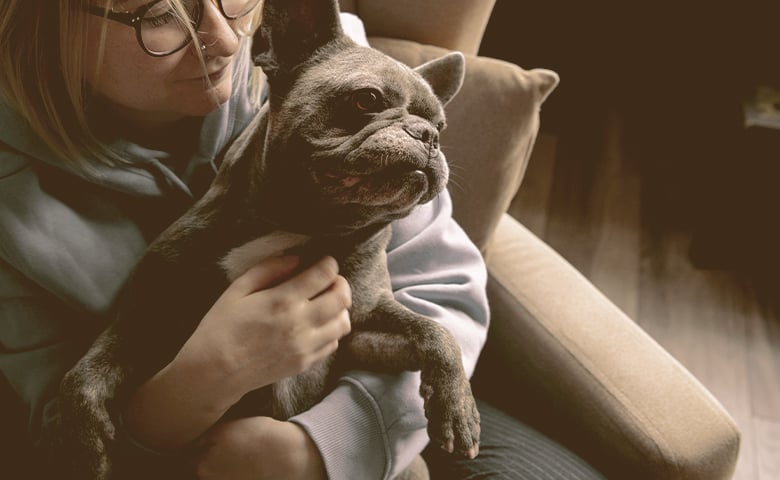 When owning a pet, you learn to pay attention to the tiniest of details.
By glancing at them, you'll be able to detect any changes in their looks or behavior.
Eye disorders in Frenchies aren't deadly, but they should be promptly treated.
No one wants their little one to be distressed.