German Shepherd Rescue Jacksonville FL

German Shepherd Rescue Jacksonville FL
Alex Vicente • Updated on March 1, 2023
If you're looking to find a German Shepherd Rescue in Jacksonville, FL you're in the right place.
Before you check the rescue centers below, please make sure you're aware of how big a responsibility is to foster or adopt a dog, particularly German Shepherds.
You need to know they may have pre-existing medical conditions and may need to be followed by a vet periodically.
You should also be aware that animal cruelty is a punishable crime.
If you plan to rescue a german shepherd, you should also know about the best harnesses for german shepherds, as well as the best bed for german shepherds.
The rescue centers below are presented in no particular order.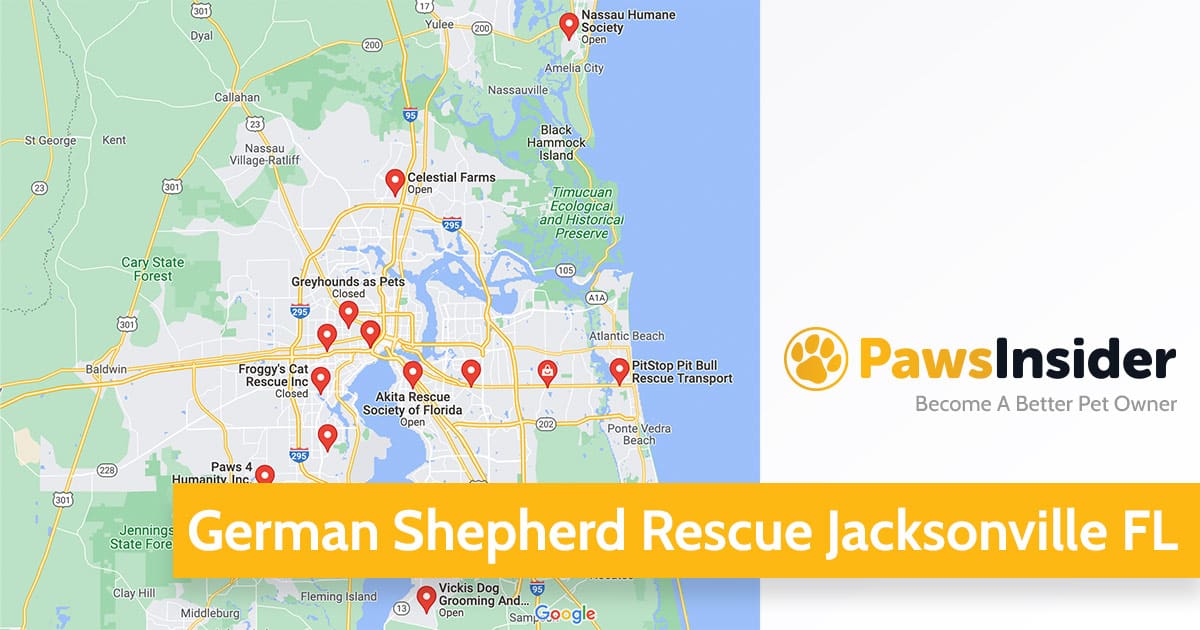 Table of Contents
Jacksonville Humane Society (Jacksonville, FL)
The Jacksonville Humane Society is a 501c3 non-profit organization based in Jacksonville, Florida.
They care for almost 9,000 dogs and cats each year and provide a variety of community services such as pet adoption, pet owner support, lost and found animal resources, low-cost veterinary treatment, public training sessions, youth programming, and more.
JHS provides care, comfort, and compassion to animals in need while mobilizing the community's hearts, hands, and brains to put an end to the killing of abandoned and orphaned shelter animals.
Rescue and Adoption Details
Fur Sisters – Furever Urs Rescue, Inc (Jacksonville Beach, FL)
Fur Sisters rescues dogs from surrounding county shelters, provides them with necessary veterinary treatment and places them in foster homes until they are adopted.
All of this takes a significant amount of time, effort, money, and love.
They are unable to complete all of their tasks without the assistance of our volunteers and fosters.
FSR is an important part of the community, and they like educating others about our cause.
They are always seeking ways to give back while also raising awareness.
This is a 501(c)3 non-profit organization that operates solely on donations.
It is a non-profit organization maintained entirely by volunteers, nobody gets paid for their work.
Rescue and Adoption Details
Florida Urgent Rescue (Jacksonville, FL)
The primary goal of Florida's Urgent Rescue is to save animals from kill shelters and other emergency situations.
They support rural shelters with minimal resources and strive to help animals in the most need.
FUR provides veterinary care such as heartworm treatments, spay/neuter, vaccinations, and other medical expenses.
They also help with the rescue, care, and adoption of high-risk animals.
Rescue and Adoption Details
Pet Rescue North (Jacksonville, FL)
Barbara Moody started Pet Rescue North, Inc. (PRN) as a non-profit, no-kill animal shelter in the state of Florida.
She believed that all stray and abandoned animals on Jacksonville's Northside deserved to be cared for until suitable homes could be found.
This project continued after Barbara's passing and is currently dedicated to giving dogs and cats the health and well-being they deserve.
Their mission is to make Jacksonville a true pet-friendly destination by saving lives through spaying, neutering, and adoption.
Rescue and Adoption Details
Vickis Dog Grooming And Animal Rescue (Jacksonville, FL)
Vickis Dog Grooming And Animal Rescue, based in Jacksonville, Florida, is a one-of-a-kind rescue that also provides grooming services.
Vicki takes her work very seriously and offers assistance to a variety of distressed animals and owners that may find themselves in challenging situations.
Throughout the years, many people have praised Vicki for her tireless efforts and genuine empathy for animals.
Rescue and Adoption Details
Address: 2241 Marlee Rd S, Jacksonville, FL 32259, United States
Phone: 904 613 7086
Paws 4 Humanity, Inc. (Orange Park, FL)
Paws 4 Humanity Inc is a 501(C)3 non-profit organization.
The primary goal of the corporation is to successfully transition dogs from rescues and/or shelters to forever homes through training and socialization, while also providing the animals with the necessary loving, compassionate environment and one-on-one attention for them to thrive and become the best that they can be.
P4H believes in "Making the Connection with Dogs and People," as well as allowing dogs in shelters that need a home to "Be the Best That They Can Be."
Rescue and Adoption Details
Address: 3607 Double Branch Ln, Orange Park, FL 32073, United States
Phone: 904 771 9516
Email:
Social Media: Facebook
Events: See upcoming events here