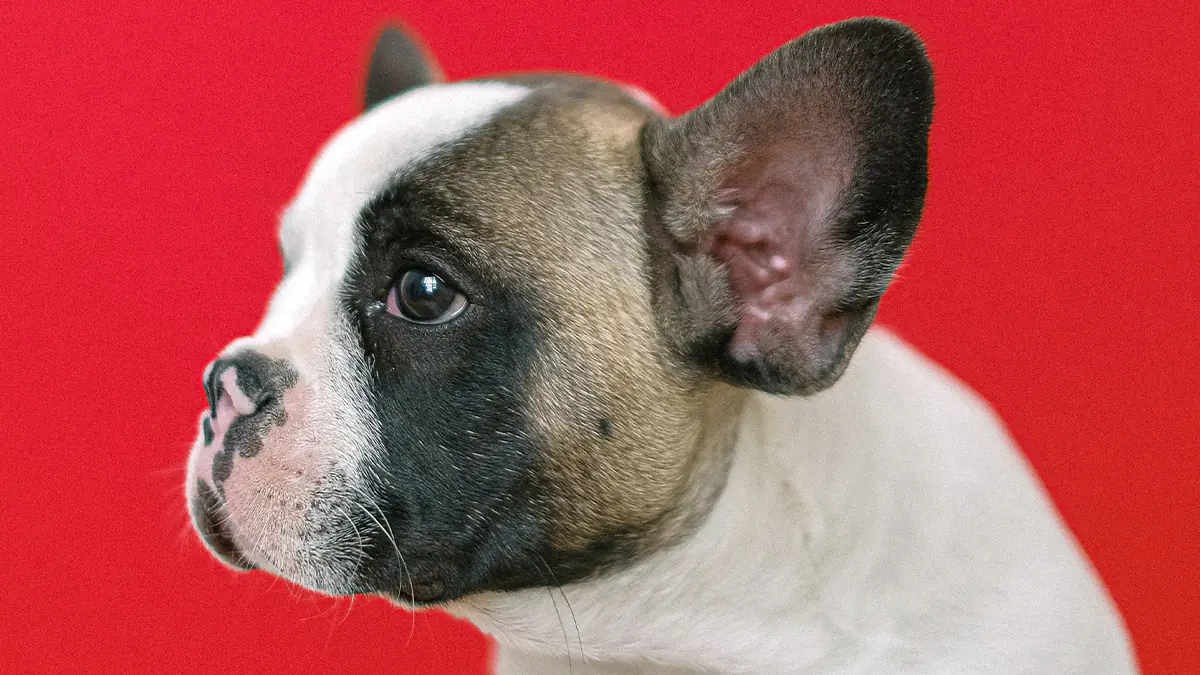 How Long Do French Bulldogs Stay in Heat? Cycle, Tips & Signs
Alex Vicente • Updated on August 22, 2023
This review contains affiliate links. Read more here.
Not a substitute for professional veterinary help.
If you're a first-time owner of a female Frenchie, you're probably wondering how long French Bulldogs stay in heat.
This article will help you know more about French bulldog mating patterns, and whether there are any preparations you ought to be making, all for your Frenchie to be safe and comfortable during her heat season.
Table of Contents
When Do French Bulldogs Reach Puberty? And How Long Do They Stay in Heat?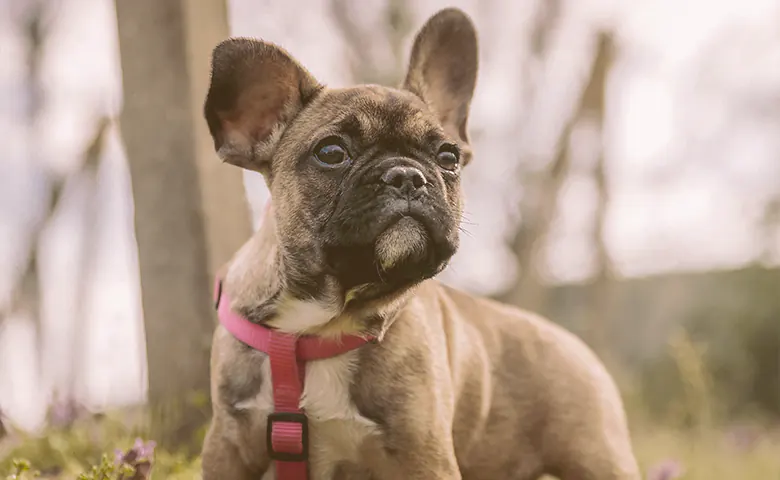 An average female Frenchie will get her first heat cycle between 6–8 months of age. Afterward, she'll get her cycle roughly every six months.
During the first two years or so, her cycle might be irregular until she matures completely.
Female French Bulldogs stay in heat for about three weeks, though some will only be in heat for two weeks and some for four.
It also changes according to the dog's age and health condition.
How Do I Know If My Frenchie Is in Heat?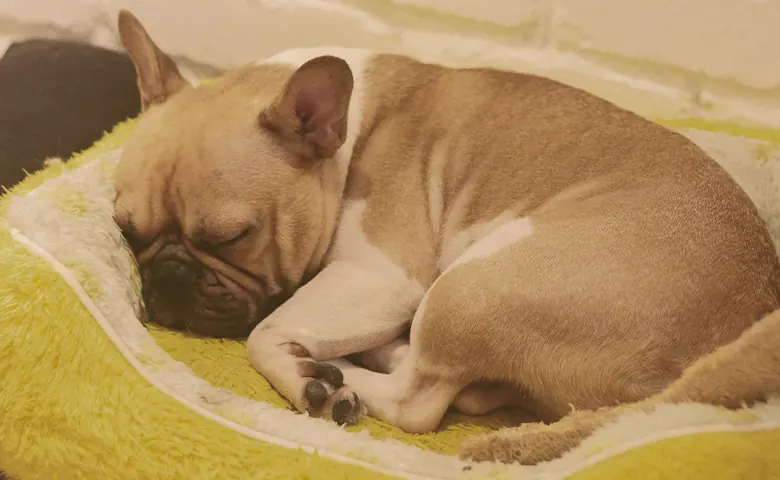 The most obvious signs of a female dog in heat are a swollen vulva and bloody discharge.
Note, however, that some dogs experience what's known as "silent heat," where they get their normal heat cycle without the physical changes or very minimal symptoms appearing.
You should also look for behavioral changes.
If your French bulldog suddenly becomes more affectionate, looking for pats and cuddles, or if she becomes grumpier, more aggressive, and demands to be left alone, she's probably in heat.
As we'll discuss below, their behavior changes between phases of the same cycle.
What Are the Stages of a French Bulldog's Heat Cycle?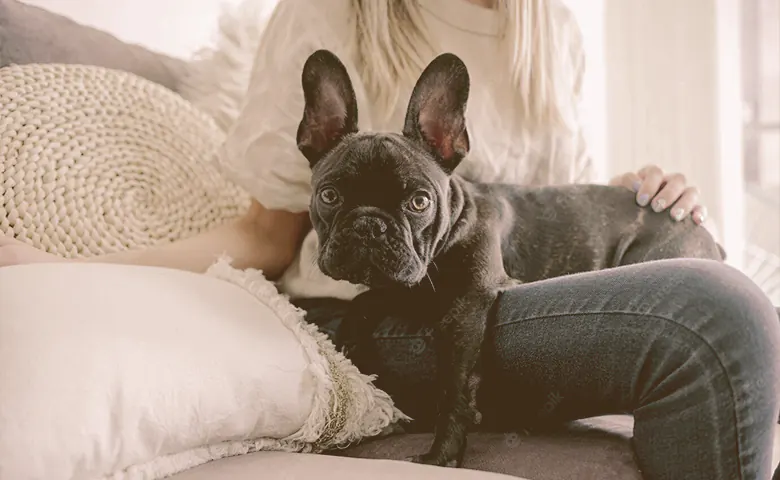 A heat cycle isn't just a few days when your Frenchie bleeds from her vulva; they're usually divided into four stages.
1. The Proestrus Stage
This is the first stage of a heat cycle when you notice the swollen vulva and bloody discharge.
In this period, you'll notice some behavioral changes like your Frenchie being more reserved and moody.
She might start getting attention from male dogs at this point, but she'll just ignore it or try to protect herself by tucking her tail or by sitting down.
The proestrus stage usually lasts 4–20 days.
2. The Estrus Stage
Afterward, the female Frenchie enters her fertile window, called the estrus stage, where she's more receptive to male attention.
She could start displaying that by "flagging" her tail upwards or moving it to one side.
She'll also urinate more frequently because her urine contains pheromones that attract male dogs and let them know she's ready for mating.
The discharge from her vulva will change colors from bright red to a fainter pinkish or brownish clear color.
The estrus stage lasts anywhere between 5–13 days and your dog might get pregnant then.
3. The Diestrus Stage
Then comes the diestrus stage, which would be 63 days if the Frenchie was pregnant. If not, it lasts between 60–90 days.
Look out for signs of false pregnancy in this stage, where the dog acts pregnant, though there are no puppies.
It'll come in the form of a loss of appetite as well as swollen mammary glands and nipples.
The dog might also try moving her bed around or cuddling with a toy as if she's nursing.
4. The Anestrus Stage
After the stages of active heat comes the anestrus stage, which lasts about 60–90 days as well.
This is when the dog is completely "normal" and her body prepares for another heat cycle.
How Do I Prepare for a Frenchie in Heat?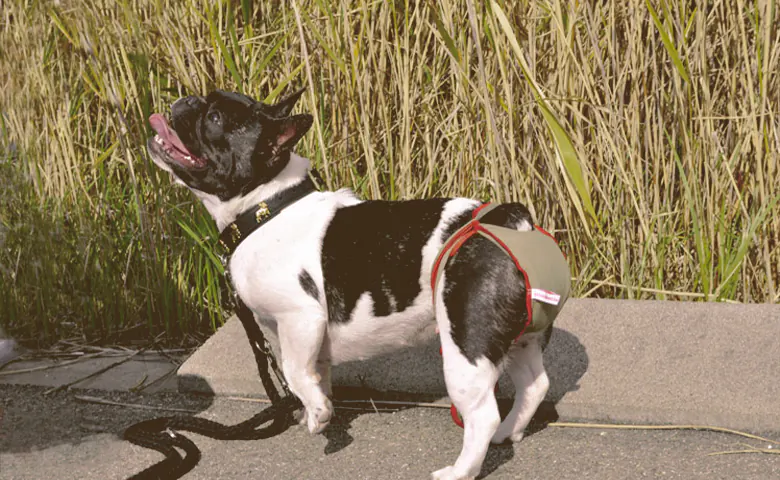 As a pet parent, there are some things to take into consideration when your Frenchie first goes into heat to protect her and keep her surroundings clean and safe.
First of all, even if your Frenchie cleans herself from the discharge, you still might find bloody spots around the house.
Consider doggy diapers as an option to keep your dog and your house clean.
Then comes the crucial part of never letting her go anywhere unsupervised. A dog in heat will seek out a mate, and even if she's the most well-behaved dog, she might try to escape.
This means that whenever you're on a walk with her, she's on a leash. And if you have a doggy door, keep it closed during the duration of her active heat.
If you have intact male dogs around the house, separate them from your female Frenchie as she's going through her proestrus and estrus stages.
Male dogs can smell female pheromones and will try to mate with her or even fight to get to her. If you don't want to completely isolate her, try a safety or baby gate to make it less lonely for her.
Last but not least, keep her in a collar with updated information just in case she runs away. If she's microchipped, go to your vet and make sure her info is updated as well.
Should You Breed or Spay Your French Bulldog?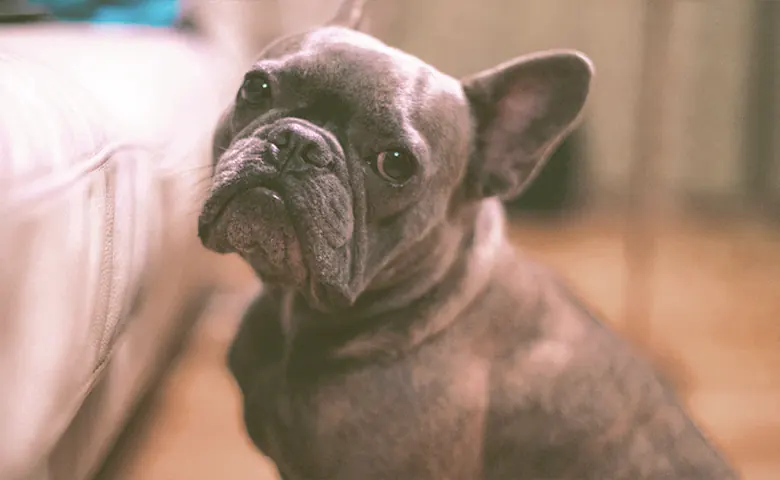 Breeding or spaying? This is a loaded question that makes for a long discussion. However, there are some things to think about when you're making this decision.
If you intend on breeding your Frenchie, you should check with your veterinarian whether she's healthy enough and has good genetic material to pass on to the pups.
French bulldogs are a dwarf breed that is also brachycephalic (flat-nosed), and this presents many health risks when it comes to breeding them.
Aside from the breathing problems your female Frenchie might have, she could very well overheat while going into labor.
The female usually has narrow hips and the puppies have large heads, which makes natural birth difficult and almost life-threatening, so a cesarean section is almost always required.
That, alongside the need for artificial insemination to get her pregnant to avoid injuries while copulating, could make the bills add up real quick.
On the flip side, spaying a young Frenchie could have some health risks as well. Along with the risks that come with anesthesia, some could have stunted growth if they're spayed before their growth plates fuse, so they never reach their adult size. Some also develop hypothyroidism and urinary incontinence.
Always check with your vet to make sure you're making the best decision for your Frenchie pup to give her the healthiest, happiest life possible.
Conclusion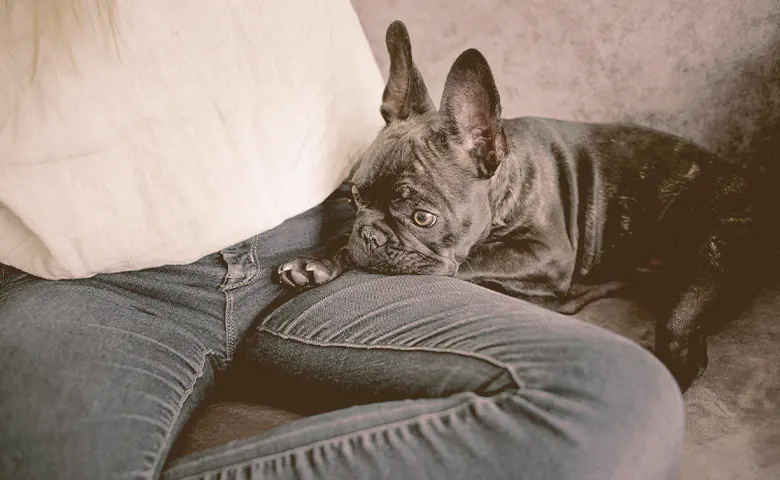 Female Frenchies get their first heat cycle when they're about 6-8 months of age.
From there, a female Frenchie will get her cycle every six months.
At first, a Frenchie's cycle will be irregular, especially during the first two years.
However, when she fully matures, her cycle will start happening on a regular basis.